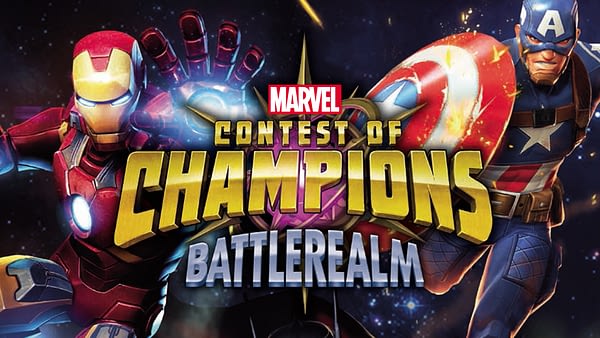 Marvel revealed some video today of Upper Deck's tabletop game Marvel Contest of Champions: Battlerealm which is a board game version of Marvel's mobile game Marvel: Contest of Champions.
Upper Deck announced Battlerealm back in December, and they'll be taking the mobile game to local game shops this summer
The feature of today's announcement was an unboxing video and some rundown of the game's rules.
Today, get a special glimpse of the fast-paced board game as Upper Deck unboxes "Marvel Contest of Champions: Battlerealm" below!

In "Battlerealm," each player will take control of one of the 12 available Marvel super heroes and create a play area containing different locations such as Arcane Arena, Wakandan Necropolis, Avengers Towers or the Savage Lands. Roll the dice to activate your powers and move across locations to gain points of their own and to take points from others.
While Battlerealm will be card based, it is a pretty decent simulacrum of the mobile game's mechanics, just in card form. You can check that out in the video from Upper Deck here.
Despite the success of MCOC, the game has caused developer Kabam a decent amount of trouble. Last year, the developer made a series of sweeping gameplay balance changes that many players felt was unfair. We interviewed some of MCOC's players to chat about it, the #BoycottMCOC movement got enough traction that most of the gameplay changes were repealed. More recently, Kabam handed out 7-day bans to players who were suspected of scamming. The slap on the wrist seemed to be too lenient a sentence for many players.
Enjoyed this article? Share it!