Actor Tyrese Gibson has issued an ultimatum: if Dwayne "The Rock" Johnson is involved with Fast & Furious 9, Gibson is out.
Gibson's ultimatum follows a social media spat with The Rock centered around the Fast & Furious spinoff starring The Rock and Jason Statham. Gibson wanted The Rock to postpone the spinoff so that it didn't affect the scheduled of Fast & Furious 9, and since The Rock wasn't returning his texts, he took the drama public.
Now, it seems that the two have been unable to resolve their differences (or The Rock has continued to ignore Gibson), so Gibson has said that he won't appear in Fast & Furious 9 if The Rock is on the cast.
"Hello world………. hello loyal fans and loved ones from OUR fast universe…….. I'm sorry to announce that if Dewayne is in Fast9 there will no more Roman Peirce," Gibson wrote on Instagram. "You mess with family and my daughters survival I mess with yours……… close your eyes dude you're a "Clown"…… #CandyAssBitchMade All my real one…. Men on integrity… my real ones out here stand UP…… folks that GP to the gym and get big naturally #NoJuice #NoOJ spin off huh? Spin off these nuts selfish champ…… pause notice who's got his arms around my shoulder and who's standing alone – #OurChildrenMatter"
The following photo accompanied the post: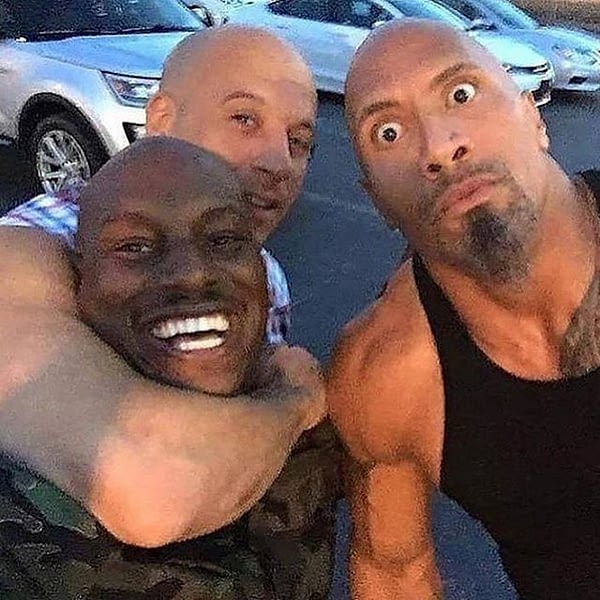 Gibson's feud with The Rock comes at a difficult time for the actor, who is currently involved in a heated custody battle over his daughter, Shayla, which has included Gibson being investigated for child abuse, though no charges have been filed. Gibson's lawyer denied the accusation, saying of Gibson's ex-wife Norma, "She's a lying piece of s***."