It looks like DC's creators will have a little extra incentive to make sure people want to read their Dark Matter books.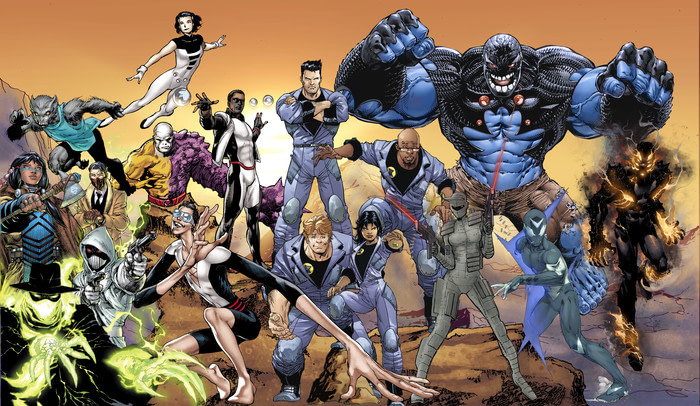 DC Co-Publishers Dan DiDio and Jim Lee bravely spoke with comics industry website and insomnia cure ICv2, despite witnessing what happened when Marvel's top executives did that earlier this year. In the course of the conversation, Didio dropped some interesting details about Dark Matter, the line of books featuring new characters by superstar artists hitting stores in the aftermath of Dark Nights: Metal.
Dark Matter is a huge influx in new characters into the DCU. What we did is we brought top talent on board. We have Jim (Lee). Andy Kubert, John Romita Jr. and a lot of key creators are coming on board to help really elevate and draw attention to these new characters, because it's so hard to get recognized in a crowded marketplace, so you really need the talent to help draw that attention (see "Jeff Lemire Returns to DC to Write 'The Terrifics'").

All these talents are participating in the books, whether that's creator-owned, or taking equity positions. They have vested value in participating and helping creating this. If these books win, we all win, which is, I think, the fairest way to approach anything.

It's an exciting moment for us because I feel honestly, since I've been at DC (and you can look back almost to the start of Image), this is probably the largest creation of new ideas, new books on the super hero level coming from a major company.
First of all, who are you and what have you done with the real Dan DiDio?! This sounds like a really smart move!
But never mind that.
Creator ownership? Equity positions? That's a sweet deal. Then again, it's worth pointing out that Alan Moore probably thought the same thing when he signed the contract for Watchmen.
[Rich adds: DC Comics have a long history of publishing creator-participant books and calling then creator-owned books – but it was a meeting a few years ago with then Warner exec Alan Horn that saw DC forced to change their creator owned deals to be far less favourable to the creators, and seeing a mass exodus of the big names from Vertigo as a result. Extracting a creator owned/creator participant book from DC Comics years after publication has been fraught with difficulty, with DC likely to publish a cheap collection of the comics in question to keep them in print and deny the creator ownership. But of course, that was then and this is now. DC Comics have also published creator-participant series set in the DC Universe too, which has the added benefit of making them even harder to extract – though not impossible.]