Review 0
{{ reviewsOverall }} / 10
(0 votes)
Users
Summary
A tense fantasy story with rogues and knights and court intrigue, respectful of the Dragon Age material and fun for fans of the game or the genre alike
Dragon Age: Knight Errant #4 from Dark Horse by Nunzio DeFilipis, Christina Weir, Fernando Heinz Furukawa and Michael Atiyeh is a great example of how Dark Horse has successfully continued the tales within the lavishly crafted world of BioWare's incredible fantasy epic series of games.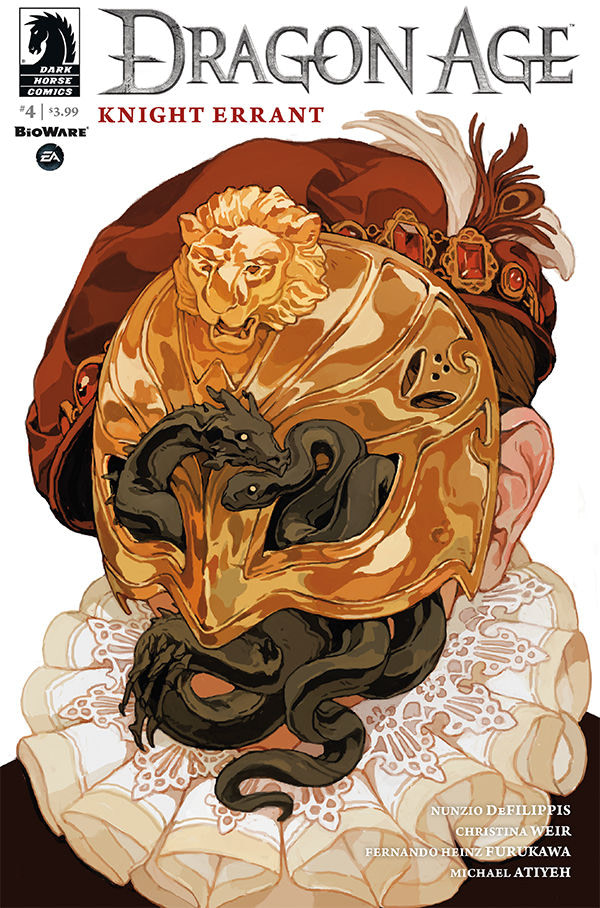 Dragon Age: Knight Errant #4 follows the adventures of the titular Knight Errant, Ser Aaron Hawthorne and his Elvish squire Vaea, or perhaps more accurately the latter, as they are drawn into a game of intrigue involving almost every aspect of the many distinct nations of the Dragon Age game. The story crafted here by DeFilipis and Weir is filled with tension and stylish roguery.
Even without having read the previous issues, this story is pretty easy to follow, and the reader is quickly drawn in by the interestingly fleshed out characters and situation presented. Enough to make me want to go back and read more, and find out more about these characters (and hope they make an appearance in future games in the Dragon Age series for sure).
And that's not to say some old favourites from the series don't make an appearance. Varric and Sebastian can be found here, and the story is respectful to the already established relationship between the characters, while also giving the sense of moving forward with it.
However, one does not need to have played the Dragon Age games to know what is going on, nor do they need to be exhaustively familiar with the game's labyrinthine, rich history. Instead, it's still quite accessible, and perhaps adds intrigue to find out more if so desired, or remain purely within this story.
The artwork as well is quite beautiful, filled with an honest and gritty detail, while also seeming full of fantasy and ornamentation to create a world that looks visibly full of depth and character. Furukawa and Atiyeh excel in every aspect, whether it be stealthy shadowy rogues or brutish bloody knights or even fine, Orlesian artisan masks and fashions.
Dragon Age: Knight Errant #4 is a fine example of great, tense storytelling, with intrigue and style that draws the reader in and encourages them to learn more.
Dragon Age: Knight Errant #4 is released in comic shops Wednesday, August 9th.
What people say... Leave your rating
Order by:
Be the first to leave a review.
Show more