Sam Wilson: Captain America #22
{{ reviewsOverall }} / 10
Users
(1 vote)
Summary
Writer: Nick Spencer, Artist: Sean Izaakse, Color Artist: Nolan Woodard, Publisher: Marvel Comics, Release Date: Out Now, Price: $3.99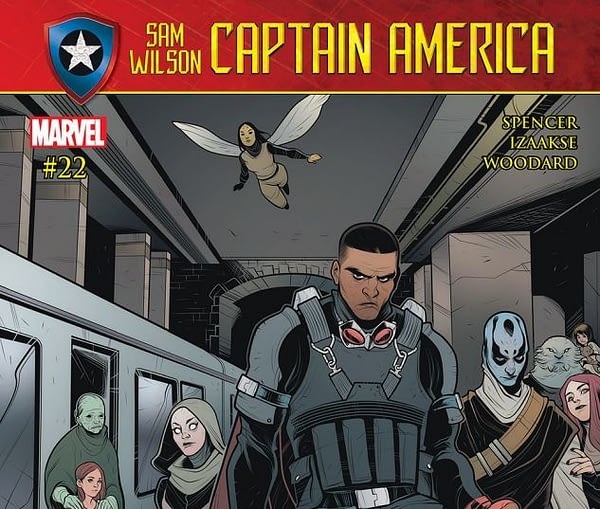 *Ties in with the Secret Empire crossover
Sam Wilson: Captain America is the best Marvel comic written by now-controversial writer, Nick Spencer, with Astonishing Ant-Man coming in at a close second. Sam Wilson has been a phenomenal book that has been more than willing to tackle heavy subjects with grace and tact (for the most part). It's got a lot of heart, a fair amount of humor, and some great action sequences, largely brought to life by Daniel Acuña (who is actually absent for Sam Wilson: Captain America #22).
The previous story has seen tales of police brutality, racial profiling, and the insidious system of privately owned prison facilities. It also left former Avenger and New Warrior, Rage, in a coma from which he will likely never awake. This has left Sam Wilson disillusioned and has coaxed him into dropping the shield and running away to the southwestern United States.
This issue shows us he was here when Hydra took over. Sam was attempting to sort out his life and his problems in the wake of the tragedy with Rage and the nigh-fascist Americops. He goes to a nearby town to see a group of men attempting to capture a young Inhuman girl and turn her over to Hydra. He intervenes, and the girl's mother begs him to smuggle the two out of the country. He agrees to help them, and this leads to him setting up a covert operation intended to get mutants and Inhumans out of the Hydra-controlled United States. He brings in his partners Misty Knight and the Demolition Man to aid him. This shows us where Sam was at when Ant-Man approached him in Secret Empire #2.
While it is still a fine read, this is definitely one of the weaker issues of this series. This is in no small part due to its needing to play itself to the tune of Secret Empire. You see the comic straining to fit into the spot the crossover has set up for it.
This is not to say the plot feels forced, as Sam's headspace in this comic was actually very well set up in previous issues of the comic. However, the story seems reluctant to have Sam do too much or go too far lest it not jive with Secret Empire itself.
That being said, it is disappointing to not see Sam leading a charge against Hydra. He's established himself as the pro-revolution Captain America, so it's disappointing to see him shy away from the role when a revolution is needed more than ever. It's also weird that the Winter Soldier's possible demise is never mentioned, despite him having been partners with Sam for a time when Steve was killed in the original Civil War.
Sean Izaakse does the art in this comic, and it's quite good. The figures are strong and defined, and the faces are expressive. The colors are balanced well, thanks to Woodard. The main problem is that neither have much to do in this comic. There's not a lot of creative space given for anything particularly stunning. The most they have is the opportunity to design a couple of anonymous mutants and Inhumans who get in touch with Sam. Beyond that, it's mostly normal people and a very brief fight scene.
Despite these criticisms, I'd be remiss to ignore the vast amount of character development Sam Wilson receives in this issue. We see him go down a sad path while the country simultaneously takes the dark turn onto the road of the Secret Empire. We see some "normal" folks say and do some horrible things which makes the world feel both alien and yet all too real.
This is a decent comic. It's not among the best of the series, but it is functional and provides a character-driven, if depressing, read. Pick it up if you've been following the series, are a fan of Sam Wilson, or just want a peek into the everyday world of the Secret Empire.
(Sam Wilson: Captain America #22 is now available at your local comic shop and on Kindle/Comixology)
What people say... Leave your rating
Order by:
Be the first to leave a review.
Show more
Enjoyed this article? Share it!