Batman is DC's best selling character by a long, long way. Month in, month out Batman tops the sales charts, especially since the Scott Snyder and Greg Capullo run began, but it's DC's best seller for decades. And with Batman, All-Star Batman, Dark Knight III and Detective Comics doing so well, and Dark Days: Metal looking like it will take it to another level, with The Button only exacerbating that, it would seem folly for DC Comics to attack the very foundations of the character.
But in The Button, that's what they did. With Thomas Wayne directly appealing to his son to stop being the Batman…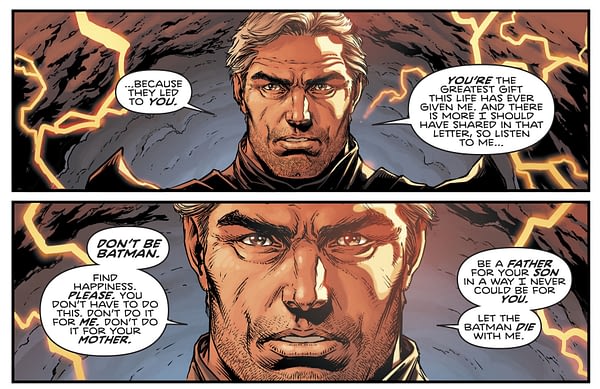 …and for the Batman to stand, not answering the Bat Signal…
…and over in today's Detective Comics #957, the entire comic is centered around the thesis that Batman is a bad thing for Gotham.
That the legend, the story of the Batman only creates the very monsters that come out to threaten it.
That there is a better way without the Bat Signal.
Because Batman creates the very monsters he's then called on to stop.
As they expect him to deal with them. A challenge, a rite of passage, a hazing more than a justice system.
And one that can create legends.
So Spoiler deprives them of that. Working from the shadows, giving the police all the credit. Depriving the monsters of the oxygen of Batpublicity.
It has been argued that media coverage of terrorist attacks only creates more terrorist attacks. The publicity, the legend, the story being the very point of the action in the first place.
Apply that to Batman and the very essence of the character might fall apart.
Are DC Comics killing the golden goose? Or will the audience refuse to believe the canard in question is a honking zombie?
Detective Comics #957 by James Tynion IV, Christopher Sebela, Carmen Carnero, Karl Story, Richard Friend, Javier Mena and Sal Sipriano is published today.