Dan Abnett is one of the two writers who brought us the current team of Guardians of the Galaxy that appear in the MCU films. Now, over at DC, Abnett is writing the Lazarus Contract that debuts in Titans #11 on sale today. The storyline focuses on Deathstroke and a task that he needs to get the help of either the Titans or the Teen Titans. This brings together three Rebirth titles and and according to the writer, harkens back to the Marv Wolfman / George Perez Teen Titan era story, The Judas Contract. But for new fans who aren't familiar with the previous Titans tale, Abnett promises this will be a well balanced story and self-contained.
What does Deathstroke need to complete his task? The ability to manipulate time, something a speedster can do and both teams have one. The story is about bringing things back to life and changing things in the past… making Lazarus more of a concept than a character according to Abnett. He also promises a big reveal as readers learn that one of the characters new something important and didn't tell anyone else.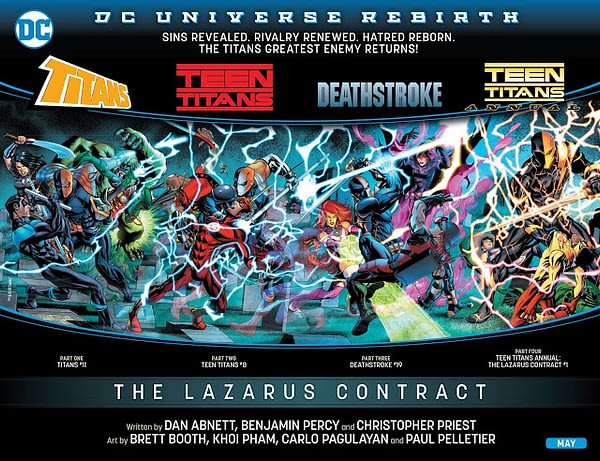 Titans #11 is on sale now. It the first of the four issue story that continues in Teen Titans, Deathstroke and the Teen Titans Annual. They also come with a connecting cover Brett Booth
Enjoyed this article? Share it!