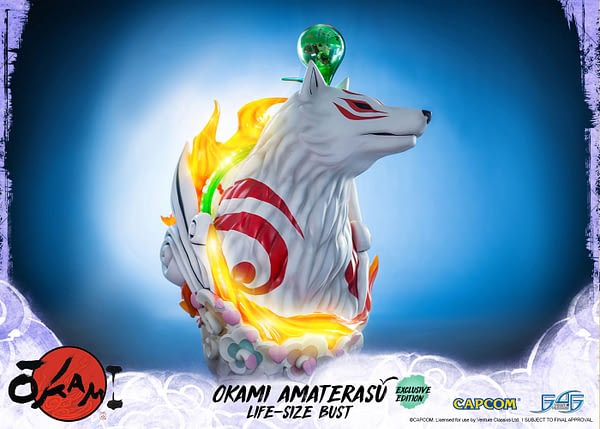 If you enjoyed Capcom's Zelda-esque video game about a sun-god who was also a wolf, Okami, then you'll probably enjoy this bust of the series' protagonist Amaterasu. Granted, you'll also need about $725 plus shipping and handling, but hey, who doesn't want an expensive life-size wolf bust, right?
Capcom and First4Figures partnered up to release a life-sized bust of Amaterasu which is pretty fantastically detailed for a bust of a wolf goddess. The whole thing stands at 26.5 inches tall and weighs 42.3 pounds. I'm not kidding, this thing looks like it was made with a serious amount of love. Oh, and you see those flames on the solar crest on her back? Yeah, they're lit up with LEDs.
But hey, there are multiple payment plans available to help you offset the cost of this fantastic Amaterasu statue. The figure's full description is massive, but here's the major gist of it all:
Amaterasu is the Sun Goddess to all of Nippon. The villagers of Kamiki Village knew her as Shiranui in her past life. Amaterasu is known for being unafraid to show her opinion but always aiding those who are in need. She also has a traveling companion who accompanies her along the way, Issun. Issun is a traveling artist who, at first, only tagged along to learn the 13 Celestial Brush techniques but then developed a deep friendship with Amaterasu.

Amaterasu's form is that of a white wolf adorned with crimson markings across her body. Since she is one of the legendary gods of the elements, Amaterasu possesses two sacred artifacts, the Celestial Brush and a Divine Instrument.  She utilizes the Celestial Brush through her tail whish is shaped like a calligraphy brush . The Celestial Brush is used to manipulate the Earth's natural elements. Amaterasu also has a Divine Instrument (being the Solar Reflector) floating above her back. The Solar Reflector) floating above her back. The Solar Reflector is used to fight against and vanquish evil. After a long absence, Amaterasu descended from the celestial plane as a reincarnation of Shiranui. She must now protect Nippon from the demon Orochi and his army of dark Spirits who threaten the world once more.

First 4 Figures is proud to present Okami Amaterasu Life Size Bust. She stands at 26.5 inches tall from the top of Issun's glowing orb to the rotatable base making for a simply stunning display centerpiece for any Okami fan. Comes in deluxe full-color packaging, hand numbered base and an authenticity card that allows you to purchase the same product number for future pieces in the Okami series.
For more images and information about the statue, you can head over the the First4Figure page dedicated to the figure. Or you can check out the "making of" video below to see just who the hell made this thing and why they've so lovingly crafted a massive wolf bust.
Enjoyed this article? Share it!