This is how Jonathan Kent, Superboy, was born, in Superman: Convergence. In the Batcave. Or at least, a batcave. The Thomas Wayne one from a different dimension.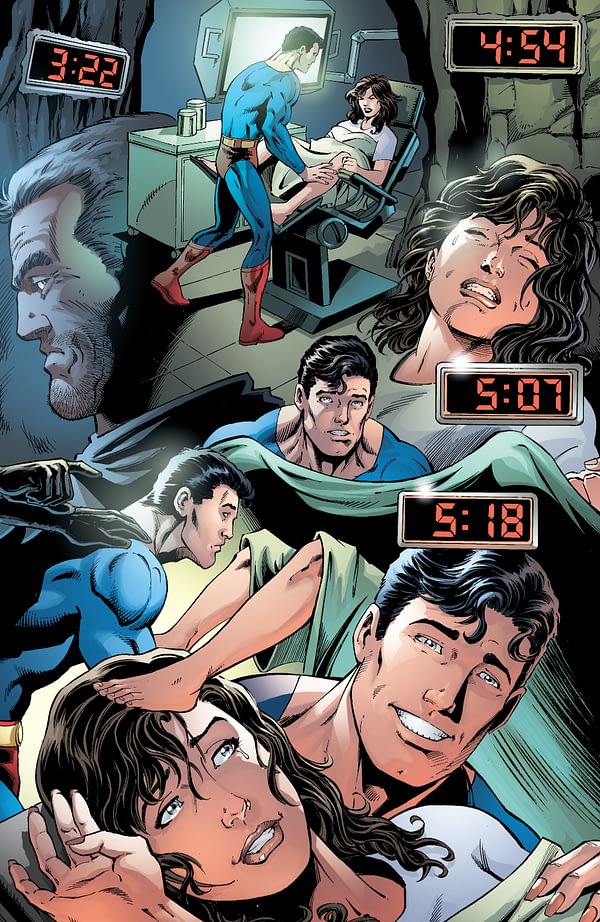 But today's Action Comics #978 is all change. Merging the events of the pre-Flashpoint Superman, the Convergence Superman and the New 52 Superman, into one continuity. We've already looked twice at how they are using the events from the Geoff Johns/Gary Frank's Secret Origin series. But there is plenty of other places to look and there are still many questions to ask. But, finally, you get some answers.
And we get a lot of the post-Crisis, pre-Flashpoint history. Yes including Blue Electric Superman.
And a proposal acceptance and revelation scene, right out of the 1990's Superman #50 and Action Comics from the same period.

Superman still dies at the hands of Doomsday straight out of Superman #75.
And their marriage straight out of the Wedding Album.
Just without the glowy ghosts.
But as for Convergence taking away Superman's powers so that he could conceive a child with Lois Lane? That is… brushed over. No Convergence. 

Rather than a Batcave, we get a Fortess Of Solitude. Batman and Wonder Woman on hand. And instead of Lois naming their child…
Superman gets in first. Merged timelines also means no Jonathan Carroll for Lois to date, no Wonder Woman/Superman relationship, and the Lois And Clark years added into the timeline for the main Superman.
Which adds another ten years to the timeline. The five year timeline for Superman's actions, established by the New 52 is dead. In fact pretty much everything from the New 52 is now dead. This comic is an act of war against the New 52, replacing Dan DiDio's revived Superman with a mix of Geoff Johns, John Byrne and Dan Jurgens.

But as for that Thomas Wayne Batcave? We're not done yet…
Action Comics #978 by Dan Jurgens and Carlos Barberi is published by DC Comics today.
Related Posts