Batman/TMNT Adventures #4
{{ reviewsOverall }} / 10
Users
(0 votes)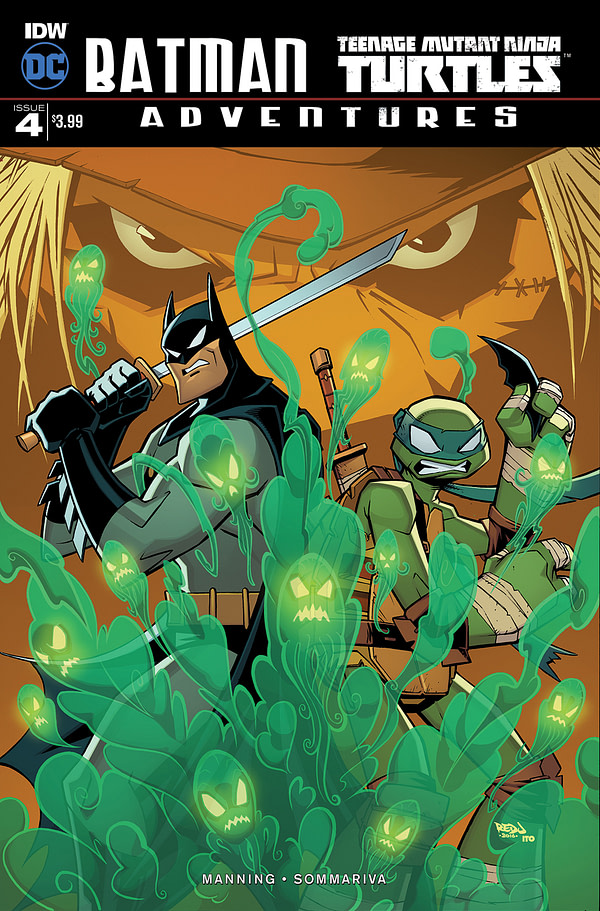 I'm still on that Lego Batman Movie high so naturally I just want more Batman. Life's terrible. Thankfully I have comics to tide me over!
In the last issue, the Turtles and Batfamily had just taken down Poison Ivy and Snakeweed, but that was only the start of it. Scarecrow released a hallucinate gas into the city, causing pandemonium. We open with Batman trying to track Scarecrow down, but alas. Our hero is taken down when he see's an injured Alfred in the alley. Meanwhile the Turtles are taking on Joker's newly acquired Foot Clan.

This series is fantastic. Writer Matthew K. Manning has brought these two franchises together beautifully, and he writes each individual character flawlessly. I especially love how Batgirl and April are written in this story. They are both capable of defending themselves solo, but they still shine in a team. The two quickly pair up during fights, and it's clear a friendship is blossoming between the two. Even Robin and Batman are growing closer to the Turtles as well, and even though there is some awkwardness between everyone they both have a common goal: defeat the bad guy and go home.
Artist Jon Sommariva has seamlessly blended the style of B:TAS and the Nickalodeon TMNT together, and it works. It really is the best of both worlds in this series. I was especially fond of the panels where Batman, Leo, and Raph are being held captive by Scarecrow while hallucinating. Leo in particular is seeing an exceptionally creepy, if not nightmareish Batman chained up next to him. It's a jarring image for a kids comic, but it's effective. I can't wait for the next issue of this series.
What people say... Leave your rating
Order by:
Be the first to leave a review.
Show more