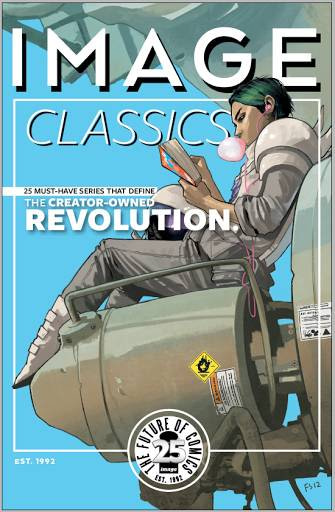 Image Comics is turning 25 years old in February and they are really going to let you know about it.
They are announcing Image Day for the 1st February. So there are 25 cents Skybound comics out that day, retailers get an Image collection sale and there are… stuff retailers can order for the store.
Posters, window cling, bookmark and copies of the Image Classics 25th Anniversary Edition.
Image Classics 25th Anniversary Edition celebrates 25 years of creator-owned classics! Dive into this list of milestone series and discover the comics that have made the careers of countless writers and artists and changed the lives of readers everywhere. From Spawn to Monstress, this special round-up gives readers a history of the company's best series, how they came to prominence and shook up the industry, and why they continue to resonate with and will influence audiences worldwide for years to come.
Part of which, Image has chosen what it sees as the 25 "key" titles for retailers to stock in 2017. It might just reveal where their head is at. They are:
Bitch Planet Volume 1: Extraordinary Machine
Black Magick Volume 1
Black Science Vol 1
Blue Monday Vol 1
Chew Volume 1: Tasters Choice
Descender Volume 1: Tin Stars
East of West Volume 1: The Promise
Fatale Vol 1
The Fix Vol 1
Head Lopper Vol 1
I Hate Fairyland Volume 1: Madly Ever After
I Kill Giants
Injection Volume 1
Monstress Volume 1: Awakening
Outcast by Kirkman & Azaceta Volume 1
Paper Girls Vol 1
Rat Queens Volume 1: Sass & Sorcery
Saga Volume 1
Sex Criminals Volume 1: One Weird Trick
Savage Dragon
Southern Bastards Volume 1: Here Was a Man
Spawn: Origins Volume 1
The Walking Dead Volume 1: Days Gone Bye
The Wicked + The Divine Volume 1: The Faust Act
Wanted GN