By Mac Smith
How do I break into comics?
How do I get noticed?
How do I find an audience?
These are questions I'm asked with increasing frequency. By "break in", I'm not sure if they mean they want to work at Marvel/DC or if they want to carve out a niche for themselves, telling their own original stories. I can't really help with the first one, but for the second, I can tell you how I built up an audience for my comic Scurry in a relatively short time. With the gracious help of this audience, I was able to successfully crowdfund the printing of the first book using Kickstarter in just a few hours, raising over $66k to date. This despite being unknown as a comic artist nine months ago. There are still 9 days left to go on the campaign, so it's not too late to grab a copy if you want.
Scurry is a post-apocalyptic mouse comic that I started working on about a year ago. By putting it online in January as a free, bi-weekly webcomic and posting regularly on social media sites, I was able to build up a sizable audience in less than a year (the story and artwork hopefully helped, too.)
If you are planning your own crowdfunding campaign, don't expect Kickstarter to magically provide an audience for your comic. You will need to build up an audience beforehand and bring them to your campaign. This in turn will attract more attention from the Kickstarter community and beyond.
But how do you build that audience?
Give it away for free (as if you had a choice) and put it everywhere.
Not only do I put the comic online on its own site (www.scurrycomic.com), but I also post the comic on sites such as Tapastic, DeviantArt, and later on, Webtoons. It's a bit of extra work, but it helps to put a lot of eyes on the comic. Ad revenue from the webcomic is, frankly, a joke, so I don't really care if those sites take a cut. I want people to see the comic.
It's also popped up in some pretty strange places. Occasionally someone will post a ton of pages on Imgur, and a few people in countries such as Russia post it on their sites (with translations). Bizarrely, it's even updated regularly on a couple of porn sites! I won't even pretend to know why (it's not that kind of comic!), but whatever. The more the merrier I suppose.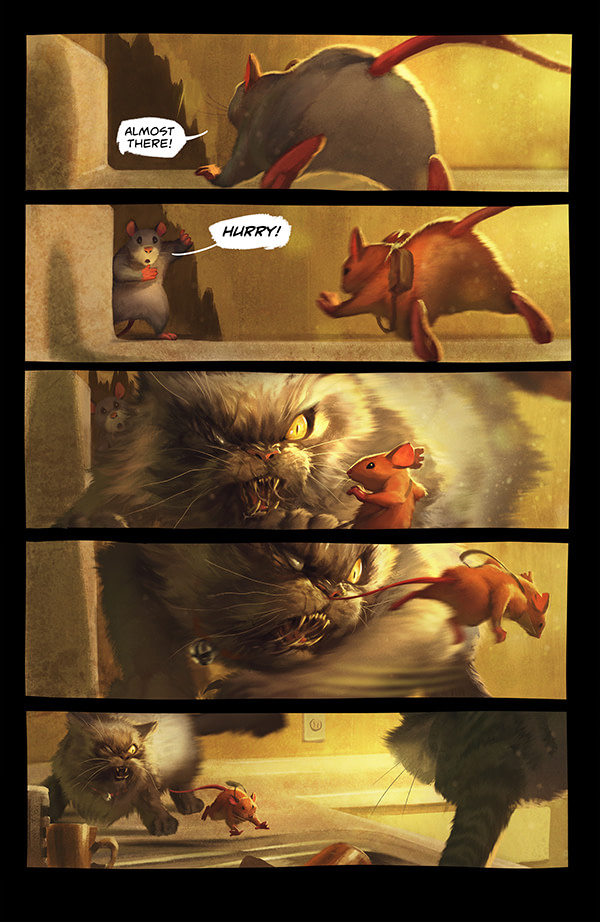 Ultimately, if your comic is available in the internet age, it's available for free, so don't worry about trying to control how it's presented, or worry about people "stealing" it. It's a waste of your time. Besides, all you're concerned with in the beginning is getting the comic out there any way you can. There will be plenty of people out there ready and willing to support their favorite artists or hold a physical copy in their hands (myself included.)
Every panel is a painting (and an Instagram post.)
How often do you see a comic panel that is a great work of art in its own right? Comic pages with quality artwork can provide plenty of imagery for social media posts, which in turn drive people to your comic. The average number of panels on a Scurry page is six. At 80 pages, that's 480 individual pieces of artwork!
Of course, they can't all be winners, and many won't make sense as isolated images, but I can usually get 2 or 3 good images per page to post on Instagram or Twitter. Sometimes a particularly witty line of dialogue or interesting bit of prose will work as well; it doesn't always have to be strictly artwork. Adding hashtags like #makecomics or #webcomics can help people discover your work, too.
You don't want to be spammy with these posts, though some sites are a little more "spam" friendly than others. Vary your posting frequency depending on the community. I may post artwork on Instagram and Twitter once or twice a day since they disappear down the feed quickly, but for other sites like Facebook or Tumblr, I may only post larger images a couple of times a week.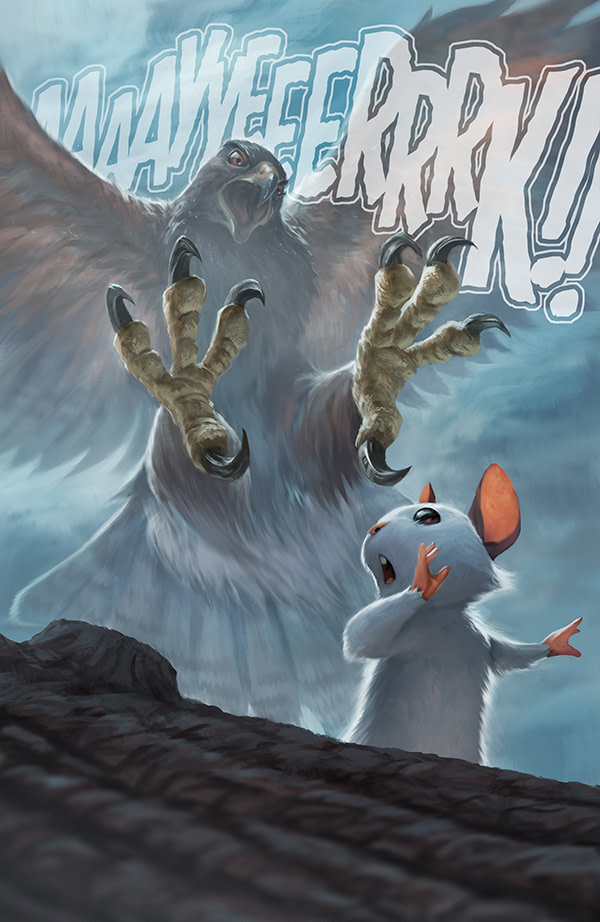 Speaking of Facebook, it's still the 800 lb. gorilla of social media. You probably want to be on there, regardless of your feelings towards it. Pledges from Facebook outnumbered all the other sites combined, but I wouldn't neglect other sites completely. There is a thriving community of artists and fans that are happy to connect with you there, though Facebook can make it hard for you to reach them sometimes. I would recommend a personal profile strictly for your art, and wouldn't worry about starting a "Facebook Page" unless you reach your friend limit. Facebook likes to bury Page posts unless you shell out big bucks to advertise (and in my experience, advertising on Facebook was a waste of money.)
Show your work.
Fans love to see behind the scenes, so let them. I created tons of concepts and sketches before starting the comic, and posted that stuff publicly as I went. I'm also happy to answer questions or offer tips or tutorials when I can find the time. Many readers are also aspiring artists, so helping them out can build stronger connections with your audience.
For writers, blogging regularly about the trials and tribulations of storytelling can be an excellent way to build a following as well.
This being my first real attempt at making a comic, there were some growing pains as I developed a good process for making the pages, but I shared it as I went. I even live streamed the production of the comic at first, though it proved to be too distracting. Maybe it will work better for you? Regardless, creating some type of video of your process can really help draw attention to your work (and video often shows up more in social media feeds because of their sinister algorithms.)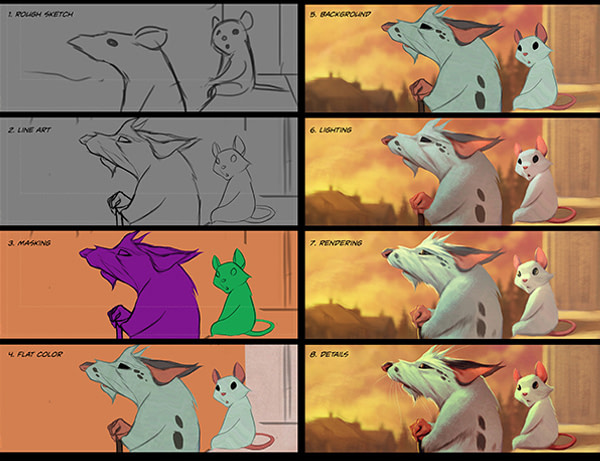 I also periodically save out my progress on a page as I work on it, and later assemble these images into animated gifs showing the evolution from sketch to finished and lettered page. People love seeing the page come to life in a few seconds.
Aim for quality and take your time.
Finally and most importantly, focus on quality. The big comic creators have to worry about tight deadlines, last minute editorial decisions and cut corners. You don't, so take your time and get it right. Don't be a perfectionist about it, but make the best comic you can, both with the writing and artwork. This is your only real advantage in the marketplace, and it's how you will stand out. The artwork will get people's attention, but the writing will keep them invested, so don't skimp on either.
You don't have to launch right away: build up a buffer before launching so you won't have to worry about missing an update. I had the first episode of Scurry finished (32 pages) before I posted page 1. This gave me plenty of time to tweak things without feeling rushed. It will take time before you see results, but if you are patient and consistent, you will give yourself the best chance to succeed. Just remember art is meant to be shared, so get it out there.
-mac
Enjoyed this article? Share it!