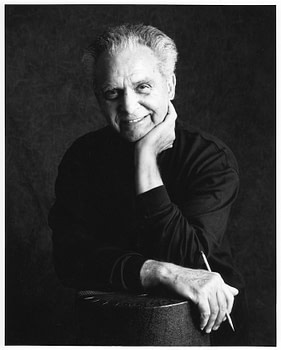 On August 28th marks what would be Jack Kirby's 99th birthday. To celebrate the comic legend The Hero Initiative and Jillian Kirby, founder of Kirby4Heroes campaign have put together a "Wake Up and Draw" that will feature more than 50 artists doing just that… waking up and drawing.
All the drawings will be featured in a gallery on ComicArtFans.com and will be auctioned to benefit the Hero Initiative starting August 30th.
And as a special bonus, artist Phil Hester will be drawing all day to create 99 Kirby-inspired pieces. You'll be able to follow him on twitter or any of the artist using the hashtag #WakeUpAndDraw.
Jillian Kirby, Jack's youngest granddaughter, has spearheaded the "Kirby4Heroes" campaign since 2012. Jillian has recruited a number of comic stores to donate a percentage of their sales to Hero on this special day. Individual fans can visit the official Kirby4Heroes campaign Facebook page at https://www.facebook.com/kirby4heroes and donate via the PayPal link at www.HeroInitiative.org. Please type in "Kirby4Heroes" in the special instructions box.
Participating stores include:
Alakazam Comics, Irvine, CA
All About Books & Comics, Phoenix, AZ
Arcadian Comics, Newport, KY
Aw Yeah Comics, Skokie, IL
Bedrock City Comics, five locations in Houston, TX
Blastoff Comics, North Hollywood, CA
Borderlands Comics, Greenville, SC
Captain Blue Hen Comics, Newark, DE
Carmine St. Comics, New York, NY
Carol & John's Comic Shop, Cleveland, OH
Collector's Paradise, two locations in Los Angeles, CA
Collectors Corner, Parkville, MD
Comics & Collectibles, Memphis, TN
Comix City Too, Madison, TN
Comix Experience, two locations in San Francisco, CA
Cosmic Comics, Las Vegas, NV
Cosmic Comics & Toys, Cantonsville, MD
Destiny City Comics, Tacoma, WA
Dragon's Lair Comics, Austin, TX
Earth-2 Comics, two locations in Los Angeles, CA
Escape Pod Comics, Huntington, NY
Excellent Adventures Comics, Ballston Spa, NY
Flying Colors Comics, Concord, CA
Geoffrey's Comics/Hi De Ho Comics, two locations in Los Angeles, CA
Heroes Comics, Fresno, CA
I Want More Comics, Northglenn, CO
Jesse James Comics, Glendale, AZ
Joy's Japanimation, Greensburg, PA
Lee's Comics, Mountain View, CA
Lost Legion Games & Comics, three locations in Charleston, WV
Mission Comics and Art, San Francisco
Nans Games and Comics, Houston, TX
Paradise Comics, Toronto, Ontario
Phantom of the Attic Comics, two locations in Pittsburgh, PA
Queen City Comics, two locations in Cincinnati, OH
Samurai Comics, three locations in Phoenix, AZ
The Comic Book Shop, Wilmington, DE
World's Best Comics, Sacramento, CA