Hello Boys and Girls,
It's your old pal Will Romine here at the Fear the Walking Dead Panel.  FWD returns to AMC on August 21st.  The tagline for the midseason premiere?  Death knows no borders!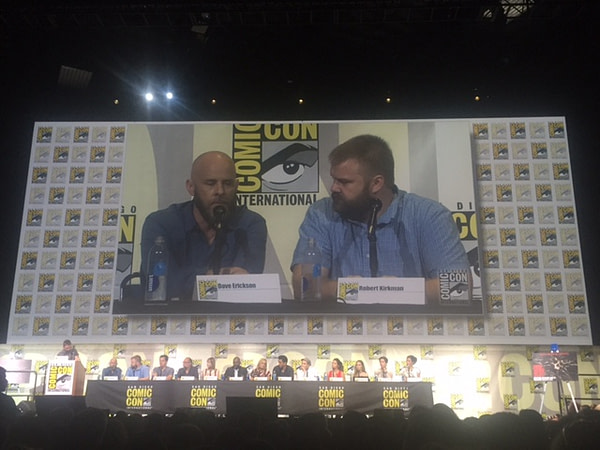 The season picks up South of the Border where the characters have gone on separate paths following the destruction of the Abigail estate.  We find our characters adapting to this new status quo in different ways.  According to show runner Dave Erikson, the characters have lost their sanctuaries and now must adapt to a new reality where there are no safe places.  Bonds are broken and each character needs to find their way in this world without the support networks that sustained them in the first season.
When we last left Nick (Frank Dillane), he had split from his family and was traveling solo.  According to Dillane, "Nick hasn't given up on his family, he just needs some space to figure things out."  His journey takes him to "La Colonia" a suburb of Tijuana.  The residents believe that the walkers are the next evolution.  Their beliefs mirror the late Celia's, who left Nick considering the spiritual aspect of the walkers' transition.  In "La Colonia", Nick meets Luciana, a new character portrayed by Danay Garcia who views Nick as an outsider.
The Madison (Kim Dickens), Strand (Colman Domingo), and Alicia (Alycia Debnam-Carey) splinter group find themselves divided between the everyday business of survival and the immediate task of finding Nick.  Strand believes that they should return to the Abigail, whereas Madison pushes forward to find her son.   Domingo defines Strand as a character who has had everything stripped from him and now must be rebuilt.  Whether Strand 2.0 is built stronger remains to be seen.
Domingo was asked whether Strand's relationship with Thomas Abigail was one of true love, or a means to an end.  Domingo opined that, because Strand defines his relationships through obligation, it was probably the latter, until he reunites with Thomas at his deathbed.  It was only then, that Strand felt true love for Abigail.
Finally, we come to the father-son team of Travis (Cliff Manawa) and Chris (Lorenzo James Henrie).  In the last episode, Travis takes off after Chris after his son is found watching over a sleeping Madison and Alicia whilst holding a knife.  They reconnect, beginning the most bizarre father-son camping trip in the history of both fathers and sons.
The mid season premiere finds them continuing their road trip.  In a move from sad ass to bad ass, Manawa says that his character will slowly develop the skills and make the decisions necessary to survive in this new world order.
Henrie's character, on the other hand, has the opposite problem.  He is too far advanced on the learning curve of this new reality and must instead dial it back.  I'm interested to see how the new episodes explore this dynamic.
It's going to be a great mid-season return.  I thought the first few episodes of the series were a little slow, but it's emerged into something that honors the parent series, while exploring new ground.  Once again, Fear the Walking Dead will return on August 21.