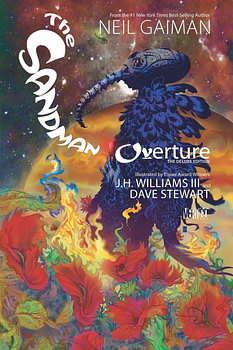 When Karen Berger walked onto the stage at Image Expo, flown in by Image Comics to promote the new comic she's editing, Surgeon X, the memos started flying at DC Comics in panic. Had Karen Berger moved to Image Comics?
This was, after all, meant to be DC Vertigo's big weekend. Yesterday DC announced its new mature readers line curated by Gerard Way and editorially aligned with DC Vertigo, Young Animal.
And then there's the new Sandman line, described further below. And just before it, ex-Vertigo Executive Editor and still for many, the face of Vertigo, Karen Berger walked out on stage and pissed on their chips. Even though she is just freelance editing one title for a writer less familiar with the comics form, and working with an artist she knows of old.
It hasn't been an easy time for the mature readers brand at DC Comics. Their line of new critically acclaimed titles has, to a man, bombed in individual issues, even as the trade paperbacks have started to do well. Comic books stores have not reacted well to any Vertigo title of late aside from Sandman Overture, ever since DC Comics took away all the DC character-based books like Hellblazer and Swamp Thing. Young Animal and the appeal of Gerard Way is an attempt to try and reverse that act of vandalism. Even when Vertigo made the first issues of all the books returnable, retailers didn't bite to what they saw as Image Comics lite. Bookstores responded better but by then it was too little too late. The ongoing titles became 12 or 13 issue books (although Sheriff Of Babylon got an extra two issues added to the original planned ten) and some mini-series saw their planned issues cut in half.
Bleeding Cool has already told you that DC/Vertigo is planning a number of new Sandman spinoff books, along the lines of Lucifer, for later this year. Based on scenarios by Neil Gaiman, and created by some familiar names.
Intriguingly, they were meant to be published already, but there has been a hold up. We are, however, expecting them to be announced at ECCC this weekend.
I'm currently hearing from Seattle bar gossip about two "anthology" books, that have solicited independent story arcs from a number of creators, along the fashion of the old Dreaming comic.
One of those books will focus on a new House joining the House Of Secrets and the House Of Mystery in the Dreaming and generating new stories from that. I am told, however, that it has been forbidden for Dream, the Sandman, Morpheus or Daniel, to appear in the comic.
Even though one of the books revolves around something rather major and un-ignorable happening to the Dreaming…
More from the new line, hopefully, this weekend. Or, you know, wait til San Diego.