Bleeding Cool encourages readers to write about upcoming comic related events in their own local area and submit them. We may be able to arrange press access as well.
"London, city of sin, London the place I grew up in, just one big old looney bin, London" – Richard Curtis, The Tall Guy
First, two pieces of London knowledge. Farmers' market delivery service Farmdrop, to keep you fed, watered and healthy. And Uber to get you home in one piece after one of the events below goes on late, with £15 off your first ride.
Okay, April In Comics starts big tomorrow night. But first the ongoing exhibitions
Comics Creatrix: 100 Women Making Comics at the House Of Illustration until mid-May. The UK's largest ever exhibition of the work of pioneering female comics artists
Shojo Manga: The World of Japanese Girls' Comics at the House Of Illustration until mid-May. The first major exhibition of Japanese shōjo (girls') manga on tour in the UK.
Taking The Cake exhibition of Hostess Cup Cakes/Twinkie adverts in classic comics, Orbital Comics, until April 18th A Taste Of Honeysett:The Acerbic Wit of Martin Honeysett, until 16th April Cartoon Museum
 An exhibition that marks the first anniversary of the death of Martin Honeysett (1943‒2015) one of the sharpest and funniest newspaper cartoonists of the last forty years—he died in January 2015. "He was not just a cartoonist, he was a brilliant artist … His masterly cartoons featured grotesque, squalidly dressed men and women often living in the company of rats." – Richard Ingrams, Editor, Private Eye
Friday 1st April
11am-1pm, Cartoon Museum
Kids Mini Comix Workshop Write and drawn an eight age mini-comic. Ages 8-14 £10
11am – 1pm and 2pm – 5pm
Accessible Family Illustration Day, House Of Illustration, A family art day of workshops for physical and sensory disabled children to get inspired and enjoy a fun-packed day!
7-9pm, Gosh Comics
Phonogram: The Immaterial Girl Launch Party
Launch party and signing for the trade of Phonogram: The Immaterial Girl with Kieron Gillen, Jamie McKelvie, and the B-side contributors Tom Humberstone, Julia Scheele, & Sarah Gordon.
Sunday, April 3rd
3pm-6pm, BFI, South Bank
Terry Jervis Masterclass: from Comics to Blockbusters
He is currently involved with both the Royal Air Force and Marvel organisations working on Iron Man, Black Panther and Spider-Man. He is also producing his own African Superhero animation  titled Spirit of the Pharaohs and has one of the biggest comic collections in the UK.
Monday, April 4th
6.30pm on
Drink And Draw, Gosh! Comics then The Royal George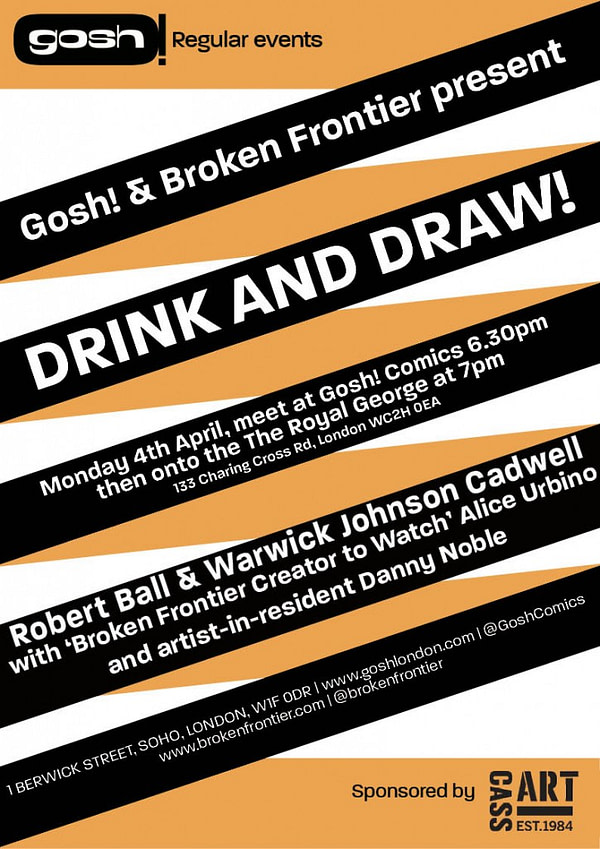 2-4pm, House Of Illustration
Manga Workshop for teenagers with Karen Rubins. A fun manga masterclass for 12 – 16 year olds, inspired by our fabulous Shōjo Manga exhibition. Visit our Shōjo Manga exhibition, and take inspiration for your own manga creations. Design your own character, and learn about manga drawing and storytelling techniques. Pick up tips for developing your artwork as you make your own comic page featuring your manga character.
We will be hosting the launch party for the new series by Isabel & Imogen Greenberg, 'Discover!' with the first two titles 'The Roman Empire' and 'The Ancient Egyptians'. The launch will be 
Tuesday, April 12th
7pm, House Of Illustration
Comix Creatrix: Posy Simmonds meets Florence Cestac
Join two pioneering creators as they explore the world of comics in France and Britain, from the 1970s to today
Wednesday, April 13th
5.30pm-7.30pm, Orbital Comics Jay will be signing copies of his Surface Tension trade paperback, along with offering some unique prints and a Surface Tension colouring book.
Thursday, April 14th.
7pm, House Of Illustration.
Keeping Sketchbooks. Celebrate the importance of the sketchbook in this evening of illustrated talks as we launch Martin Ursell's 'Keeping Sketchbooks'
Friday, April 15th
7-9pm, House Of Illustration
Aline Crumb in conversation with Sarah Lightman
Arnie's Air Conditioner and other fond memories:, £11.
7-9pm, Gosh Comics
Launch party for the new picture book 'There's a Tiger in the Garden' with author Lizzy Stewart.
Saturday, 16th April
1-5pm, House Of Illustration
Carol Adlam: Creating graphic novels. Create a short graphic novel in an afternoon in this expert-led session with illustrator Carol Adlam
3pm, House Of Illustration
Women Making Girls' Comics. The women writers and artists who worked on British girls' comics of the 70s and 80s were often uncredited, but their work has been deeply influential and is now beginning to garner the recognition it deserves. An exploration of the 'Golden Age' of comics aimed at younger female audiences, introduced by Jenni Scott and Mel Gibson.
Sunday, 17th April
10.30-1pm, House Of Illustration
Illustrating People with Sion Ap Tomos. Back by popular demand! Explore a range of ways to draw people in this expert-led short illustration course. A ten-week short illustration course taking place every Sunday from 17 April-26 June 2016. No class on 29th May 2016.
11am on, Royal National Hotel
London Comic Mart, 11 am entry, £5, Noon entry, free
Wednesday, April 20th
The Great British Graphic Novel, opens 20th April until Mid July, Cartoon Museum

An exhibition looking at the rise of the British Graphic novel with works by William Hogarth, Kate Charlesworth, Dave Gibbons, Martin Rowson, Posy Simmonds, Bryan and Mary Talbot and many others. I've donated a page from my own collection for From Hell. There will likely be as-yet-unannounced events around this exhibition.
7-9pm, Gosh Comics
A launch party and signing for the picture book Alphonse, That is Not OK To Do! with Daisy Hirst.
Wednesday, 23rd April
1-5pm, House Of Illustration
Jade Sarson: A manga masterclass. Explore the history of the manga art form and perfect your own manga-inspired short comic
Dani Strips Exhibition opens, runs through the month, Orbital Comics 5.30pm-7pm, Orbital Comics
John Allison signing Giant Days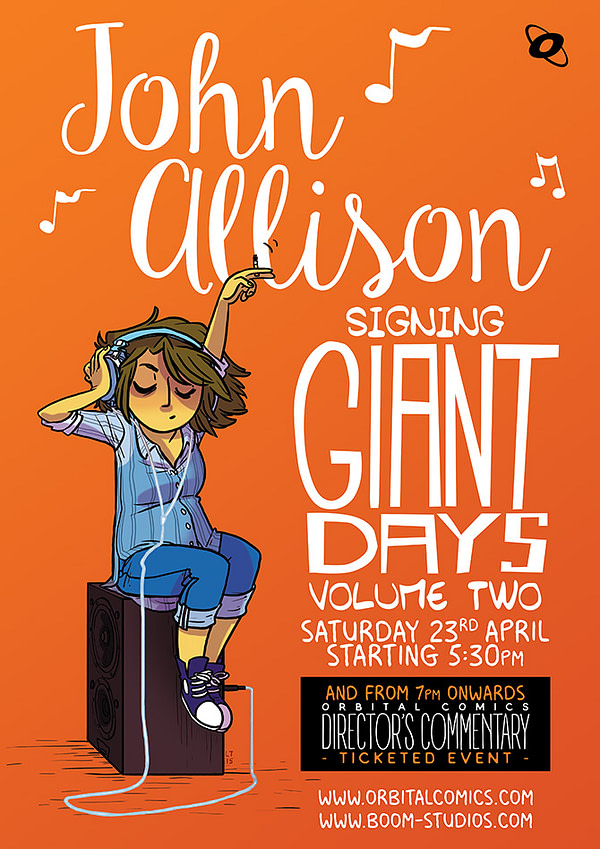 7pm-Onwards, Orbital Comics
John Allison Directors Commentary
Saturday, 30th April
2-5pm, House Of Illustrations
Monster Puppets and Adventurous Illustrations. Meet a pair of illustration-loving monsters and draw your own adventures with author-illustrator Daisy Hirst.
Natalie and Alphonse are small monsters who like to make things, and to draw strange and exciting adventures for themselves. Alphonse also eats books. Come and make your own monster puppets and adventurous illustrations in this family workshop based on Daisy Hirst's second picture book, ALPHONSE, THAT IS NOT OK TO DO! An afternoon of drawing, making and stories with the author-illustrator of The Girl with the Parrot on her Head. Read about Daisy's previous workshop here.
Suitable for ages 5+, with places for 15 children. All children must be accompanied.