As part of the DC You relaunch there was an emphasis on reducing the demands of continuity. And so we have seen a variety of Batman and Superman portrayals in simultaneously running comics – Batman has a healed Bruce Wayne who has no knowledge of being Batman, in Justice League he is a vengeful god and in Justice League Of America he is someone against hospitals in case criminals could benefit from their services.
We'e also recently has Arsenal as a recovering alcoholic taking sensitive steps and making progress in his own title – and then drink driving in today's Titans Hunt.
But the gulf is no bigger than with Harley Quinn. Two books featuring her are out today. One in her own title, one is Suicide Squad. In the latter, Amanda Waller takes on the team one by one and gives us this Harley. The tone, the feel, the very portrayal of reality is at odds and that's just the way DC likes it.
A Harley who doesn't need anyone?
Quite a difference to the Harley Quinn title portrayal…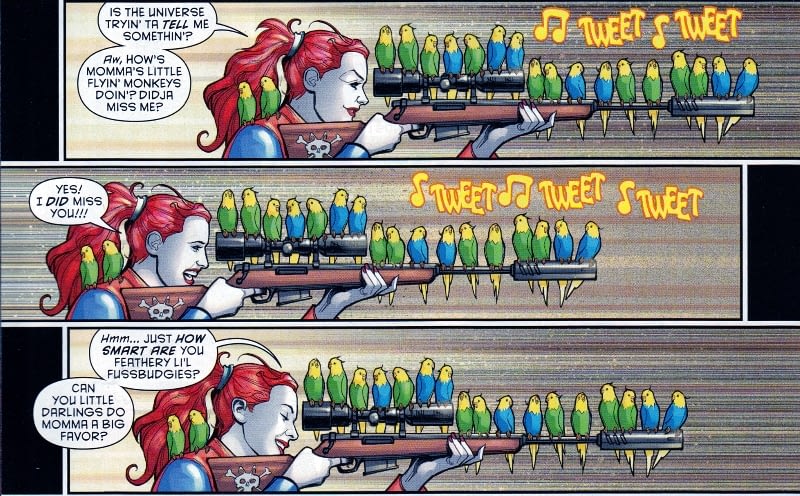 Who even asks the parakeets to give her a hand.
Harley Quinn is a malleable character who can of course turn on a sixpence. But which is your Harley Quinn? And will the upcoming movie push one over the other?
Comics courtesy of Orbital Comics, London. Who, tonight, are hosting the launch and signing of Dan Watters & Caspar Wijngaard's new and first Image Comics series, Limbo after pitching it at Thought Bubble Festival in Leeds last year.
Enjoyed this article? Share it!