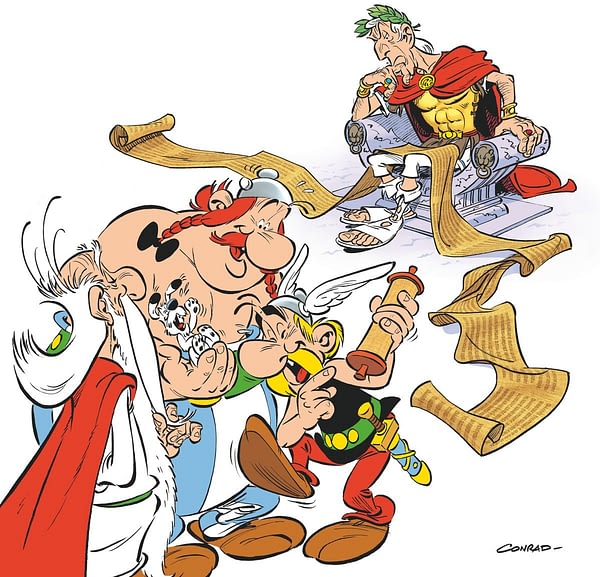 Pedro Bouca writes for Bleeding Cool,
I've just read the very first new Asterix book sold in Portugal (yeah, we got a midnight release here, Asterix is our very own comic book-y Star Wars!). And I must declare that it's the best Asterix book of the last 30 years!
First a quick story resume for those that haven't heard of it yet. The plot is inspired by Julius Caesar's real-life book on the Gallic War. In the comic, the book has a missing scroll, where the Roman general tells of his fruitless efforts to take down a certain Gaul village we know so well. However, Caesar is convinced by one of his advisors to cut that papyrus from the published version. But this scroll leaks to a muckraking Gaul activist (the Julian Assange inspired character), who wants the whole world to know the truth and runs away to the village to save his hide. Hijinks ensue.
The book is the second by the new creative team of Jean-Yves Ferri and Didier Conrad. Unlike US comics, it's still fairly uncommon for French-Belgian comics to be continued by other people besides their original creators – and when we are talking about a series that was drawn by the same artist over fifty years, it's a very tall order for the new creators. Their first book was just average, but this one is a marked improvement.
The writing in particular improved by leaps and bounds. René Goscinny's shadow looms heavily on the series, since his former partner, Albert Uderzo, despite his best efforts, was never able to reproduce the particular brilliance of his deceased friend. Goscinny's work on the series, combining rock-solid plotting, deft characterization and a sense of humour that went from the well-aimed criticism of modern-day society anachronistically reflected in ancient times to lowbrow visual gags and his trademark infamous word games, seemed impossible to emulate. But this time Ferri did it!
It's all there. For the first time since Goscinny's untimely death we finally have a book that reads like the old-time Asterix books. All the little touches are there, like the elaborate anachronisms, the well-thought characterization of even the most fleeting characters, the airtight plotting. It reads like one of the Asterix classics! Just, well, not one of the best Asterixes. We can still see some weaknesses. The story is resolved far too quickly and conveniently. Some story threads weren't as developed as they could. The series hasn't yet recovered all of its former sophistication that made it a true all-ages comic, as appealing for adults as it was for kids. Some of the gags also fell short, but, of course, I'm working with a translated edition here – and only the French edition will give people the full Asterix experience (well, assuming you know French, of course, but I understand that the English-translated edition is one of the best ones). But it's in the right track. It's a vast improvement from the previous one and if the next one is as much of an improvement, it will rightfully sit alongside the all-time best Asterixes.
But that is just the writing; the art also deserves a lot of merit. The previous book had to be done in a rush, but for this one Conrad has time to show his talent. And it's quite impressive. His storytelling is, as always, impeccable and his visual gags are as good as Uderzo's, as is his lush and impressive scenery, although it has a somewhat different feeling. And that's the most notable thing about the book. The previous one (again, done in a rush) was much closer to Uderzo in tone, but this one, even if unquestionably better drawn, is more distant. It's strange, like watching a movie scene you know by heart from a different camera angle. At every turn, you expect the drawings to be just like Uderzo always did them, but they aren't. Not in a bad way, of course, but it's a strange feeling for a long-time reader.
But those are very minor complaints. The new team has finally shown its capabilities and proven that they are the right choices to do the world's best-selling comic. This is the best the series has been in decades and proof that there is still a lot of life on those characters. And their vast audience will no doubt agree.
Asterix And The Missing Scroll is published worldwide, now. Here's an English language preview…
Enjoyed this article? Share it!