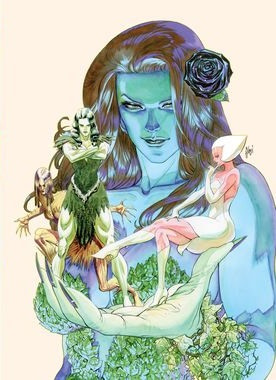 In January, announced in USA Today, DC Comics are launching a number of new series, not what we previously referred to as "Big October".
Including a new Poison Ivy mini-series, Poison Ivy: Cycle of Life and Death, by writer Amy Chu which
takes the Batman villainess in "a really new direction," Harras says, "and it's a fun twist on her character and where she's going to go."

Chu finds Poison Ivy "a fascinatingly complicated character with an incredible fan base," she says. "We know her, but we don't really know her. There's so much opportunity to build her world without the burden of continuity. And let's face it, writing villains is more fun."

Taking a big role in the DCU is also a very personal challenge for Chu. "My grandfather was a doctor in Hong Kong back in the '50s, and apparently he was a huge DC fan," the writer adds. "For years, he would have comics shipped to his office from the U.S. So for me to be writing comics today, and especially DC comics, is some kind of crazy karma."
We told you something was coming – time for the Poison Ivy League to rejoice!
Keep checking back at #DCJanuary.
Enjoyed this article? Share it!