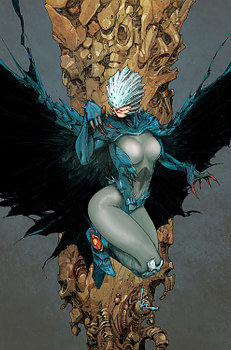 I was once told by DC Comics creators that there was a clause on the old New Teen Titans series that the new characters could only get spinoffs if the original creators had first right of refusal. Which is why a previous solicitation graphic (right) of a new Raven comic last year was withdrawn so, so quickly.
That was pooh poohed by those directly affected. But I couldn't help recollecting it when reading the news announced in USA Today, that in January, DC Comics are launching a number of new series, not what we previously referred to as "Big October"
Including that Marv Wolfman would return to writing his old Teen Titans heroine Raven in a six issue mini-series…
Keep checking back at #DCJanuary.