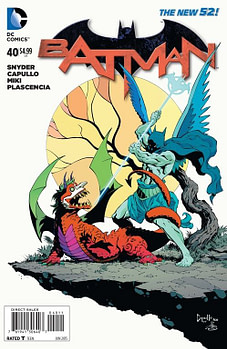 Bleeding Cool told you there would be a big media splash on Batman #40, and an Associated Press piece of copy was arranged by DC's PR and plenty of media outlets are publishing it, without doing any more research of their own.
"It has yet to be revealed who the new Batman will be, but the creators have said he will wear a manga-style suit of armour instead of a cape." – The Independent

So who's this new Batman readers will meet Saturday clad in a robotic suit and rabbit-eared antennas? Batman artist Greg Capullo, who designed the fresh Bat-armor, won't reveal but teases it's "a guy who's more fallible and more dependent on technology than Bruce. Just by those two things, it's a radical departure." – USA Today

Author Scott Snyder and artist Greg Capullo have not yet declared who the new character will be, however. "The character we're putting under the cowl never expected it, never saw it coming and never set out to be Batman," Snyder said. "It comes out of left field, and he realises that he's the only one that can make it make sense. – The Telegraph

Author Scott Snyder and artist Greg Capullo won't say who will be armored cowl in Batman #41 — the cape is also retired along with Bruce Wayne — but say this is one of those stories that "changes all the pieces on the table." – Yahoo News
Spoilers from two weeks ago… and here's our own take on the issue in question from today.
But the added interest has hit eBay hard, with all four covers selling together for $112. The digital Combo copy has been delayed in the US, and cancelled the the UK, which may spur such demand. The 1:25 variant cover has hit $65 on its own, the Combo version $61, the movie variant cover selling plenty of copies for $17, or $14 each for the bog standard cover (with one seller easily selling ten copies at this price.)
Remarkably this will probably be the best selling comic of the month… and it is selling easily online for almost four times its cover price.
And they say The Joker is mad…