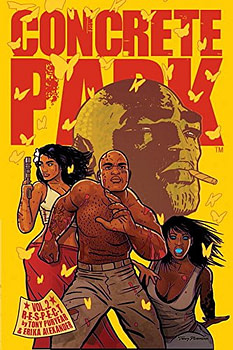 Concrete Park is a sci-fi comic book series by Tony Puryear and Erica Alexander and published by Dark Horse, first in the Dark Horse Presents anthology, then as its own series-of-series. The first collection is on the shelves now and issue 3 of the second series just came out.
Earth's outcasts, exiled to a distant desert planet and forgotten, will either destroy each other with gang violence or find a path to redemption that will create something entirely new.
I really enjoyed it.
And, yes, I'm using past tense. Issue 4 and 5 of Concrete Park: Respect have been cancelled by Dark Horse.
The issues will appear in next year's collection and presumably may continue in that format instead of individual issues.
So, yes, if you bought issues 1-3, to get the whole story, you'll basically need to buy them again to get the ending.
Any chance the final issues could be released digitally?