Sarah Roark writes for Bleeding Cool:
Hello, Internet. I'm Sarah Roark, and I write and draw the webcomic After Daylight, which has been updating faithfully (and feverishly) on a weekly basis for the past two years. Now the first grand story arc is done, 100 hand-shaded pages are in the can, and you know what that means—time for the Kickstarter to fund the print run for the first bound volume. Just in time for Halloween!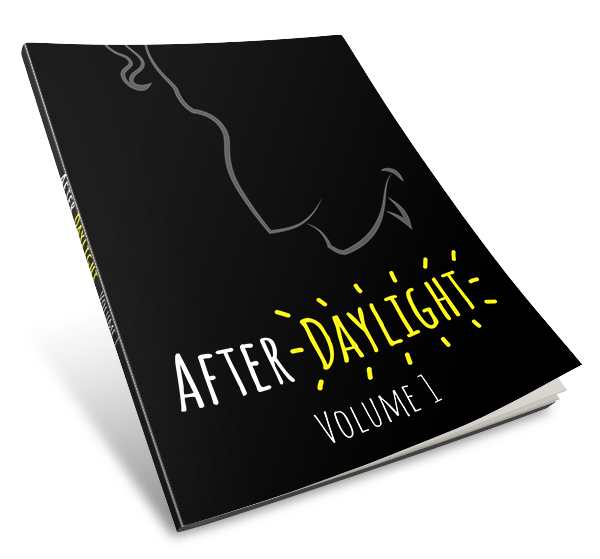 So I've been writing Very Serious professional vampire fiction for the last fifteen years, in the form of novels, short fiction, and gamebooks, and frankly, while I still love vampires, I just can't handle the Very Serious part anymore. I wanted to do a story about all the other bloodsuckers that don't normally get airtime, but would totally have to exist if vampires were real. You know: the ones who wouldn't know goth if it were showering them with black rose petals and absinthe. The ones who'd actually be happier if they didn't have a reflection. The ones too busy working a graveyard shift (heh!) to stand around moping existentially with perfect hair.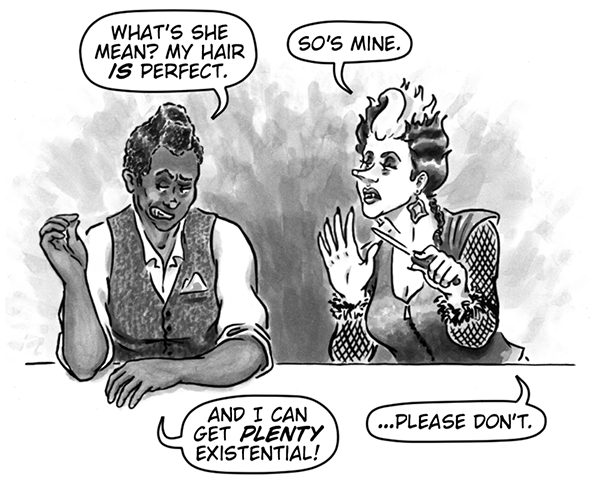 Those vampires. And the series is called After Daylight because of the terrible, terrible thing I do to them during the story. You see, Daylight is what the bloodsuckers call it when humans start wising up to their existence en masse. It's a thing that's happened in the past, certainly; but the last time was back when a vampire hunter's best weapons were still a wooden stake and bad breath. For it to happen in the 21st century, in the Internet age, in an era of thermal cellphone cameras and Wikileaks and lolmacros? Now that's scary. For the vampires and the mortals both. (But quite amusing for us viewers at home.)
For much of the first volume, we see this unfold through the eyes of "Cat" Bernstein, your fairly-average baby-boomer vamp. Actually, back in the 60's he did have a legitimate folk-rock career coming together, but…checking my watch…yep, the 60's were a while ago. On the plus side, the decaying 24-hour video store he works at has a certain charming young mortal grad student running the back register…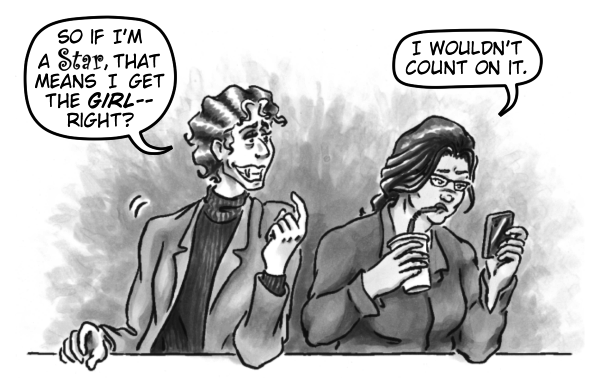 But whether he gets any time to do anything about that while the institutions that've protected vampire secrecy for the last couple centuries come apart like a wet particleboard coffin? You'll just have to read and see. It's a generous portion of spooky snark, a dash of 21st-century social commentary, and a sprinkling of honest-to-gosh feels. Enjoy.
The Kickstarter begins October 20, 2014, and runs for 30 days only, so be sure to come by and secure your access to deluxe vampire comedy-drama while you can:
After Daylight Kickstarter page
After Daylight webcomic page (test-drive the story and keep tabs on the campaign!)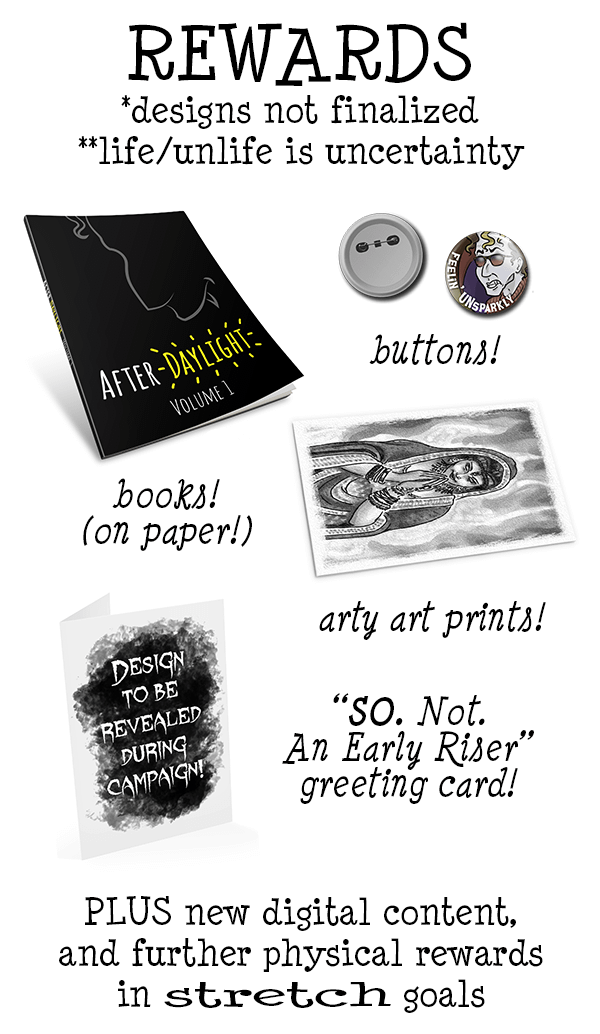 Here's a sample page for your delectation too…