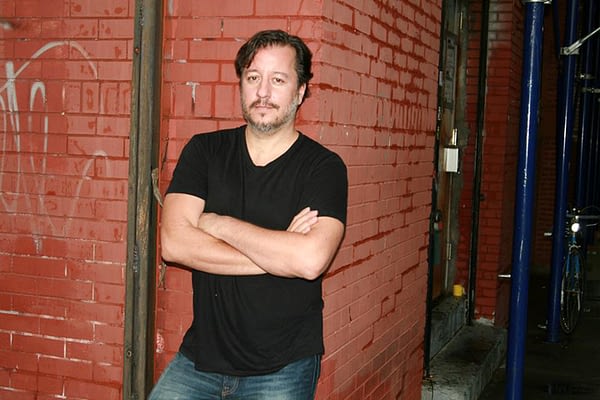 Cartoonist, writer, and Emmy-Award winning artist Dean Haspiel has worked on some "dream" projects over the years, including getting to draw an entire graphic novel with a personal hero, Harvey Pekar, in The Quitter. Recently, he's gotten considerable attention for his silver age psychedelic hero adventure series The Fox with Mark Waid from Red Circle Comics, but that doesn't mean that the oldest dreams have taken a back seat. He's never made any bones about the fact that the one thing he wants to do in his lifetime is work on The Fantastic Four, the comic that led to his vow, aged 12, to become a comic book artist.
He got a shot at working with on his favorite characters, Ben Grimm as a character in Startling Stories: Night Falls on Yancy Street in 2003 working alongside Evan Dorkin, and though it whetted his appetite for FF work further, it wasn't canonical work, something he hoped to reach at some point in the future.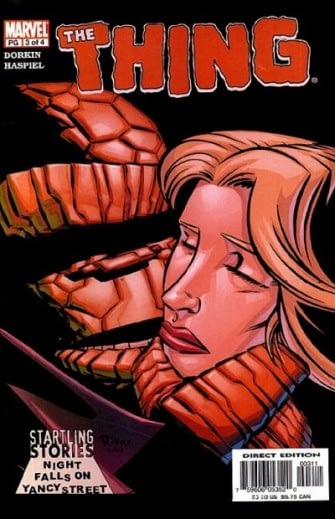 He finally got that chance with Fantastic Four #5, when he was asked to create a one-page, action-packed spread that would be part of official "canon" for the comic, and working with two of his favorite characters, the Hulk and the Thing. It meant the world to him, but of course any artist worth their salt wants more than a one page spread. Here's Haspiel's work on FF #5 released on May 28th: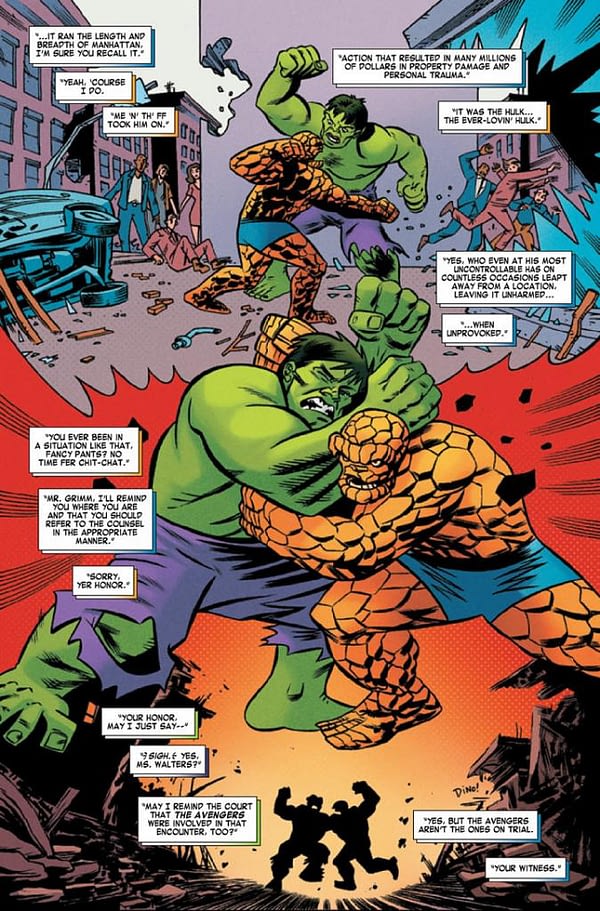 He released a close-up of some of the pencils on this spread on social media, a sketch that shows so much of the passion and emotion of his own relationship with Jack Kirby's work on FF: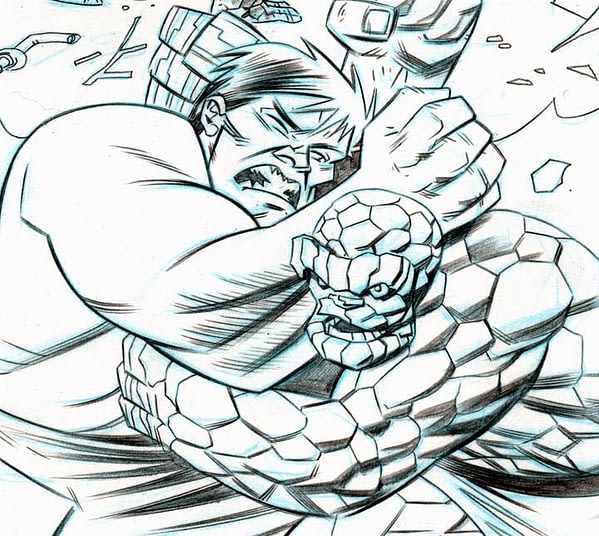 When FF #5 was released, he said on his blog:
When I was 12-years old, I decided that I wanted to make comic books for the rest of my life and vowed that, one day, I would pencil The Fantastic Four, one of the first comics I ever read. I turn 47 on Saturday. It took 35 years to realize a dream but I did it. Today, FF #5 comes out across the nation, in print and digitally, and I drew a page in the official canon that is my favorite superhero comic book series of all time. Thank you Mark Paniccia and James Robinson. Thank you, Stan Lee and Jack Kirby. Thank you Marvel.
But a bigger chance was waiting in the wings, with a caveat. Haspiel was approached at short notice to contribute several pages to Fantastic Four #6, a tie-in to Original Sin, with the request that he essentially draw it in the style of his hero Jack Kirby. While Haspiel hopes to get a stab at doing his "own" take on the FF some day, it was a no-brainer for him to accept and make an artistic statement about Kirby and his impact on comics.
Today, previews of his work on #6 hit the media, particularly this page from the upcoming issue:
But how does an artist sit down and conjure Kirby's work, attempting to meld Kirby's style with their own in a dedicated hybrid? For Haspiel, it was a careful experiment which he addressed through several test sketches. Studio mate Christa Cassano snapped these photos of Haspiel at work on FF #6 at Hang Dai Studios: It wasn't just the characters that Haspiel had to evoke Kirby-style, but plenty of sci-fi elements like machines, computers, and the ethos of space travel, for which, he turned, of course, to endless reference collections of Kirby's work. You can just make out in this photo some of the tech elements Haspiel had to create and in the full-color preview above, you can also see how integral the setting is to the story.
Here's Haspiel's early sketch of Johnny Storm aka The Human Torch, where you can see even more specifically the careful study of Kirby-esque line work and compare to Johnny's appearance in the full-color preview above.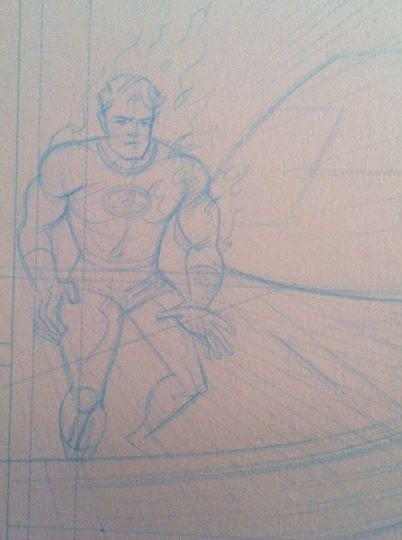 Issue #6 of The Fantastic Four leads up to an indefinite future for The Fantastic Four dedicated title, as you've no doubt heard about through Bleeding Cool. First it started as a strongly-sourced rumor, then a burden of proof in the erasure of Fantastic Four characters from other properties for this autumn, which seemed to suggest it might be true that the series will be put on hiatus during the period of Fox's release of the Fantastic Four film. In this issue, the Original Sin revelation relates to the relationship and influence between The Thing and Johnny Storm that determined their future states as superbeings.
It's a bitter-sweet victory for Haspiel to manage to express his lifelong devotion to FF and Jack Kirby at a time when the series, the first that Stan Lee and Jack Kirby created together, initiating the "Marvel Age" of comics, is falling under a shadow of corporate struggle and competition. But one thing is certain–the fandom supporting The Fantastic Four as  flagship title and a highwater mark for comics in its inception is not fading in the least. And Haspiel's work reflects that.
Maybe someday he will get his shot at doing FF as an even greater homage to the artist it has enabled him to be, but he sure got in under the wire with this grand tribute to Kirby, and fans will be glad he did when it comes to print on June 28th. As for the future, Haspiel's waiting in his Gowanus Studio to get another shot, in a building that looks rather like a silver age comic setting itself: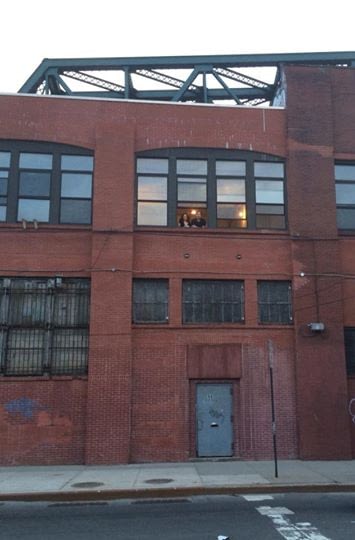 Enjoyed this article? Share it!