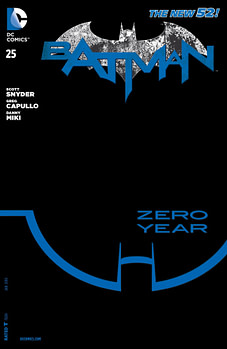 This is the Top Ten Bleeding Cool Bestseller List, as compiled by a number of comic stores from their sales on Wednesday and Thursday. It measures what are known as the "Wednesday Warriors", those who can't wait to the weekend to get this week's comics. We salute you, and the keenness you bring to your passion.
There was no competition for this week's winner. Batman #25. Batman #25. Batman #25.
Batman #25

All New X-Men #18

Justice League of America #9

Superior Spider-Man #21

Walking Dead #116

Superman/Wonder Woman #2

Forever Evil Arkham War #2

Nightwing #25

X-Men Gold #1

Thor God of Thunder #15
Thanks to the following retailers who contributed – and their wise wisdom. If you have a store and would like to join their number, get in touch!
And a few of their thoughts;
YEAR ZERO tie-ins kicked some of the Bat-Family titles up a notch.

Infinity has been MIA for 2 weeks now and people are wondering what's up. We were getting 1 or 2 core books a week and now nothing. Unity hit with a thud. Sold 3 copies beyond what I sold to my "every Valiant cover" guy. I'm very happy Valiant will take these all back. Poor execution on what should have been a door opening to the Valiant Universe. Main character in the book was never named (Eternal Warrior) and it took 9 pages to say who Ninjak was. I can't really push it on the uninitiated.

Good Week for new books. Unity #1 was the clear winner since they pulled a Marvel, by having a ton of covers. Batman rebounded from the last issue which i am still scratching my head over, did customers just miss an issue due to the higher cover price!!! and then jump on board when the price dropped this issue, i can not wrap my head Indie books did real good for me this week in the back-issue bins. Nice to have huge chunks missing in places around the #'s, makes no sense.

This week was reserved to DC comics.  Just strong titles owned the week.  Marvel had some strong titles in the mix.  Walking Dead to no surprise continues to own the single/title issue market.  This was one of the weakest Indy weeks of the year and expect a stronger showing the rest of the year.

Batman #25 was the #1 book by far. X-Men gold barely beat out All New X-men for the #4 spot. Manifest Destiny did poorer then expected, and Unity went unnoticed.

Batman needs to go back to being a $3.99 comic. Our customers are satisfied with the story and art but they are unhappy having to purchase a $6.99 issue last month and a $4.99 issue this week. With Detective #27 shipping in January with a $7.99 cover price you may soon have to be Bruce Wayne rich to afford Batman comics. Walking Dead trade paperback volume #19 has gotten off to a slow start, with only 1 copy sold so far.

Any week when the new Batman title is out is a good week. So far crossovers have helped the books they have crossed over in. All New X Men still is a great seller. Only downside is no one likes the new outfits.