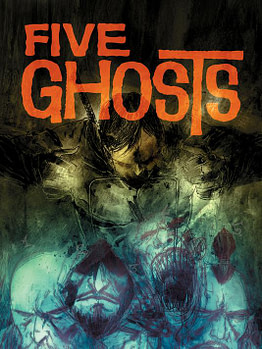 By Hannah Means-Shannon
The success of the Image series Five Ghosts, which last week completed its first arc before it moves on to a one-shot and then ongoing series, is one of the stories that makes comics fans and creators go a little teary-eyed. Less than a year ago, Frank Barbiere and Chris Mooneyham decamped at New York Comic Con with a Kickstarter published first issue of their comic steeped in extremely high production values in the hopes of selling a few copies of what had been a labor of love. They hoped it would get some attention, but they couldn't be sure. Their copies sold out at the con, which was almost a dream in itself, but getting picked up by Image, that was swinging for the stands and already a massive victory for them. But it wasn't over. Then the first issue sold out and went into reprint in March 2013, then subsequent issues sold out and went into reprint, and as they were reprinted, Mooneyham provided exquisite variant covers for what was already a visually striking series. Ben Templesmith also provided Phantom Variant covers for the series throughout. Then Barbiere and Mooneyham packed their bags and the con touring began, and the signings. It must have been mind-blowing for them. The announcement made at Image Expo, that the series would now be ongoing, was the culmination of what they had set out to do one day as they stacked their proto-issues on the table in New York.
Five Ghosts: The Haunting of Fabian Gray has been their first major series for both writer Barbiere and artist Mooneyham, so what are the odds? What did they bring to the table that day? It was a story about a man who could be possessed by "five literary ghosts" in an uncontrollable, and potentially destructive way. He was a treasure hunter, plenty dashing in his time, with ambiguous morality at best, striving to figure out just what was destroying him and how to control it. The artwork was rivetting. It's inky, angular lines and mastery of memorable poses had that ambitious, fresh feel of a comic that believes in itself. The colors were a great match to the retro feel of the lines. What it had going for it was that it was fully thought-out, fully-formed in its overall feel. It was a comic world waiting to happen.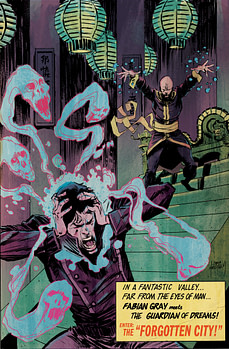 When it did happen, the mini-series that had already been carefully planned out five issues had bigger surprises in store, the result of a growing ambitiousness in art style and expansive plot-lines. Barbiere and Mooneyham, instead of playing it fairly safe on their first big break made their opportunity count for them artistically. There is a strong sense in Five Ghosts that the creators are doing exactly what they want to do in the belief that it will result in a compelling visual narrative. For that reason, it doesn't feel like a standard mainstream comic, and maybe that's also part of the secret of its success. It got just enough distribution to reach readers on a wide enough scale for them to demand even greater distribution for something that felt so new and different to them. And as they followed each issue they got something a little different every time, pursuing the same formula of success that had launched the series in the first place.
[*Mild Spoilers for Issues #1-5 below, though the majority of details have been removed to allow for new readers]
Issue #1 exposes readers to Fabian's often violently invoked apparitions: Sherlock Holmes ("the Detective"), Robin Hood ("the Archer"), Musashi Miyamoto ("the Samurai"), Dracula ("the Vampire), and Merlin ("the Magician") in dark, haunting terms. It tells a story so economically that it challenges you to keep up, and bounds across Europe and Africa in pulp style action-adventure. The story seems to operate on two levels due to the premise of the character: he's a treasure hunter still pursuing his goals, but also someone with plenty of mysteries to solve about his arcane powers. Toward the end of the first issue, when events shift to Africa, you begin to get a sense of the visual variety the series is going to offer. The style lifts out of the gothic and into the sun-bleached tropes of the best of spaghetti Westerns. That kind of shift becomes typical of the mini-series as a whole.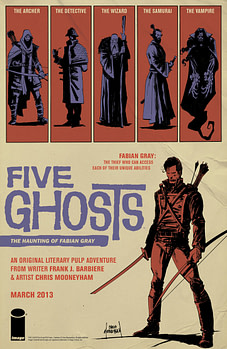 In Issue #2, Fabian and his British sidekick Sebastian grapple with the "Spider-God", and cults and blood-letting seem par for the course in a series where everything, as Holmes says, is essentially magic depending on how you look at it. We learn more about the Dreamstone whose shards, embedded in Fabian's chest, are calling the shots on his transformations. We are deep in Alan Quartermain territory as Fabian's powers begin to break down, flare up, and leave everything uncertain. It's as if Fabian is taking a tour of adventure story motifs but finding it hard going. He needs some answers, and even better, a little help from a mysterious stranger. Mooneyham's venom-dripping spiders plunge you into monster-tales while the story's friend in need introduces martial arts and Eastern themes. You'll notice by Issue #2 that Mooneyham is jumping between useful options in panel layouts, from boxy retro panels to fragmented shard-like composition in action scenes.
In Issue #3, the cover alone heralds that some psychedelic elements are brewing for Fabian. Hot pink and sky blue ghosts swirl around him. I'd deny that any one issue was more impressive than any other, but the double page horizontal fold-out movie-poster splash page embedded in Issue #3 is one for the art junkies. In pastel evening light we see the "Forgotten City", home to Fabian's helper, as a ghostly air-ship approaches. This poster perfectly captures the more haunting moments that the comic seems to produce. There's a feeling of reflection, epic scale, and mystery rarely captured outside of masterful filmmaking. Issue #3 is also a turning point in discussing the nature of "story" and what part fiction plays in the haunting of Fabian Gray. It takes the whimsy out of the situation by introducing the subconscious roots of the archetypes that possess him and also explains why global forces are hunting Fabian down. Another double splash-page, this time vertical, condenses human history in charcoal etchings. These flips in style could never have been predicted by readers when they picked up Issue 1, but they are entirely appropriate to the metamorphic evolution of the story.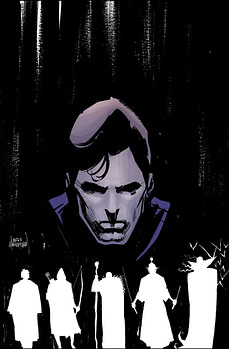 Issues #4 and #5 have to measure up to the forboding and hinting at a big climax in Issues #2 and #3, and for that Barbiere made the excellent choice of presenting a gauntlet for Fabian Gray to run. A gauntlet with his ghosts, and himself, peeling back the layers of psychology already threading their way through the story. On a broad level, Fabian's psychology is all of human psychology, something readers probably already identified with and part of the appeal of the comic's central character. The fourth issue makes an even greater leap visually by presenting Fabian's journey into his psyche in a subtly different art style with strikingly different color-schemes. Suddenly everything is pastel and overly-lit, as if representing a thin atmosphere. Meanwhile, action scenes at Shangri-la, the "Forgotten City", pop back into rich color and aggressive inking for contrast. As Fabian has to "pass" tests from each of his ghosts, we become aware of how imperfect he is, and that this is not a hero story, but perhaps an anti-hero story.
Issue #5 confirms this developing revelation. Sepia-yellow flashbacks in a slightly more cartoony style, another innovation from Mooneyham, suggest that Fabian is a ruthless, greedy man rendered more palatable to readers through his suffering. His desire to "make things right" introduces redemption to the story in a guise that's been there all along but never becomes heavy-handed. It's as if Fabian has to decided what readers suspect, that this is his own redemption story, one he has to take part in telling. There's another impressive visual shift in Issue #5 when Fabian emerges to face his black-magic nemesis, a combination of psychedelia and bold action rendering that tones up the pastels into near-neons and brings in the heavy linework again. This is Fabian 2.0, essentially, with his ghosts primed for cooperation, and this, readers may surmise, is the Fabian that we will see in the forthcoming one-shot and ongoing series. To express this change, Mooneyham also breaks into staggered use of full-page spreads, giving the full potential of the ghosts in action their due. It's as if the whole mini-series has been waiting for this larger-than-life exposition, but only seeing its approach around corners. Issue #5 coalesces into the final piece of a self-contained run, answering Fabian's questions and the reader's, but it also does far more than that. It sets a big stage, ready for an ongoing series. Barbiere and Mooneyham, once again, planned for bigger things and made sure they were ready to pursue them in Five Ghosts.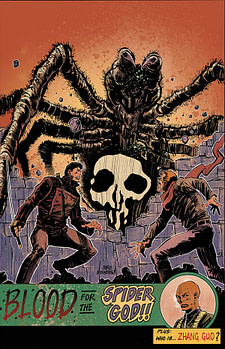 Mainstream comics are not just superhero comics anymore. Sure, superhero comics still dominate distribution and even the attention given on comics news sites. But the past two years have proven that the second tier of mainstream is now genre comics. Five Ghosts ropes in genre after genre in plot and in artwork, from the occult, to the gothic, to the adventure story and more through the premises of its central character. Have Barbiere and Mooneyham created an "uber-genre" here? Is that why it has pushed the boundaries into viability as a mainstream contender in comics? That could be. But its underdog strength lies equally in its visual flavor, one that's shifting and restless about its own potential, shaking off constraints. It's like when an indie band suddenly breaks into the mainstream and the authenticity of its highly individualistic origins is part of the appeal that people are looking for. Readers want the distribution of the mainstream but, deep down, the fascinating new feel of indie experimentation. Five Ghosts preserves that haunting feeling of the new in Mooneyham's lines, the books' shifting colors, and in the fairly shocking broad-spectrum approach to genre crafted by Barbiere.
The forthcoming collection of the series' first arc is coming in October, and is already available for pre-order. The one-shot set in Japan, with guest art by Gary Brown will debut in October and the new arc entitled "Lost Coastlines" is launching in November.
Five Ghosts: The Haunting of Fabian Gray is written by Frank Barbiere, drawn by Chris Mooneyham, with colors by S.M. Vidaurri (#1-2) and Lauren Affee (#3-5), and graphic design by Dylan Todd. It is published by Image Comics.
Hannah Means-Shannon writes and blogs about comics for TRIP CITY and Sequart.org and is currently working on books about Neil Gaiman and Alan Moore for Sequart. She is @hannahmenzies on Twitter and hannahmenziesblog on WordPress. Find her bio here.