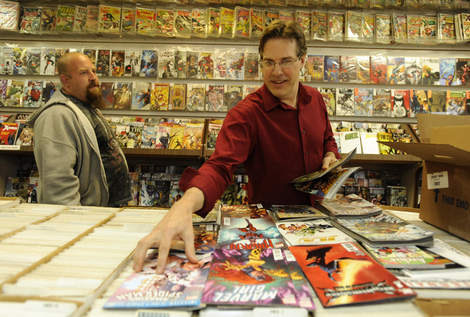 As a result of losing their lease, Atlas Comics in Chicago is to close. The owner writes;
After 25 years of continuous operation in the same location, Atlas Comics is closing its doors permanently on Saturday, June 29th, 2013. Until then it will be business as usual, including the new releases arriving Wednesday, June 26th. All product scheduled to arrive after that date will be cancelled and unavailable through Atlas. I hope this will give everyone time to make new arrangements to get their books.

Atlas will continue to sell high quality vintage comics online and at auction. You can look for a huge expansion of our presence on Ebay under the seller name "atlascomics" within the next few months. And if you're looking for anything old, you can still reach me through the store email (atlas@acomics.com) and the Atlas Facebook page.
The owner, John Stangeland, is a former inker with credits for Marvel, DC, Now and Malibu. He sold his previous store, Titan Comics, when he had projects in development with Jim Shooter at Marvel – just before Shooter was fired. He then opened Atlas Comics shortly thereafter and holds the honour of being the closest comic store to the Wizard World Comic Con Chicago.
Until this week, that is.