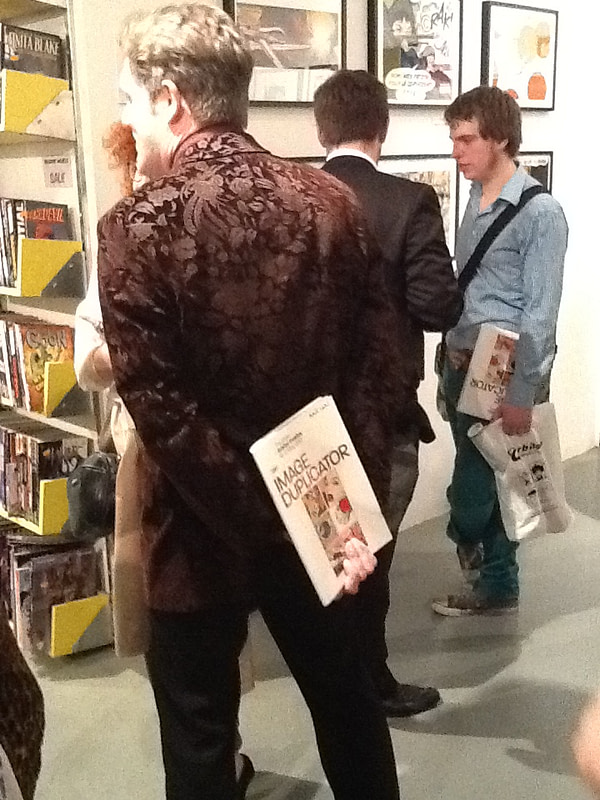 Rian Hughes, holding his copy of the Image Duplicator catalogue, held behind his back. Hughes, designer of comics and much more besides, was one of the major figures behind this exhibition – and a major contributor as well. Reappropriating the works that Roy Lichtenstein originally reappropriated, with a satirical theme, the exhibition launched at Orbital Comics in London tonight, and will continue until the end of the month. If you're in town, go see it. If not, you can see more of the exhibition in these three previous Bleeding Cool posts, or buy prints here.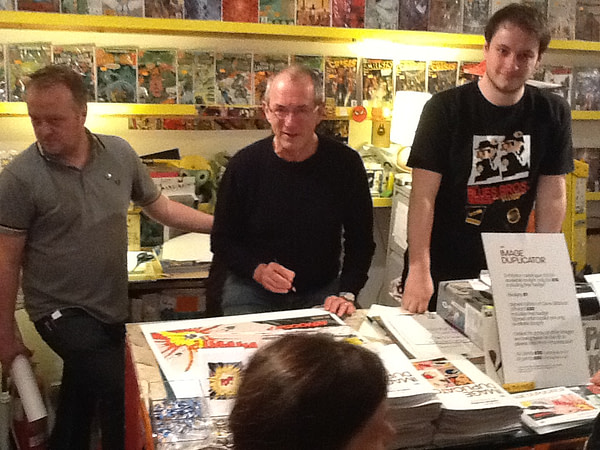 Dave Gibbons signed a hundred prints (including mine) of what is likely to be the show's signature piece, "Whooose?" Displayed in the entrance to Orbital, it is incredibly arresting.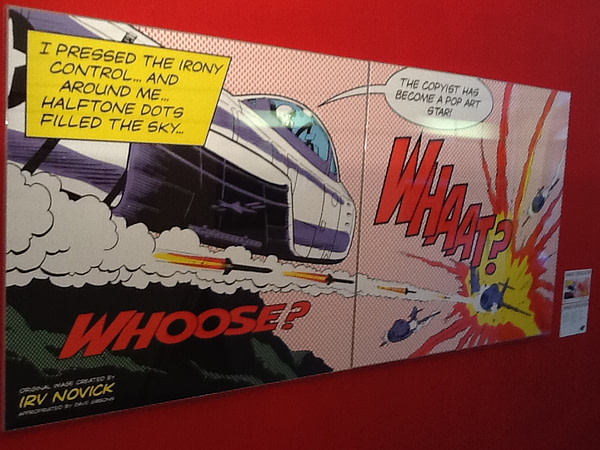 As you can see ex-comics retailer Jon Browne couldn't even get past it.
Here's a look at the gallery space, something Orbital benefits from, having once been a photo gallery. That's Ilya's arresting T-shirt below. A number of pieces were sold as they were being put up, before the exhibition opened. Money raised will go towards the HERO Initiative charity that helps out ex-comic book creators in real need.
The Popeye piece was freshly painted/printed/stenciled, the black was still wet when it went up.
Pete Hogan, author of the current Tom Strong comic published by Vertigo, and Garry Leach, kingmaker of Marvelman. Rian Hughes and one of the publishers of Soaring Penguin Press. Nost of the images are in the catalogue and many of the artists were present at the opening, necessitating a spate of signatures, often artists swapping their catalogues to sign each other's. It was a great evening, and Dave Gibbons was happy to toast its success with a little champers. As the evening went on the place got busier, even as a few dozen camped outside the shop to smoke. I spent my time in discussion about all manner of aspects of art, commerce and influence. I may have even changed my mind about one of two points in the process. It was that kind of night. Some dressed for the occasion. I had this Threadless shirt on, but some went further.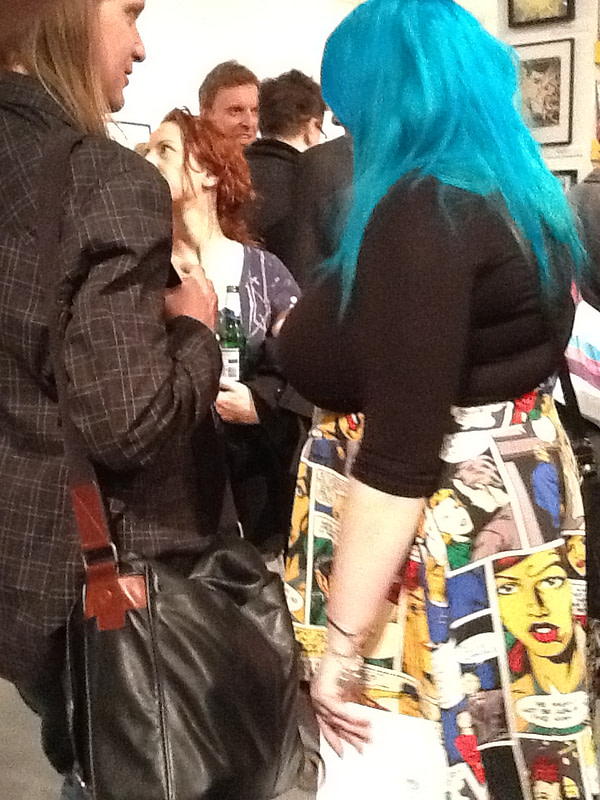 There was wine, there was beer, there was Garry Leach signing my copy of the programme.
So, yes, excellent. Dogo see the show if you can. Might be a little less crowded now…
The other thing is, can this continue? Could other comics artistic communities create their own responses to Lichtenstein in other cities around the world? Can Image Duplicator be… duplicated?