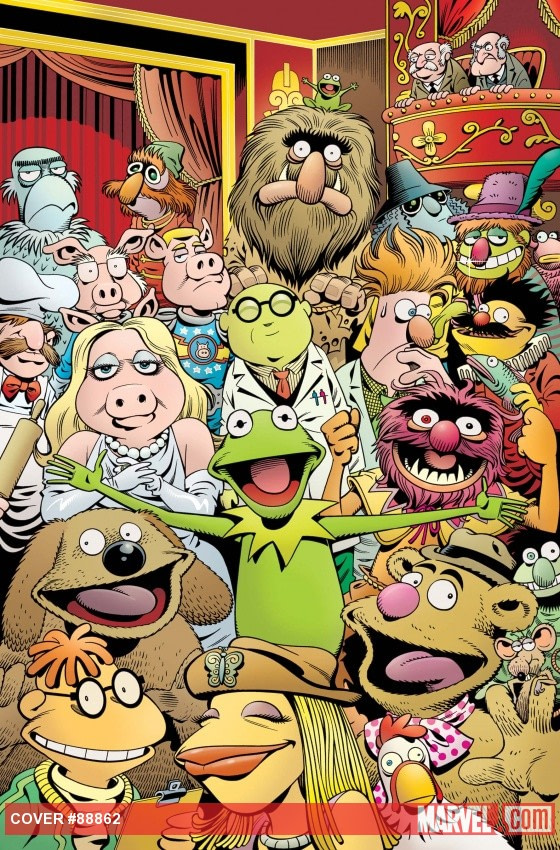 It is one of the greatest modern runs on a comic, let alone a corporate licensed comic. But Roger Langridge on Boom Studios' The Muppet Show comics was a revelation. His fellow writers on the books wrote fairly simplistic comics for kids. Roger Langridge however wrote and drew insanely gag and structure filled comics for everyone. Rather than replicating the Muppet Show as it was, he recreated the Muppet Show as we remembr it was, funnier, fresher and far more cutting edge than  a cursory view of the actual episodes now reveals. It was a perfect comic. And he was soon writing them all.
But Disney bought Marvel and Disney own the Muppet Show rights. So just as Boom's Pixar books faded so did The Muppet Show, with Roger Langridge recently revealing an entire issue unpublished. Would Marvel republish the comics as they are doing with the Cars material?
According to this visual, it seems so. It probably doesn't harm that, as well as with Cars 2, The Muppet Show is getting a movie shortly. But it does also beg the question – will Marvel publish the unpublished Roger Langridge Muppet Show comic? And hopefully he'll get paid too…
Of do we have to set Miss Piggy on them?