Welcome to the pretty-much-mostly-daily Lying In The Gutters. A run around the day before and the day ahead. You can sign up to receive it as an e-mail here.
The 20 most-read stories yesterday
One year ago…
Happening today…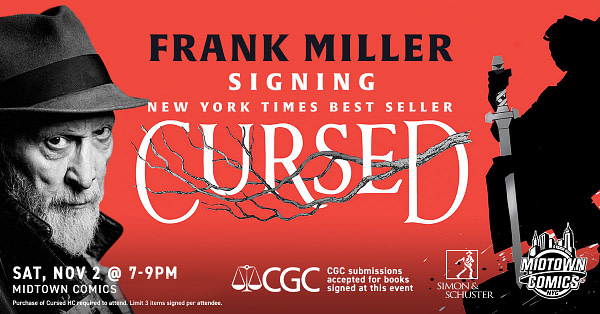 Big Easy Con, New Orleans, LA until Sunday.
Rhode Island Comic Con, Rhode Island Convention Center, Providence, RI until Sunday.
Supanova Comic Con & Gaming, Adelaide, Australia until Sunday.
Akron Comicon, Emidio & Sons Banquet Center, Cuyahoga Falls, OH
Bad Pizza Battle, Comix Experience, San Francisco, California, noon-2pm.
Andre Frattino signing at Gods & Monsters, Orlando, Florida, 1-3pm.
Andrea & Roberto Molinari with Rob Andersin signing at Emerald City Comics, Clearwater, Florida, 11am-2pm.
Bryan and Mary Talbot sign Rain at Forbidden Planet's Newcastle Megastore,  1-2pm.
Frank Miller signing Cursed at Midtown Comics Grand Central, New York, 7-9pm.
Daniel Barnes & D.J. Kirkland sign The Black Mage, Comix Experience, San Francisco, California, 6-8pm.
David Dastmalchian signing at Chops Comics, Lawrence, Kansas, 2-4pm.
Zach Weinersmith – Open Borders signing at Telegraph Art & Comics, Charlottesville, Virginia, 2-4pm.
Winter Warrior event at Matheson History Museum, Gainesville, Florida, 2-3.30pm.
Phillip Kennedy Johnson signing at Bedrock City Comic Co, Missouri City, Texas, 11am-1pm.
Signing with Joseph Schmalke, Dylan Andrews, and Bob Tkacik at Black Cape Comics, Waterville, Maine 1-4pm.
Jamie Sullivan signing at Comics & Collectibles, Sacramento, California, 1-4pm.
And a happy birthday to…
Brian Augustyn, comic book editor and writer on Gotham By Gaslight, The Flash and Amped.
Comic store owner, Steve Unverferth.
Tom Lyle, artist on Starman and Robin and comic book teacher.
Sketch card artist John Jax Jackman.
Sharon Wright, comic book writer on The Warlord, Black Canary, and Green Arrow.
Former director of Caliber Comics, Wayne Markley.
Comic book writer for Panini, Pepe Caldelas.
Comic book reviewer William Gatevackes.
And it would have been Steve Ditko's…
Subscribe to our LitG Daily Mailing List