Andrew Maxwell writes,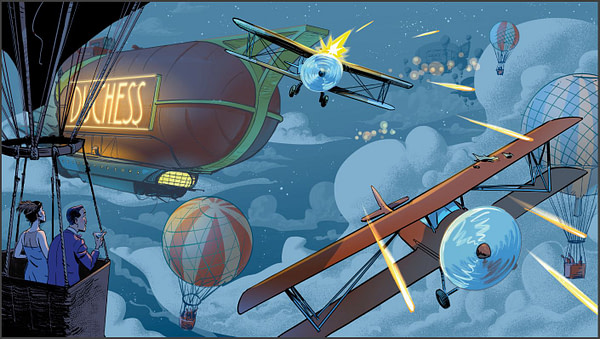 What if during prohibition, rum runners and bootleggers took to the sky to avoid dry laws? Why worry about the rule of law when you could create your own? Sky gangs, aerial dog fights, and black markets for alcohol all aboard dirigible speakeasies hovering over New York City. That's where our story Rum Row takes place…
The inspiration for our story believe it or not, is based on actual historic events. Rum runners would wait just outside the maritime limit off the coasts of the US during prohibition. Then run their speedboats in and out to deliver the oh so precious booze. If other gangsters or the coastguard got in the way, who's to say what would happened next? After reading about that, how could I not make a comic about it? I figured let's take that whole concept and throw it in the air!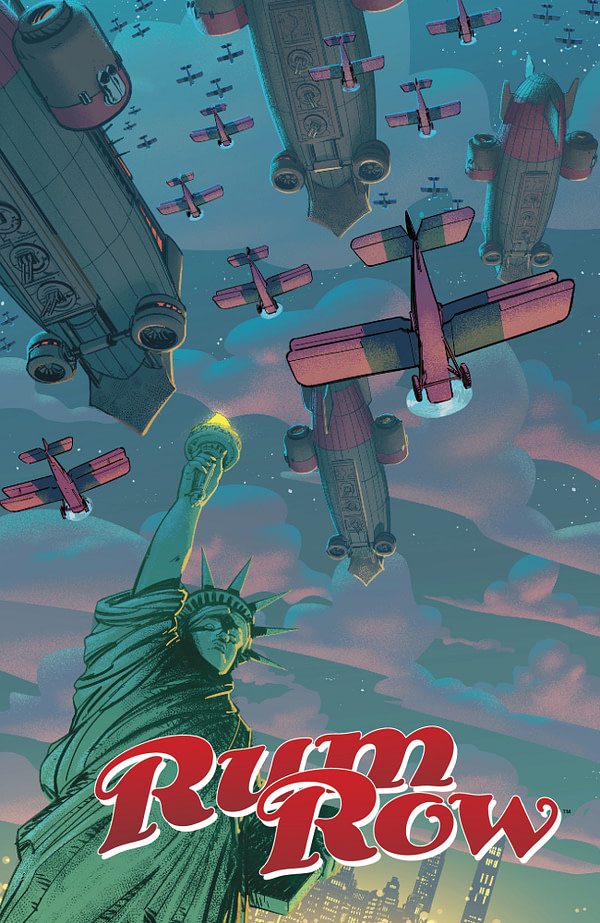 We released issue #1-2 of Rum Row successfully on Kickstarter, and now we're back for issue #3. In our first issue, we follow Officer Jack Tinson, as he pursues the Captain of the elusive dirigible speakeasy – The Duchess. But the deeper Jack dives into the Row, he quickly realizes enemies and allies abound on both sides of the law. To make matters worse, much more dangerous parties are looking to join the fray.
If you're a fan of the Rocketeer, Indiana Jones, Boardwalk Empire, alternative history, dieselpunk, or just a fan of adventure in general, then this is the story for you. Here is a link to the Kickstarter:
The first five Bleeding Cool readers to back, will get an exclusive Grenade Fight Ink manga sized ashcan. This contains unpublished art from issue #3, and other unreleased projects. Simply send us a message saying you read about us on Bleeding Cool, and we'll mark you down.
That's all for now. Thanks again for taking the time to check us out!