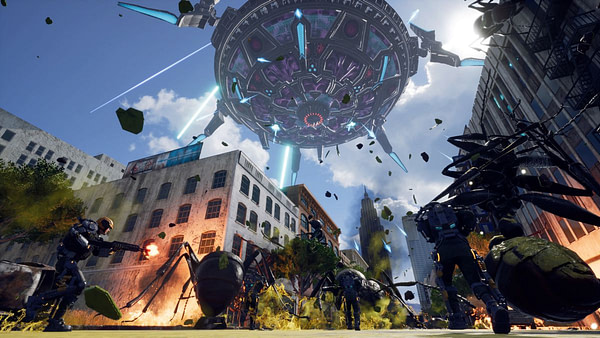 Earth Defense Force: Iron Rain is bringing its unique brand of carnage to PC on Steam next week.
You can purchase the game when it debuts on October 15, according to developer Yuke's and D3 Publisher. The third-person shooter, which finds you taking on the role of one of Earth's mightiest soldiers, originally released on PlayStation 4 back in April. Here's what the official description has to say about it.
"Save the world without hope. Year 2040. An action TPS where you will become one of the EDF soldiers and fight against the invaders from outer space which ruined the world. In the world settings which differs from the original "EARTH DEFENSE FORCE" series, more than 50 missions in five difficulties await for your challenge,"
In case you've never actually played an Earth Defense Force game before, just let us be the first to tell you that they're incredibly goofy. Most games find you scurrying around on Earth trying to exterminate enormous ants and other bug-like creatures. The games aren't especially well-made and can get repetitive.
But there's something about them that makes them absolutely perfect for playing with friends. It's probably the pulpy nature of the games that makes them so hilarious and fun to play through. Whatever it is, you'll definitely want to play through Earth Defense Force: Iron Rain as one of your first brushes with the series. Be sure to check out our thoughts on the game before you make a purchase, though.