Paramount Pictures decided to reboot Face/Off, the 1997 John Woo Gun-Fu action thriller with 22 Jump Street's Oren Uziel (The Cloverfield Paradox) penning the script. The 1997 film starred John Travolta and Nicolas Cage as Los Angeles FBI agent Sean Archer and international terrorist Castor Troy, respectively, who end up trading identities.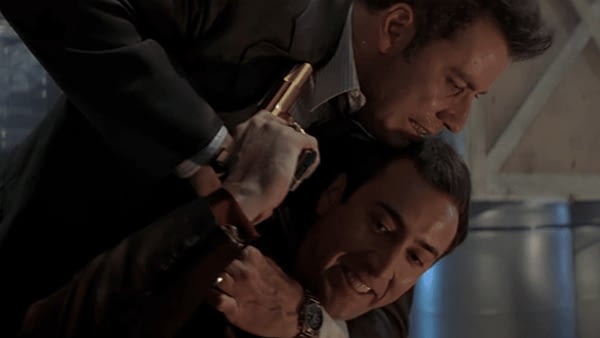 Face/Off follows Archer, who personally invested himself in the pursuit of Troy following Troy's murder of his son in a botched assassination attempt. Following Troy's capture and incapacitation, a loose end forces Archer to make a decision to go deep undercover into Troy's world as Troy himself in an experimental medical procedure. When Troy emerges from his coma, he forces the doctor who performed the procedure for Archer to do the same with Archer's face on Troy's head.
The Woo film was critically-acclaimed and box office success with a 92 percent rating on Rotten Tomatoes and grossing $112 million domestically and $245.7 million worldwide.
The 1997 film costarred Joan Allen, Alessandro Nivola, Gina Gershon, Dominique Swain, Nick Cassavetes, Harve Presnell, Colm Feore, CCH Pounder, and Margaret Cho.
Neal Moritz (Fast & Furious) will produce the Face/Off reboot for Paramount with David Permut serving as executive producer. Uziel completed the screenplay for Paramount's upcoming live-action Sonic the Hedgehog film, based on the popular Sega video game franchise. He's also been tapped for the Pokémon: Detective Pikachu sequel for Legendary Pictures and Warner Bros.
Personally, the 1997 film stands on its own merit, but with Hollywood's infatuated with remakes and reboots, more original stories become a luxury. What poor bastard dares step into Woo's shoes? Were Cage and Travolta's performances not over-the-top and crazy enough for Paramount? Would either actor be involved with the reboot in some capacity? Who do you see cast in the Archer and Troy roles? What could a reboot do that the 1997 film couldn't?
Enjoyed this article? Share it!