People who were invested in Star, the new Marvel superhero character appearing in Captain Marvel #8 were all hyped up for the following issue – but were a little disappointed by Captain Marvel #9. In that Star appeared for maybe a panel or two, in the long distance.
Well, Bleeding Cool has been able to confirm that, yes, there is a lot of Star in Captain Marvel #10 – though you might not see it in whatever preview Marvel Comics runs. Yes, you get to find out her backstory too – or at least enough if it, And how it ties in with other problems Carol Danvers has been suffering, and the fate of Doctor Minerva at the end of #9.
But, SPOILERS ON, there's another comic book that speculators who think that Star will be a thing, may wish to invest in. Because that gets revealed in Captain Marvel #1 as well.
Of course, another question might be, just when did Captain Marvel get a Batcave all to herself? Even down to the glass cases for costumes?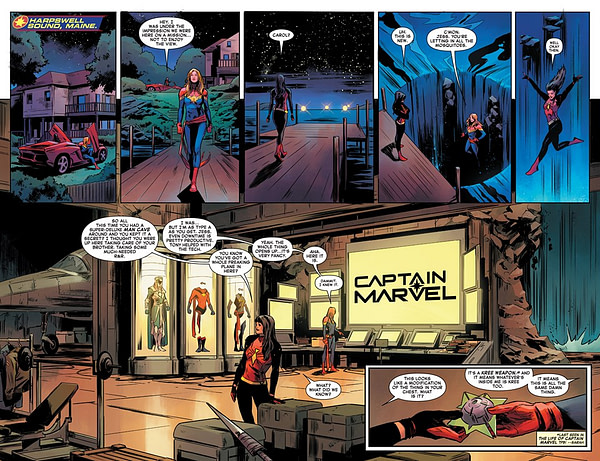 Sadly, no giant penny. Yet. Captain Marvel #10 gets FOC'ed this weekend.
CAPTAIN MARVEL #10
(W) Kelly Thompson (A) Carmen Nunez Carnero (CA) Mark Brooks
FALL TO PIECES!
It's official: New hero STAR is in and CAPTAIN MARVEL is out! As Carol struggles to deal with her changing role and unravel the mystery of what is happening to her powers, a risky new alliance she's forged may turn out to be even more dangerous than she expected. Will Carol be willing to make the ultimate sacrifice to save a world that has turned on her?
Rated T+In Shops: Sep 11, 2019 Final Orders Due: Aug 19, 2019 SRP: $3.99