This is the Top Ten Bleeding Cool Bestseller List, as compiled by a number of comic stores from their sales on Wednesday and Thursday. It measures what are known as the "Wednesday Warriors", those who can't wait till the weekend to get this week's comics. Batman tops the charts just above the Justice League, but the launch of Jimmy Olsen and Loki do well. Love And Rockets makes a first appearance in this list and it's goodbye to the other League…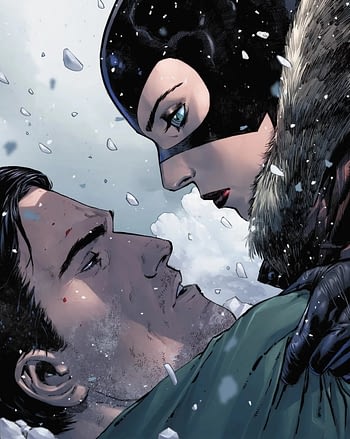 Top ten bestselling comics of the week
Batman #75
Justice League #28
Silver Surfer Black #2
Spider-Man Life Story #5
Uncanny X-Men #22
Jimmy Olsen #1
Immortal Hulk #21
Loki #1
Daredevil #8
League Of Extraordinary Gentlemen: Tempest #6
Thanks to the following retailers…
Who had this to say:
Does anybody remember a week without a Batman book? FFF sure doesn't. Another week and another Batbook at the top of our Weekly Bestseller list. Our surprise #2 bestseller is actually the first issue of Loki. Hot off the heels of Marvel's okayest event in the last ten years, the Trickster god had a great first week with his new title. We'll see if it can hold the numbers. Even with Batman topping the list, this week definitely went to Marvel with the House of Ideas taking 6 spots total in our Top Ten. Silver Surfer Black and Spider-Man Life Story are both doing well for minis and Immortal Hulk always seems to find a spot somewhere on our Top Ten. So it turns out Matt Fraction is still alive, which is good, and his Jimmy Olsen made it to the #5 in our Top Ten. I imagine it will keep about the same sales (as long as it keeps coming out). Event Leviathan and Amazing Spider-Man are enjoying successful subsequent weeks taking the #8 and #9 spots respectively.
—-
Slow week for books, but it's not too surprising considering four Batman books came out last week and everything else comes out next week. I've got the feeling a lot of folks are biding their time for Batman Curse of the White Knight and House of X's release. The Jimmy Olsen book did a lot better than we'd expected; I reckon people are excited for Matt Fraction more than anything. Notably absent from this week's bestsellers was Immortal Hulk, which has, by this point, lost most of its speculator heat and is tapering off rapidly in sales overall. Spider-Man Life Story continues to gain traction with every new issue, though, which is nice to see.
—-
Solid sales week.
This week brings us pretty standard looking sales numbers. BATMAN #75 is a "milestone" issue, but BATMAN would almost certainly be the top spot this week regardless. Other strong performers include reliables like JUSTICE LEAGUE and UNCANNY X-MEN, as well as the cosmic psychedelia of the SILVER SURFER BLACK miniseries.
Middle of the list has IMMORTAL HULK and SPIDER-MAN LIFE STORY continuing to generate commanding sales, as well as the first issue of the new LOKI ongoing.
Towards the bottom we have the latest entrant in Marvel's Facsimile Edition line, with GIANT-SIZED X-MEN #1.
—-
DC took first place in our shop this week with Batman #75, but only one other DC title–Justice League–placed in the top ten. Otherwise, it was seven Marvels and one Titan title (Blade Runner 2019). And if Dan DiDio has been concerned about Marvel facsimile editions outselling most new DC titles, he should be doubly worried now: our eleventh place title was Giant-Size X-Men #1 Facsimile Edition and our twelfth place title was Vampirella #1 facsimile edition, so reprints of 45 and 50-year-old comic books outsold almost every brand new DC title this week! Perhaps it's time to buy all of DC's creators copies of these facsimile editions so that they can see what they should be doing…
—-
Love and Rockets is Surprisingly number one. Whoo!
—-
Not a bad week.
Enjoyed this article? Share it!