The Diamond Retailer Best Practices Awards: Summer 2019 will be announced as San Diego Comic-Con on the Friday. Submitted by retailers, the Diamond BPAs seek to identify and honour comic shops that demonstrate "best practices" in their stores, offering customers and community a consistently appealing shopping experience…
Nominations for the Summer 2019 Awards span four categories: Best Kids Section, Best Free Comic Book Day Event, Best Online Ad Campaign, and Best Movie Themed Display. Winners in each category receive $250 credit from Diamond.
Here are the nominations for the Best Free Comic Book Day Event Section.
Heroes Realm – Lexington, KY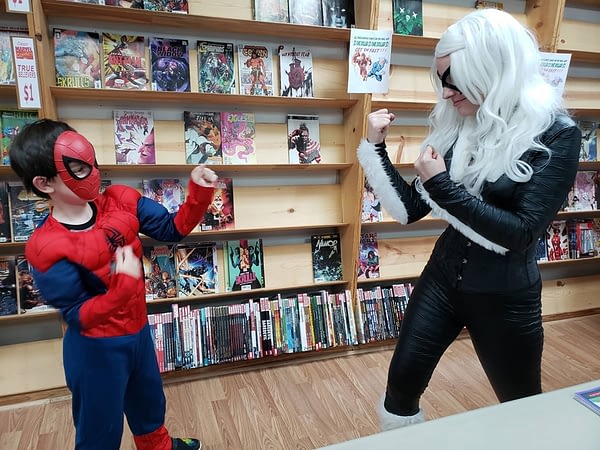 This years Event included such activities as:

A HUGE sale! What we call the yearly infamous ALL COMICS ARE $1 Sale

Guest Artists: Ashley Marsh, Josh Hart, and James-Michael Hammond

Live Podcast during the day from the Parlipod Podcast

Live LARP Combat Demonstrations by The Grim Garrison

Cosplay Guests: Shadowbrite Cosplay as DC's Raven, Marvel's Black Cat, Spider-man, and Ant-Man were all here to entertain the kids and the crowd!

An exclusive SWAMP THING & POISON IVY print was given out as a thank you to our many many guests!

LIVE BANDS: The Bluetick Wailers & Kung Fu Lips performed throughout the day!

…AND TONS of FREE COMICS were given out to a massive crowd!!!
Multiverse Corps Comics – Miami, FL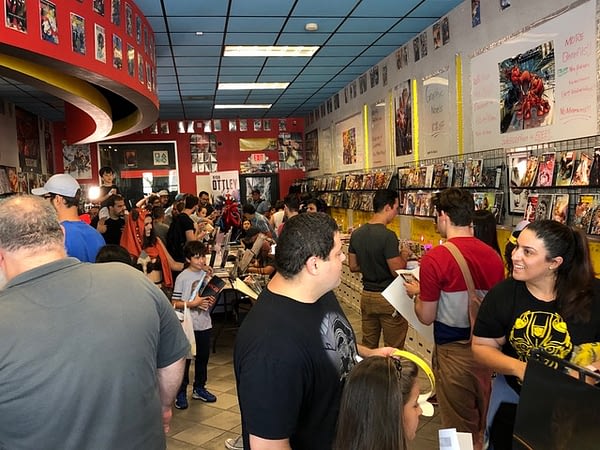 Here in Miami Florida our comic book store has 3 goals: Great Customer Service, Great Customer Experience and Quality Books, and in the past 2 Years we has strive towards this and worked hard for our community here in Miami. The community has embraced us and because of this we have an ever growing comic book community.

One of the ways we have tried to pay back our community we strived to give everyone the best experience and Free Comic Book Day is one of them.

FCBD 2018

(Record Attendance in Miami at 330 People in Attendance throughout the day)

FCBD 2019 was the BIGGEST and most addended

(Record Attendance in Miami at 380 People in Attendance throughout the day)

We also had a HUGE Comic Book Artist in Attendance Appearing and Signing: Mr. Ryan Ottley (Amazing Spider-Man, Invincible) and an unexpected guest from Mr. Skottie Young and since it's Star Wars Day we had the 501st Legion (Vaders Fist) – The official/unofficial Star Wars Cosplayers

Our Free Comic Book Day is unlike any other therefore we refer to it as Miami's BIGGEST Free Comic Book Day, and the community respond in kind and embraced us even more.

We also do something no other comic book store does, everyone who came get 1 book per title…not 2 to 3 books….1 book per title ie. if the there are 2 titles out for Marvel 1 customer can get both of them. And of course kids ages 5-12 can get as much as they want!

The Community love our Free Comic Book Day so much we order thousands of Free Comic Book to accommodate everyone in attendance every year.

Free Comic Book day is for our community; present and future readers so we do not limit anyone to free comic books.
Zia Comics – Las Cruces, NM
Free Comic Book Day 2019 coincided with Star Wars Day.  With that in mind, Zia Comics set out to get the neighboring businesses to buy into the event as well.  Next door on our right, Little Toad Creek offered The Dark Side and Yoda Soda drink specials all day.  Next door on our left, the Rio Grande Theater played the original Star Wars trilogy for just $4 a movie.  The Farmers Market set up on Main Street had plenty of vendors dressed up in Star Wars related gear.

Members of the 501st Legion, Mandalorian Mercs, and the R2 Builders club kept the attendees entertained.  The R2-D2 unit is a functional, remote controlled R2.  The kids love to take pics with him.  The Zia Comics staff even cosplayed.  Our manager, Susy, dressed up as Hannah Solo!

Zia Comics VIP reward members and those actively cosplaying were allowed into the store early to peruse the goods.  They really appreciated it because there was a line down the block to get into the store.  A couple thousand very happy attendees came through the Zia Comics doors for FCBD.  It was the first FCBD in our new larger location.  It was also our highest sales day EVER!  This was the first year we have ever run out of FREE COMICS.  We even burned through our leftovers from Halloween Comicfest, Hellboy Day, and last year's FCBD.  We had to pull out long boxes of our $1 comics to give away.  Really looking forward to making it even bigger and better next year!

There were three local artists set up inside Zia Comics and they were kept busy doing sketches for attendees all day long.  The local artists start asking to be part of our FCBD months in advance.  The costume contest was held at the end of our FCBD event.  There was a winner for the adults and the kids.

Plans have already started for the 2020 FCBD.  We are working with the city to have the whole downtown participate.  We are planning on having free spaces on the Plaza across the street for any local artist to take advantage of.
Korka Comics – Pembroke Pines, FL
We had an amazing Free Comic Book Day this year with it falling on May the 4th, Star Wars Day. With this being the case we went out of our way to incorporate Star Wars as much as possible into everything we did.

First off was the promotion of the event, we did so through heavy online and in store promo of the day by taking famous Star Wars quotes and replacing key words with new words to promote Free Comics Day. For example, instead of Darth Vader saying "I find your lack of faith disturbing", he says "I find your lack of Free Comics disturbing". We also utilized the end credits looks from all the movies to for our sale and event promos.

Next came the ambiance of the store. When you walk in immediately you hear John Williams' iconic score from the Star Wars Saga, from the main theme to the Imperial Death March, you knew it was Star Wars. All of the monitors in the store were playing Star Wars movies as well throughout the day.

We offered incentives to people that showed up in Star Wars cosplay. Anyone that came in dressed as their favorite Star Wars character received a free Star Wars Funko Pop. We had a great number of people come out for this.

We also wanted to put all of our Star Wars merchandise on sale. We did so with deep discounts on action figures, comics and more. Customers were able to get items for up to 75% percent off.

If you were a Star Wars fan, it was definitely the place to be. Having Free Comic Day on Star Wars Day really added to the day as a whole and made for our best event yet. Customers whether they were fans of the Saga or not, enjoyed their time with us, got their Free Comics and more!

May the Force Be With You!
Dragon's Lair – Austin, TX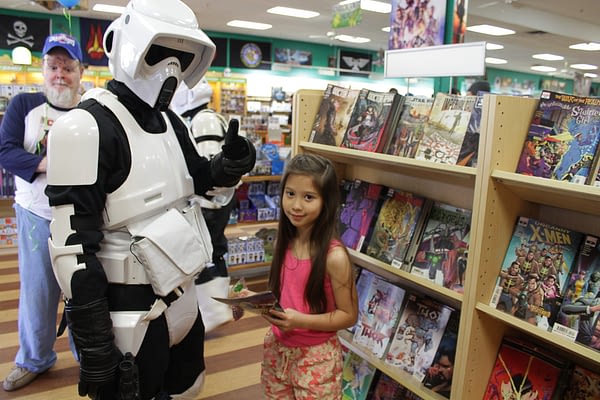 Dragon's Lair Comics & Fantasy® Austin has been hosting our Free Comic Book Day event since its beginning, and it's grown into a huge store-wide family-friendly event for all ages. This year we had dozens of volunteers and cosplayers, a little over 1100 guests through the door, and several thousand comics given away.

FCBD is always an exciting all-hands on deck event for our staff here, and everyone gets a role during one of our biggest days of the year.

From snow cones, to checkout, to comic re-stock, and line management, everyone plays a part! Outside we had a bouncy castle for kids and free snow cones for the families while they wait, with fans, chairs, and canopy tents for guests to stay cool in the Texas heat.

Our volunteers and cosplayers help throughout the day. Many of them are our own comic subscribers and frequent shoppers who love to come dressed as their favorite comic super heroes and talk with fellow comic fans in line while they wait. This year our line started in the wee-hours of the morning and wrapped around the building before we even opened the doors.

Once inside, guests may take one of every title we have available until they run out!

This year our FCBD celebration hosted a signing by Bill Williams, author of the FCBD Punchline comic. Inside we also had activities such as face painting with the Avengers logo, green dragon, and space galaxy being the most popular designs, Star Wars Trivia for Star Wars Day, a local artist with prints of comic, cartoon, anime, and movie characters, and representatives from the Greater Austin Comic Con, and CASA Super Hero Run.

Free Comic Book Day is always one of our biggest community events of the year, with lots of buildup and anticipation. It's a tradition for many local families, comic enthusiasts, and even a local comic creator or two to visit us each year, and we're always excited to have such a successful event in our store!
ComicsTraders.ca – Calgary, AB, Canada
2019 free comic book day

we had over 1,500 people attend our free comic book day event

we gave way over 12.000 free comics and 200 free funko pops
Black Cat Comics – Salt Lake City, UT
For all 15 years of our store's existence, I've allowed our customers to take whatever free comic day books they like. As long as they're truly interested in the titles, they may help themselves with no limit.

For the last 2 years, we've invited the Sandy, Utah School of Rock to perform in the parking lot as people wait in line. School of Rock also runs a foundation, which raises a good amount of money at the event to help less fortunate kids with scholarships learn their instruments and perform publicly.

This year we had 3 creators signing. Phillip (Tomb Raider, Freeze) Sevy representing the national scene, Chris (Salt City Strangers, Craptionated) for the local scene, and Andy (Danger to Self, Alphabet of Sorrows) Sebastion. Andy is a new creator whose books focus on mental health and trans issues, and really helped bring a more diverse crowd to the event.

The line this year was nearly around the block, we had 2 separate news crews here, and several comic journalists and podcasters in attendance. We felt it was a true celebration of the comic world.

All in all, it couldn't have been a better event, but we'll never let that stop us from trying to top it next year!
Fantasy Books Inc – Belleville, IL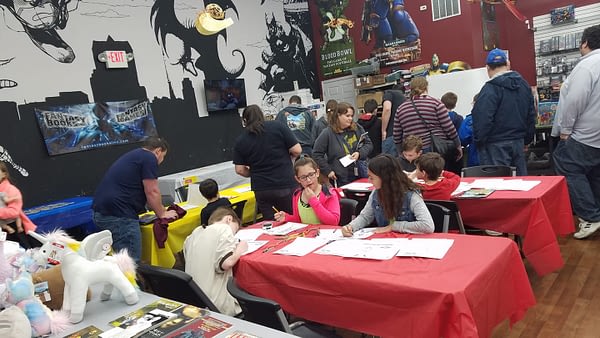 Every year we run a create your own Super Hero contest for kids 12 and under during FCBD. We provide an area for the kids, templates, crayons, pencils and pens and let them have fun. We encourage the drawing and an origin story. All the entries are posted to social media for the public to vote. The top 3 from each store are given a prize and the winners from each store are pooled and the managers and owners decide the overall winner. That Super Hero (or villain) is our mascot for the year in all of our marketing. We have a professional artist rendering printed and awarded to the winner and we save them examples of our marketing material of they want. The contest has gained enough momentum that schools use it as a project and kids come on FCBD with their entries already done. This years winner is also being recognized at the local library. Attached are images of this years drawing, renderings and some past years as well. You can see more about this years winner, Book Keeper at fantasybooksinc.com.
Comikaza – Haifa, Israel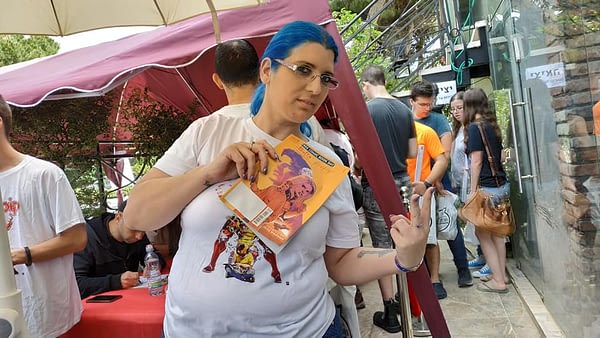 For our store, FCBD is much more than any event, not only in terms of sales but mainly as a great way to bring new customers and expose people to comics.

During the event, we take the free issues and other merchandise outside, to the street in front of the store, to make sure it will be seen by as much people as possible.

We can see the results, as each year the event brings more and more interest to the community in our area- new customers appear and different businesses around us ask to join and collaborate during this day.

We're never satisfied with only giving free issues during FCBD and try to organize as many items as possible for giveaway- posters, shirts, figures and more.

FCBD is also a great opportunity for us to promote local artists and we invite them to sell their art and make original paintings for the crowd.

This day bring something very fresh and different to our community- a combination of comics, art, people of all ages and a unique collaboration between different businesses.

Truly a great celebration we are happy to be organizing!
Level Up Entertainment – Mays Landing, NJ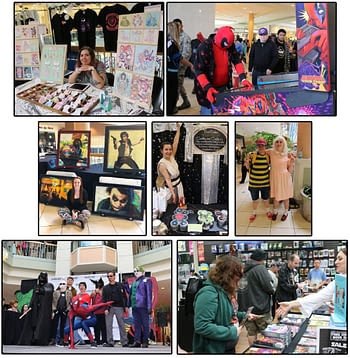 We always go big for our Free Comic Book Day events and this year might've been our biggest. We hosted over 60 vendors and comic creators and featured also as many activities. We had an arcade with new and retro games, two pinball competitions, the finals for our month long game tournament, Cosplay Contest, Jedi training with free lightsabers for kids, and more!

We also took advantage of it being Star Wars Day and teamed up with our local chapter of the Special Olympics to raise money by trying to break the Guinness World Record for Star Wars Cosplayers in one area. We didn't break the record but raised several hundred dollars!

For more pictures please click here
Famous Faces & Funnies – West Melbourne, FL
Free Comic Book Day is, without a doubt, the biggest event all year at Famous Faces. We jokingly call it our Superbowl, but it really isn't a laughing matter. We put everything into this event, and each year it's managed to grow. Free Comic Book Day 2019 was our best FCBD event by far, and what a great lead into Free Comic Book MAY. Yup, you read that right. We love FCBD so much that we expanded it all across May giving out 10 free comics each Saturday to everyone, even the Saturday we're at MegaCon. We're that devoted to giving people free comics!

But, back to the main day. We invited two of our favorites, and our customers favorite, guests: Karl Moline and Matt Santorelli to come out and do free sketches for our customers on May 4th. We also invited over ten local artists to draw sketches of customers favorite characters throughout the day. We put the artists in the back of the store, along with the free comics. This lets the line for comics and sketches flow through the back, and the line for the register flow through the front. The last thing we want is 300 people in the store and no one feels like they can move. It's a setup that works, and we were able to see over 1,800 people throughout May 4th.

It was also our best day in sales, beating out Christmas Eve and last years Free Comic Book Day. Long ago we decided not to run sales on Free Comic Book Day; we simply don't need to. We just offer the same great product and customer service, and people are happy to shop with us and grab their free comics. While anyone can grab free comics, without a purchase, we do a punch card throughout May that lets people get a free graphic novel for spending a minimum of $3 each Saturday in May. It really helps get people back in the door for the subsequent weekends.

The last thing that really made this FCBD wonderful was our friends at the 501st Legion. They came out in their trooping gear and took hundreds of photos with customers, sometimes out in the hot Florida sun. They are the most selfless people we know, and they really add an extra touch of the Force to Free Comic Book Day. As successful as our event was, we were able to donate a check to Give Kids the World for $501 in their honor. We couldn't do it without the support of our amazing community!
Comics Zone – Lyon, France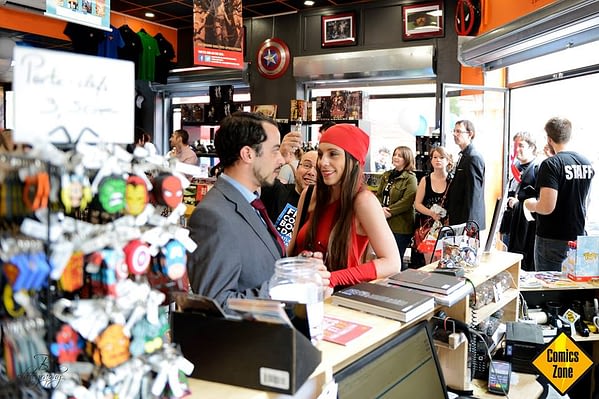 Since 2011, Comics Zone has hosted the Free Comic Book Day every year, and always had the biggest events in the country. At first the only comics that were given were the regular FCBD books in English, but in 2014, We managed to negotiate with the publishers of Marvel and DC in France, so that all the French readers would have FCBD issues in French too. This year, every French comic book publisher were on board (11 publishers).  At Comics Zone we had all issues from the regular US/UK publishers alongside all issues from French publishers as well as a book published by La Boite à BD, a Canada based comic shop and our very own self-published Sketchbook with art by 65 Artists like Joe Jusko and many others.

This year, we gave away 9000 comics in both French and English to over 1200 customers from all over the country, willing to wait over 2 hours in line to get their free comics, and get signatures and sketches from 15 artists. We also organized a raffle and a cosplay contest with 5000€ worth of prizes.

It was also possible to get a Comics Zone exclusive variant cover by Gabriele Del'Otto for the French Spider-man Monthly magazine.

Every cosplayer was given, alongside their comics, an exclusive CD of Bernard Minet, who sang the French theme song for most mythic 90's animated series.

Every year, we try our best to make the Free Comic Book Day bigger and bigger thanks to a passionate, inventive and dedicated team.
Amazing Stories – Saskatoon, SK, Canada
Amazing Stories in Saskatoon, Saskatchewan puts on the best show for FCBD! With over 20 different community groups coming out to entertain the masses as we give away 10,000 comics, no one can top us.
Treasure Chest Comics – Stafford, VA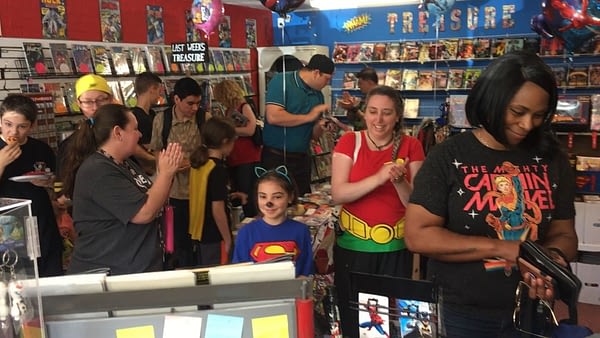 This years free Comic Book Day event was our best one ever. Lots of people showed up and brought friends and family with them. Parents bonded with their kids while eating our free homemade Superhero cup cakes, brownies and hot dogs. Some dressed in Cosplay outfits while others sported their favorite Superhero T-Shirt. Comic Artist Gannon Beck stayed busy cranking out custom sketch covers for our customers.  We gave away lots of prizes throughout the day to the winners of our raffles and Superhero trivia participants. Customers bonded, New friends were made, and after getting their free comics customers also supported by purchasing non free items. It was our highest grossing day since we've been in business. We are looking forward to making next years event even bigger and better.
Galactic Quest – Lawrenceville, GA
I have been a comics consumer for most of my adult life. I have visited many comics shops over the years, and since the early 2000s, I have attended quite a few FCBD events.

I'm currently employed by Galactic Quest, but prior to April of this year, I was a regular customer of GQ and other stores in the Atlanta area. FCBD was a day friends would pile into a car and visit as many locations as possible, beginning at GQ in Buford and ending at the flagship store in Lawrenceville. This was by design, because GQ has long been the best the area had to offer. They make a significant investment in the books themselves, and have a "take as much as you'll read" policy. They also invest in the experience of patrons, beyond the usual use of FCBD as just a way to get people in the door.

Kyle and Cynthia Puttkammer use FCBD as a way to serve as ambassadors for the comics industry and the hobby of reading and collecting comics. While it's always a great day for sales, the focus is on helping people understand why comics are fun and worthwhile. The 2019 event is the single best they have ever done.

This year, the city of Lawrenceville was involved. Kyle and city reps recruited businesses all around the square to join in the celebration of comics. Each participating host held a portion of the free comics in their places of business. Patrons followed a guide provided by the city to find the issues, and at the same time discovered other businesses around town.

An "artist's alley" was set up on the sidewalk, out where everyone could meet creators. There were displays along the road, costumed heroes along the block – it was a regular street fair, all aimed at promoting the city and the comics industry.

The result of all their labor was non-stop traffic through the shop beginning at 9am and not slacking until after 5pm. We saw plenty of regular customers, but exponentially more people who were brand new to comics.
Packrat Comics – Hilliard, OH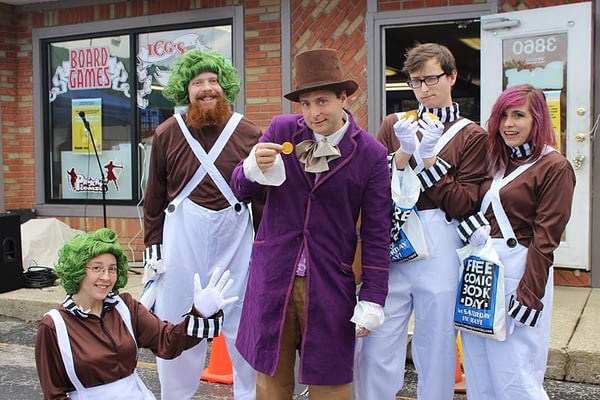 Free Comic Book Day at Packrat Comics is more than just giving away the free comics, it's to create an experience that they'll remember long past the life span of the comics they select. How do we do that? We make the day an experience.  Our approach is the following: fun activities for the kids, food to keep them through lunch and having items they can't live without. And most of all, various activities scheduled throughout the day.  They are there, they are playing and the kids are having fun.  They may not remember picking up the Sonic the Hedgehog comic, but they'll remember defeating the Joker when they completed their sidekick training.  Hosting as many creators in the shop as we can gives customers more browsing time and keeps customers there longer enhancing their experience.  In addition to panel sessions, hosting the traditional costume contest, a food eating contest, whatever we can think of to spread throughout the day to keep them there, we always have a theme.

Our favorite themed event was our Willy Wonka Golden Ticket.  For the theme, we created a special t-shirt image customers could have screened for free on their shirt, had custom made Fizzy Lifting drinks customers could purchase, costumed Willy Wonka and Oompa Loompas passing out Packrat logo chocolates and a chance to win the golden ticket for FREE COMICS FOR A YEAR.  We even had an official contract made for winners to sign that was similar to the movie contract Wonka made the kids sign.   For each purchase of $10 or more, we handed out envelopes that were stuffed with an extra free comic, lithograph, poster and possibly a GOLDEN TICKET.  With over 500 envelopes and over 50 possible tickets, customers had a 1 in 10 chance of winning something. The ticket would then be redeemed for various prizes, from free fizzy lifting drinks and items from our artists to the grand prize where 10 people would win FREE COMICS FOR A YEAR.

We have spent so many years building up our FCBD event only to realize that it's too much for our sensory sensitive friends so we created a special hour at the end of the day for those that may struggle with all the noise, lights and crowds that the day brings.  We restock all our FCBD selections at 6pm for those that may suffer from PTSD, recovering from a stroke or have autism or just grumpy old men that hate the crowds.  We turn off all the music, most lights, spread the comics throughout the store, and even have a special room with a tent for decompression if it becomes too overwhelming.  In an effort to prevent melt downs for our most sensitive friends, we have even created an option for them to preorder their comics. Not only has this been an overwhelming success but it's been a great way to wind down the day from the celebration started 12 hours earlier.
Enjoyed this article? Share it!