Here is a statistic for you. Comic book sales in 2019 so far, compared to 2018, are down over 5% in numbers and down over half a per cent up in dollars. That' not great – though June 2019 was a third of a per cent up on June 2018. But overall, the direct market is selling fewer comics for slightly less money. Expect to hear a lot more about this at San Diego Comic-Con a week today, as Diamond Comic Distributors release their stats for comic books ordered in June 2019 in the direct market of comic shops in North America.
April 2019 marketshare saw Marvel Comics take over 50% of the marketshare for sales numbers for that month. May still sees Marvel in the marketshare lead, but the gap is narrowed, even as Marvel publishes twice as many titles than DC Comics. In May, Marvel had a unit share of 39.75% and a dollar share of 40.46% against DC Comics' 38.58% unit share and 28.22% dollar share.
In June however, with DC's Year of The Villain one-shot out of the way, Marvel Comics have gained a 43.38% dollar share and a 48.93% unit share, as DC Comics take a drop to 26.71% dollar share and 26.44% unit share.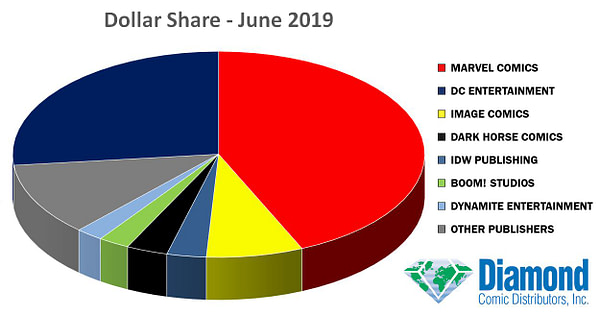 Image Comics was third for the month at 7.58% in dollars and 8.01% in units, followed by Dark Horse Comics at 3.23% in dollars and 2.16% in units, IDW Publishing at 3.08% in dollars and 2.83% in units, BOOM! Studios at 2.43% in dollars and 2.31% in units, and Dynamite Entertainment at 2.15% in dollars and 2.02% in units.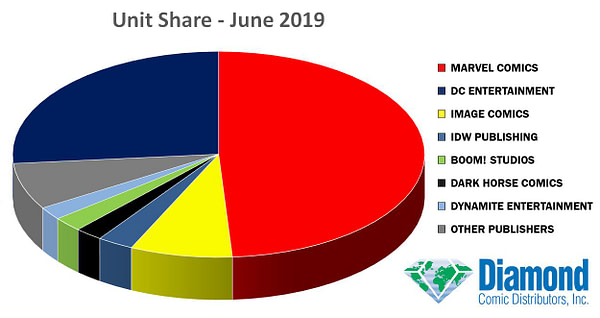 Black Cat #1 takes the top of the chart, buoyed by variant covers, retailer exclusive and otherwise. And the two Batman titles are the lowest in the chart I've seen them, nine and tenth, beaten back by DCeased, Silver Surfer Black, The Batman Who Laughs, Batman Damned, Amazing Spider-Man, Walking Dead and, of course, Immortal Hulk. Though that may not be the case for next month with Batman #75 on the way…
Stan Sakai's Usagi Yojimbo #1 was IDW Publishing's top book for June at 61, BOOM! Studios' Buffy the Vampire Slayer #5 ranked #85, Stranger Things: Six #2, was Dark Horse Comics' top book at #110 and Dynamite Entertainment's Red Sonja: Birth of the She-Devil #1, was their top book at #125.
Kieron Gillen and Stephanie Hans' Die Volume 1: Fantasy Heartbreaker from Image Comics, the first volume of their modern fantasy series about adults facing the same monstrous evil they faced as teenaged role-players, was June's best-selling graphic novel. DC had five titles in the top ten: the Detective Comics #1000 Deluxe Edition ranked #2; the DC Poster Portfolio: Stanley "Artgerm" Lau, a collection of his covers for DC, ranked #3;DC Super-Hero Girls: Search for Atlantis ranked #4; Teen Titans: Raven, the original graphic novel from the DC Ink imprint, ranked #7; and Batman/The Flash: The Button, a softcover edition of the best-selling storyline, ranked #8.
UDON Entertainment's Mega Man Zero: Official Complete Works, an artbook that looks at the Capcom video game, was June's best-selling book and one of the four UDON books among the top ten. Also in the top ten, BOOM! Studios' Jim Henson's The Dark Crystal, the novelization of the beloved film, ranked #10.
Funko's POP! DC Heroes: Harley Quinn with Boombox Vinyl Figure, a PREVIEWS Exclusive, was June's best-selling toy product. Diamond Select Toys had two items in the top ten: the Marvel Gallery: Carnage Comic PVC Figure ranked #2 and the Marvel Gallery: Avengers Endgame: Hulkbuster Deluxe PVC Figure ranked #4. DC Collectibles also had two products in the top ten: the DC Designer Series: Supergirl by Stanley "Artgerm" Lau Statue ranked #8 and the Batman Animated Series: Batcycle & Figure Set ranked #10.
Paizo Publishing's Pathfinder Adventure Card Game Core Set was June's best-selling game product and one of the six products from Paizo in the top ten. Green Ronin Publishing's Critical Role: Tal'Dorei Campaign Settingrulebook placed in the top ten for the third consecutive month and the fourth time in the past six months, ranking #2 for the month.
TOP COMIC BOOK PUBLISHERS
PUBLISHER

DOLLAR

SHARE

UNIT

SHARE

MARVEL COMICS

43.38%

48.93%

DC

26.71%

26.44%

IMAGE COMICS

7.58%

8.01%

DARK HORSE COMICS

3.23%

2.16%

IDW PUBLISHING

3.08%

2.83%

BOOM! STUDIOS

2.43%

2.31%

DYNAMITE ENTERTAINMENT

2.15%

2.02%

VIZ MEDIA

1.61%

0.59%

ONI PRESS

0.74%

0.53%

ARCHIE COMICS

0.57%

0.60%

OTHER NON-TOP 10

8.52%

5.59%
 COMPARATIVE SALES STATISTICS
DOLLARS

UNITS

JUNE 2019 VS. MAY 2019

COMICS

-6.44%

-6.55%

GRAPHIC NOVELS

-18.39%

-15.92%

TOTAL COMICS/GN

-10.09%

-7.26%

TOYS

-2.86%

-15.02%

JUNE 2019 VS. JUNE 2018

COMICS

3.56%

-4.63%

GRAPHIC NOVELS

-7.11%

-13.13%

TOTAL COMICS/GN

0.36%

-5.27%

TOYS

35.23%

14.34%

YEAR TO DATE 2019 VS. YEAR TO DATE 2018

COMICS

0.21%

-5.03%

GRAPHIC NOVELS

-2.25%

-7.19%

TOTAL COMICS/GN

-0.49%

-5.19%

TOYS

24.92%

27.33%

SECOND QUARTER 2019 VS. FIRST QUARTER 2019

COMICS

3.15%

6.51%

GRAPHIC NOVELS

3.01%

-3.86%

TOTAL COMICS/GN

3.11%

5.72%

TOYS

-9.68%

-11.18%

SECOND QUARTER 2019 VS. SECOND QUARTER 2018

COMICS

-6.71%

-7.62%

GRAPHIC NOVELS

-8.72%

-16.49%

TOTAL COMICS/GN

-7.28%

-8.29%

TOYS

30.69%

24.68%
NEW TITLES SHIPPED
PUBLISHER

COMICS SHIPPED

GRAPHIC NOVELS SHIPPED

MAGAZINES SHIPPED

TOTAL

SHIPPED

MARVEL COMICS

104

43

0

147

DC

50

20

1

71

IMAGE COMICS

46

11

0

57

IDW PUBLISHING

30

17

0

47

DARK HORSE COMICS

19

22

0

41

BOOM! STUDIOS

20

11

0

31

DYNAMITE ENTERTAINMENT

18

7

0

25

VIZ MEDIA

0

23

0

23

ARCHIE COMICS

11

2

0

13

ONI PRESS

5

5

0

10

OTHER NON-TOP 10

121

184

18

323

TOTAL

424

345

19

788
TOP 10 COMIC BOOKS BY UNITS SHIPPED
| | | | | |
| --- | --- | --- | --- | --- |
| RANK | DESCRIPTION | PRICE | ITEM CODE | VENDOR |
| 1 | BLACK CAT #1 | $4.99 | APR190773-M | MAR |
| 2 | DCEASED #2 | $3.99 | APR190459-M | DC |
| 3 | SILVER SURFER: BLACK #1 | $3.99 | APR190783-M | MAR |
| 4 | BATMAN: DAMNED #3 (MR) | $6.99 | MAR190493-M | DC |
| 5 | THE BATMAN WHO LAUGHS #6 | $4.99 | APR190454-M | DC |
| 6 | AMAZING SPIDER-MAN #24 | $3.99 | APR190824-M | MAR |
| 7 | THE IMMORTAL HULK #19 | $3.99 | APR190792-M | MAR |
| 8 | THE WALKING DEAD #192 (MR) | $3.99 | APR190202-M | IMA |
| 9 | BATMAN #73 | $3.99 | APR190448-M | DC |
| 10 | BATMAN #72 | $3.99 | APR190446-M | DC |
TOP 10 COMIC BOOKS BY DOLLARS INVOICED
| | | | | |
| --- | --- | --- | --- | --- |
| RANK | DESCRIPTION | PRICE | ITEM CODE | VENDOR |
| 1 | BLACK CAT #1 | $4.99 | APR190773-M | MAR |
| 2 | BATMAN: DAMNED #3 (MR) | $6.99 | MAR190493-M | DC |
| 3 | SUPERMAN: YEAR ONE #1 (MR) [*] | $7.99 | APR190432-M | DC |
| 4 | DCEASED #2 | $3.99 | APR190459-M | DC |
| 5 | SILVER SURFER: BLACK #1 | $3.99 | APR190783-M | MAR |
| 6 | THE BATMAN WHO LAUGHS #6 | $4.99 | APR190454-M | DC |
| 7 | WAR OF THE REALMS #6 | $5.99 | APR190726-M | MAR |
| 8 | THE IMMORTAL HULK #19 | $3.99 | APR190792-M | MAR |
| 9 | AMAZING SPIDER-MAN #24 | $3.99 | APR190824-M | MAR |
| 10 | THE WALKING DEAD #192 (MR) | $3.99 | APR190202-M | IMA |
TOP 10 GRAPHIC NOVELS & TRADE PAPERBACKS BY UNITS SHIPPED
| | | | | |
| --- | --- | --- | --- | --- |
| RANK | DESCRIPTION | PRICE | ITEM CODE | VENDOR |
| 1 | DIE VOL. 1: FANTASY HEARTBREAKER TP (MR) | $9.99 | MAR190080 | IMA |
| 2 | DETECTIVE COMICS #1000 DELUXE EDITION HC | $19.99 | MAR190576 | DC |
| 3 | DC POSTER PORTFOLIO: STANLEY "ARTGERM" LAU TP | $24.99 | OCT180551 | DC |
| 4 | DC SUPER HERO GIRLS: SEARCH FOR ATLANTIS TP | $9.99 | JUN180439 | DC |
| 5 | DISNEY DESCENDANTS: EVIE'S WICKED RUNWAY VOL. 2 TP | $15.99 | FEB192149 | TOK |
| 6 | DISNEY DESCENDANTS: EVIE'S WICKED RUNWAY VOL. 1 TP | $15.99 | JAN192254 | TOK |
| 7 | TEEN TITANS: RAVEN TP (DC INK) | $16.99 | FEB190469 | DC |
| 8 | BATMAN/THE FLASH: THE BUTTON TP | $14.99 | MAR190568-M | DC |
| 9 | MIRACULOUS TALES: LADYBUG AND CAT NOIR SEASON 2 VOL. 4 TP | $8.99 | SEP181357 | ACT |
| 10 | MY HERO ACADEMIA VOLUME 19 GN | $9.99 | APR192159 | VIZ |
TOP 10 GRAPHIC NOVELS & TRADE PAPERBACKS BY DOLLARS INVOICED
| | | | | |
| --- | --- | --- | --- | --- |
| RANK | DESCRIPTION | PRICE | ITEM CODE | VENDOR |
| 1 | BLACKEST NIGHT OMNIBUS: 10TH-ANNIVERSARY EDITION HC | $150.00 | NOV180548 | DC |
| 2 | DC POSTER PORTFOLIO: STANLEY "ARTGERM" LAU TP | $24.99 | OCT180551 | DC |
| 3 | BATMAN BY GRANT MORRISON OMNIBUS VOL. 2 HC | $75.00 | NOV180534 | DC |
| 4 | DETECTIVE COMICS #1000 DELUXE EDITION HC | $19.99 | MAR190576 | DC |
| 5 | BATMAN: THE GOLDEN AGE OMNIBUS VOL. 7 HC | $125.00 | OCT180558 | DC |
| 6 | DISNEY DESCENDANTS: EVIE'S WICKED RUNWAY VOL. 2 TP | $15.99 | FEB192149 | TOK |
| 7 | MARVEL MASTERWORKS: SPECTACULAR SPIDER-MAN VOL. 2 HC | $75.00 | DEC181027-M | MAR |
| 8 | BERSERK DELUXE EDITION VOL. 2  HC (MR) | $49.99 | FEB190389 | DAR |
| 9 | DIE VOL. 1: FANTASY HEARTBREAKER TP (MR) | $9.99 | MAR190080 | IMA |
| 10 | HULK BY LOEB & MCGUINNESS OMNIBUS HC | $100.00 | DEC181029 | MAR |
TOP 10 BOOKS BY UNITS SHIPPED
| | | | | |
| --- | --- | --- | --- | --- |
| RANK | DESCRIPTION | PRICE | ITEM CODE | VENDOR |
| 1 | MEGA MAN ZERO: OFFICIAL COMPLETE WORKS HC | $44.99 | APR192142 | UDO |
| 2 | THE ART OF DARKSIDERS HC | $49.99 | FEB192162 | UDO |
| 3 | ROLLED AND TOLD VOL. 1 HC | $39.99 | APR191818 | LIO |
| 4 | THE ART OF DARKSIDERS II HC | $49.99 | MAR192161 | UDO |
| 5 | THE ART OF DARKSIDERS III HC | $49.99 | DEC188955 | UDO |
| 6 | PHOTO JOURNAL GUIDE TO MARVEL COMICS VOL III: A-J | $29.95 | STAR00178 | GEM |
| 7 | PHOTO JOURNAL GUIDE TO MARVEL COMICS VOL 3 & 4 SET | $50.00 | STAR18847 | GEM |
| 8 | NEIL GAIMAN: THE SLEEPER & THE SPINDLE SC | $9.99 | JAN198509 | HAR |
| 9 | THE GOLDEN AGE OF DC COMICS HC | $20.00 | JAN192102 | TAS |
| 10 | JIM HENSON'S THE DARK CRYSTAL SC | $14.99 | FEB191275 | BOO |
TOP 10 TOYS BY DOLLARS INVOICED
| | | | |
| --- | --- | --- | --- |
| RANK | DESCRIPTION | ITEM CODE | VENDOR |
| 1 | POP! DC HEROES: HARLEY QUINN WITH BOOMBOX VINYL FIGURE | AUG188545 | FUN |
| 2 | MARVEL GALLERY: CARNAGE COMIC PVC FIGURE | JAN192550 | DST |
| 3 | X-MEN LEGENDS 6-INCH ACTION FIGURES | NOV188066 | HAS |
| 4 | MARVEL GALLERY: AVENGERS ENDGAME: HULKBUSTER PVC FIGURE | JAN192549 | DST |
| 5 | CAPTAIN MARVEL LEGENDS 6-INCH ACTION FIGURES | JUL188377 | HAS |
| 6 | SPIDER-MAN LEGENDS 6-INCH ACTION FIGURES | MAY198658 | HAS |
| 7 | ONE-12 COLLECTIVE: GHOSTBUSTERS DELUXE 4-PIECE FIGURE SET | FEB188377 | MEZ |
| 8 | DC DESIGNER SERIES: SUPERGIRL BY STANLEY LAU STATUE | NOV180595 | DC |
| 9 | ONE-12 COLLECTIVE: DC SOVEREIGN KNIGHT BATMAN FIGURE | MAR188642 | MEZ |
| 10 | BATMAN ANIMATED SERIES: BATCYCLE & FIGURE SET | JAN190709 | DC |
TOP 10 GAMES BY DOLLARS INVOICED
| | | | |
| --- | --- | --- | --- |
| RANK | DESCRIPTION | ITEM CODE | VENDOR |
| 1 | PATHFINDER ADVENTURE CARD GAME CORE SET | MAR198499 | PAI |
| 2 | CRITICAL ROLE: TAL'DOREI CAMPAIGN SETTING HC | JUN173357 | GRE |
| 3 | MARVEL HEROCLIX: AVENGERS: BLACK PANTHER AND THE ILLUMINATI BOOSTER BRICK | FEB193072 | NEC |
| 4 | STARFINDER RPG: BEGINNER BOX | FEB193069 | PAI |
| 5 | PATHFINDER RPG: OCCULT ADVENTURES POCKET EDITION | MAR193051 | PAI |
| 6 | PATHFINDER ACG ADVENTURE PATH: CURSE OF THE CRIMSON THRONE | MAR198498 | PAI |
| 7 | STARFINDER RPG: CORE RULEBOOK HC | JUN173371 | PAI |
| 8 | PATHFINDER RPG: ULTIMATE WILDERNESS POCKET EDITION | MAR193052 | PAI |
| 9 | THE EXPANSE RPG HC | NOV182869 | GRE |
| 10 | MARVEL HEROCLIX: WOLVERINE VS. CYCLOPS REGENESIS | DEC188863 | NEC |