Each week, Matthew Snyder looks at the bestselling digital comic books of the week. It was missing this last Friday though, today, Matthew elaborates upon it all. He writes; Welcome to the ComiXology Bestseller list, your guide to see how well your favorite titles are selling digitally. Every week I'll post the ranking of every new title, plus a ranking of the best selling volumes & graphic novels. As always, I hope you find it interesting and informative.
Yes, I know. I'm very late, but it wasn't my fault, I swear. The ComiXology website didn't update all week, putting me in a bind. And it's a shame, too. I had many jokes that were pretty topical last week. Very witty and up to date. You would've laughed your ass off. But because of the delay, I can't even share them.
Oh, what could've been. A producer could've seen those jokes and recruited me for a new political comedy on ABC. The other writers in the room would've looked down on my lack of tv experience but I would win them over with my charm. The show would get cancelled after 2 seasons because it was too highbrow for network tv, but the prestige of the show allows me to get funding for an indie film I'm writing and directing. The script finds its way to Scarlett Johansson, who likes it and wants to work on a low stakes film after the stressful divorce with Colin Jost. She doesn't think much of me at first, but she's quickly won over by my quirky sense of humor and compassionate nature. We start dating around the time my film becomes the surprise hit of 2023, and we soon marry. I win 6 Oscars in my lifetime: 4 for screenwriting and 2 for directing, with my wife ScarJo by my side congratulating me each time. (Not to mention the 7 Emmys I win as the showrunner for HBO's adaptation of Fables.)
But now that can never be. Thanks a lot, ComiXology .
Where was I? Oh yeah, what I'm supposed to be writing about: Digital sales. Batman and Justice League took the top two spots, and DC got some serious reinforcement in Frank Miller. People must love reading Superman's origin story a million times, because Superman: Year One landed at No. 3. My God, there's no way DC can lose this, but for the sake of tradition, let's look at the Top 10 score:
Marvel: 28
DC: 27
Somebody call the Atlanta Falcons, because DC Comics now holds the record for the biggest choke job in history. At least the Falcons were up against Tom Brady. Who were you up against, DC? Akira Yoshida?
But I'm really happy for Marvel. Early last year they couldn't win any Top 10 battles. Now they're winning them by slim margins every third week. And if that sounds snarky and condescending….. well it is. But progress is still progress. Every ongoing title in the Top 10 is an improvement over their previous incarnation, some of them by an average of double digits. Even the biggest Marvel critic has to admit that's impressive.
Now when the inevitable relaunch comes, it won't be due to desperation. (Sorry, I can't turn off the snark.)
#bringbackblade
#savesantaclaritadiet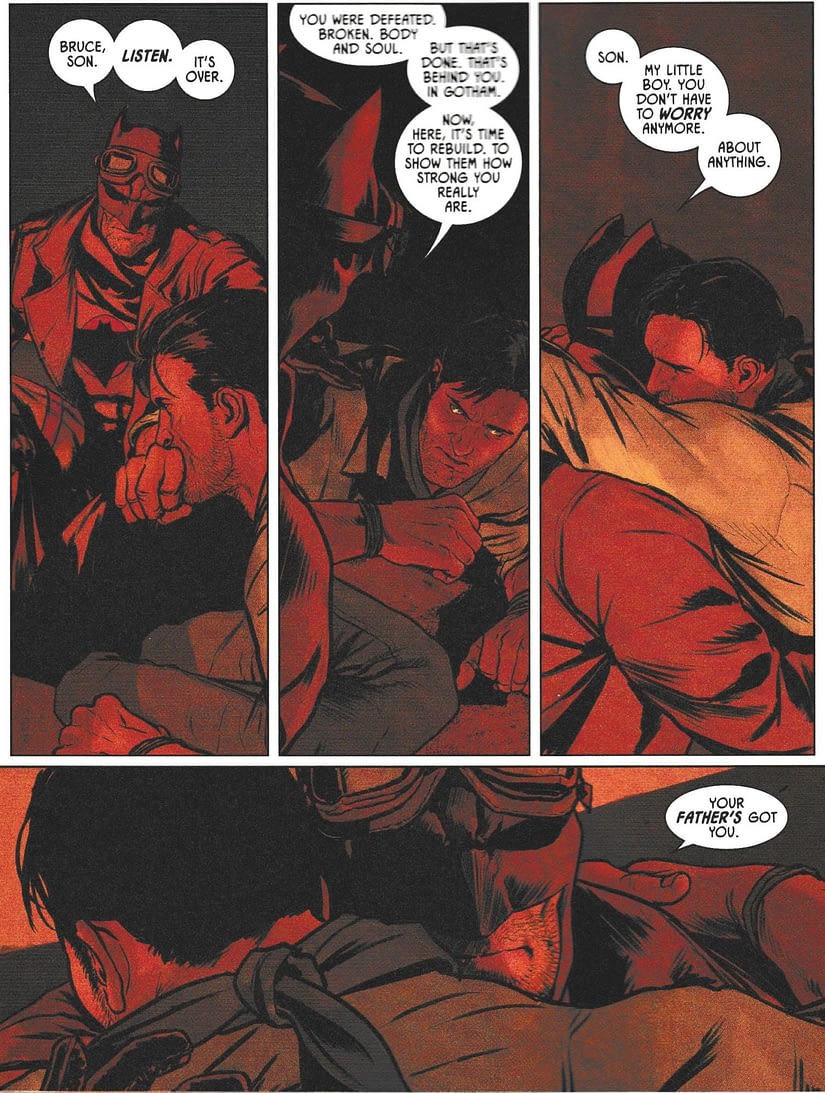 New Issue Rankings:
Batman #73
Justice League #26
Superman: Year One #1
Uncanny X-Men #20
Star Wars #67
Guardians of the Galaxy #6
Captain America #11
Miles Morales: Spider-Man #7
Daredevil #7
War of the Realms: Journey Into Mystery #5
Monstress #23
Star Wars: Doctor Aphra #33
Tony Stark: Iron Man #13
Captain Marvel #7
Nightwing #61
Aquaman #49
Teen Titans #31
Rat Queens #16
Age of X-Man: Next-Gen #5
Star Wars: Tie Fighter #3
Wolverine: Infinity Watch #5
X-Men: Grand Design – X-Tinction #2
War of the Realms: War Scrolls #3
Age of X-Man: The Amazing Nightcrawler #5
Gideon Falls #14
Spider-Man & The League of Realms #3
Savage Sword of Conan #6
Deadpool #14
Lucifer #9
Firefly #7
Goddess Mode #6
Shuri #9
The Unstoppable Wasp #9
Lady Mechanika: Sangre #1
Little Bird #4
Usagi Yojimbo #1
A Walk Through Hell #11
Hellboy and the B.P.R.D.: The Beast of Vargu
Pearl #10
Hit-Girl Season Two #5
Marvel's Spider-Man: City at War #4
Invisible Kingdom #4
Lumberjanes #63
Sabrina the Teenage Witch #4
Skyward #14
Middlewest #8
Psi-Lords #1
Farmhand #9
James Bond: 007 #8
Doctor Who: The Thirteenth Doctor #9
Assassin Nation #4
Excellence #2
Curse Words #22
Faithless #3
Fairlady #3
Rumble #13
Gold Digger #264
Red Sonja & Vampirella Meet Betty & Veronica #2
Livewire #7
The Warning #8
Outpost Zero #10
Port of Earth #11
Scooby-Doo Team-Up #97 (99-cent digital first)
Black Badge #11
Barbarella/Dejah Thoris #4
MAD Magazine #8
Neon Future #4
Last Stop on the Red Line #2
Battlestar Galactica Classic #5
Warlord of Mars Attacks! #1
Teenage Mutant Ninja Turtles: Urban Legends #14
Elephantmen 2261 Season Two #2 (Comixology Original)
Black Butler #153
Gretel #4
Old Issue Rankings:
Event Leviathan #1
Spider-Man: Life Story #4
Action Comics #1011 (50% off)
Superman #11 (50% off)
Superman #10 (50% off)
Action Comics #1010 (50% off)
Silver Surfer: Black #1
Action Comics #1006 (50% off)
Action Comics #1009 (50% off)
Action Comics #1008 (50% off)
Action Comics #1007 (50% off)
The Batman Who Laughs #6
Immortal Hulk #19
Action Comics #1005 (50% off)
Superman #12
Best Selling Collections & Graphic Novels:
Elseworlds: Superman Vol. 2 (76% off)
All-Star Superman (DC Black Label Edition) (75% off)
Superman (2018) Vol. 1: The Unity Saga- Phantom Earth (65% off)
Immortal Hulk Vol. 3: Hulk in Hell
Cosmic Ghost Rider: Baby Thanos Must Die (67% off)
Mr. and Mrs. X Vol. 1: Love and Marriage (64% off)
Thor (2018) Vol. 2: Road to the War of the Realms
Carnage USA (67% off)
Uncanny X-Men (2018) Vol. 1: Cyclops and Wolverine
Venom by Donny Cates Vol. 1: Rex (64% off)
Amazing Spider-Man Epic Collection: Kraven's Last Hunt (60% off)
Oblivion Song by Kirkman & De Felici Vol. 1 (50% off)
Oblivion Song by Kirkman & De Felici Vol. 2 (29% off)
Jessica Jones: Purple Daughter (64% off)
Superman- Action Comics (2018) Vol.  1: Invisible Mafia (65% off)
Jessica Jones: Blind Spot MPGN (64% off)
Supergirl (2016) Vol. 1: The Killers of Krypton (54% off)
Immortal Hulk Vol. 2: The Green Door
X-Men: Grand Design – Second Genesis
Marvel 1602 (80% off)
Star Wars: Darth Vader (2017) Vol. 4: Fortress Vader
X-Force: Sex and Violence (60% off)
X-Men Red Vol. 2: Waging Peace
Amazing Spider-Man Masterworks Vol. 20 (65% off)
Elseworlds: Superman Vol. 1 (76% off)
Marvel Knights Spider-Man Vol. 1: Down Among The Dead Men (57% off)
Immortal Hulk Vol. 1: Or Is He Both?
Marvel Knights Marvel Boy by Morrison & Jones (64% off)
Iron Fist: Phantom Limb (64% off)
Mystique By Brian K. Vaughan Ultimate Collection (60% off)
Superman: Earth One Vol. 3 (60% off)
Ghost Rider by Daniel Way: The Complete Collection (60% off)
Amazing Spider-Man by Nick Spencer Vol. 2: Friends and Foes (67% off)
Amazing Spider-Man by Nick Spencer Vol. 3: Lifetime Achievement
Wolverine: Origin II (67% off)
Superboy and the Legion of Super-Heroes Vol. 2 (83% off)
X-Statix Vol. 1: Good Omens (67% off)
Daughters of the Dragon: Deep Cuts (64% off)
Superman: A Celebration of 75 Years (80% off)
Marvel Knights Punisher by Garth Ennis: The Complete Collection Vol. 1 (60% off)
Cloak And Dagger: Shades of Grey (64% off)
Spider-Woman (2015) Vol. 1: Baby Talk (67% off)
Doctor Strange & Doctor Doom: Triumph and Torment (60% off)
Daredevil: Born Again (60% off)
She-Hulk by Soule & Pulido: The Complete Collection (60% off)
Superman: Earth One Vol. 1 (55% off)
Spider-Man: The Death of Jean DeWolff (62% off)
Fantastic Four: 1234 (57% off)
X-O Manowar Vol. 7: Hero (33% off)
Spider-Man: Blue (64% off)