After kicking off with a surprise issue we told you about way before anyone else, BOOM! Studios' new Angel #1 hit stores today with some pretty big questions for fans.
We all know this is all leading to Buffy Vs Angel, but this issue is giving us a better idea of what that conflict will look like – and how it'll be different.
If you look at what's happened to Firefly and Buffy – the other two big Whedon launches from BOOM! Studios – each issue has gone into multiple printings to meet the demand that greatly exceeded retailer orders. And with the DIEDIEDIE-style drop of Angel #0, chances are the orders for this issue aren't going to be enough to meet demand from fans who'll see just how much Angel is being…reVamped. Retailers missed on Firefly #1. And then they missed on Buffy #1. Chances are, they've missed on Angel #1.
The biggest questions we have after reading issue #1 are…
Who is Mara?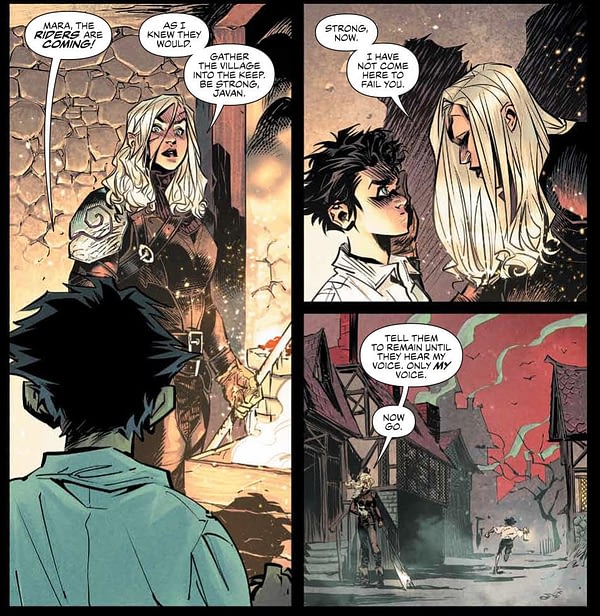 We already told you that Team Angelus is going to be a big deal but Mara, a demon hunter making her First Appearance in this issue, will be the biggest. Could she be a Slayer? After all, her battle axe is reminiscent of Buffy's famous Slayer's Scythe. If so, our comparison to the Four Horsemen could be even more on target, evoking shades of Apocalypse transforming X-Men's Angel into Archangel. Either way, Mara's introduction is set up in a way that I'm told will have a huge payoff over the next year.
And she may be the MOST important new character introduced in this series.
Is Angelus even WORSE than before?
In the television series, we saw Angelus was a cerebral assassin who preferred torturing his opponents psychologically.
But in this issue, we can see that Angelus is even MORE cruel than before with the way he attacks Mara, both physically and psychologically, which means Angel may be searching for a level of redemption far beyond anything we expected.
Plus he's got that evil Angelus armor and a giant sword which tells you he's a different kind of mass murderer this time around.
And is Lilith really…THAT Lilith?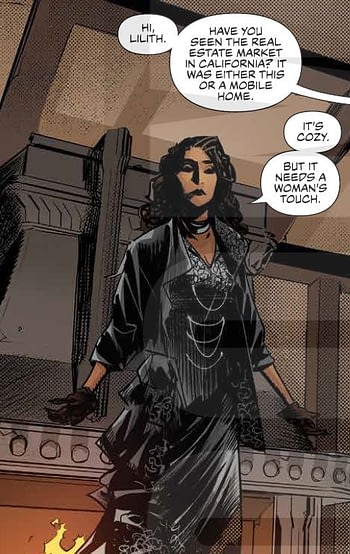 Yup. That's the first woman making her First Appearance – after the other TWO major first appearances in Mara and Team Angelus. She's playing a role in this first issue not unlike what we saw Doyle do for Angel in the television series, but given her identity it's fair to say she's destined for big things in this series.
One of the criticisms of the Angel TV series was the lack of female leads and diversity, but Bryan Edward Hill is certainly creating a world that looks a lot more like the Los Angeles we all know.
Is That A Connor Tease?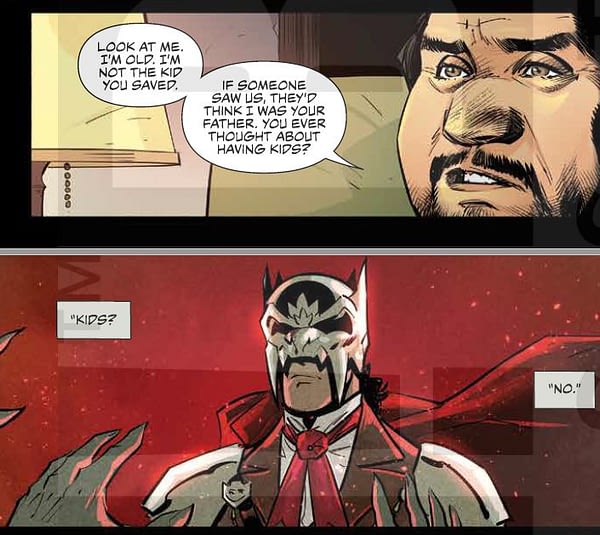 Angel mentions not being able to have kids – but in the television series he did have a son. Namely Connor, who was a – to put it mildly – divisive character during his tenure – even if we did get some memorable causes.
We've got a hunter in Mara from the past, mentions of Wolfram & Hart over in Buffy The Vampire Slayer and so all we need is a certain prophecy…
How does this lead into the introduction of Winifred Burkle?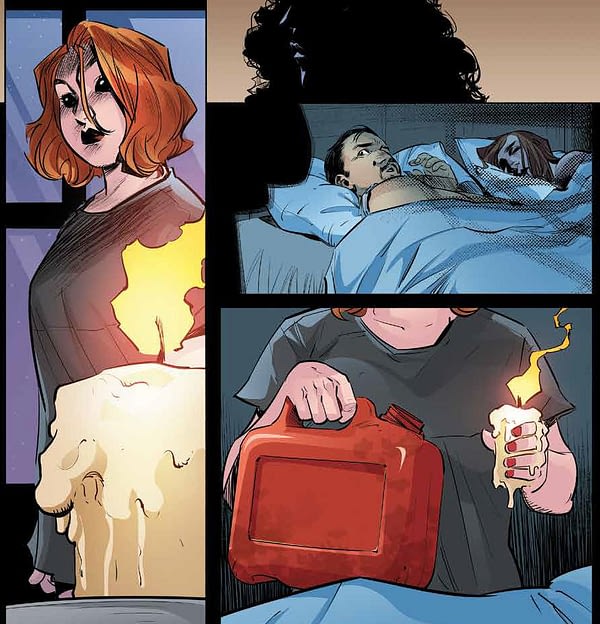 Fred makes her First Appearance in Angel #2 – but how is she connected to the threat in this issue?
ANGEL #1 CVR A MAIN PANOSIAN
(W) Bryan Edward Hill (A) Gleb Melnikov (CA) Dan Panosian
BOOM! Studios, along with visionary writer and director Joss Whedon (Buffy the Vampire Slayer, Marvel's The Avengers), presents the shocking reimagining of the pop culture phenomenon ANGEL!
Angel walks the line between two worlds; a vampire cursed with a soul, he's spent centuries battling back the forces that would destroy humanity, in an attempt to redeem himself for the crimes committed by the monster he was when he was first turned. But now, when the trail of the most recent demonic uprising takes him to Sunnydale, he realizes that the redemption he seeks can only come at a startling price.
As Angel reunites with old friends and old spirits in Sunnydale, he comes face to face with a new demon — one set on destroying a generation that Angel is entirely unfamiliar with. Will Angel be able to adapt to this new kind of foe…or will he succumb to the demons of his dark and terrible past as Angelus?
Following the journey of Angel through past and present, critically-acclaimed writer Bryan Edward Hill (Detective Comics, Killmonger) and artist Gleb Melnikov present a brand new, modern take on one of the most iconic vampires in pop culture, perfect for fans and new readers alike!In Shops: Jul 31, 2019
SRP: $3.99

ANGEL #2 CVR A MAIN
(W) Bryan Edward Hill (A) Gleb Melnikov (CA) Dan Panosian
The landmark reimagining of ANGEL continues here from Bryan Edward Hill (Detective Comics, Killmonger), Gleb Melnikov and series creator Joss Whedon (Buffy the Vampire Slayer, Marvel's The Avengers).
As Angel recovers for a devastating loss in Sunnydale, he must unravel the mysteries surrounding this new kind of monster. How can Angel fight something he can't see? When and who will it strike next? And who is the new mysterious woman… and what do they have to do with Angel's future? Features the first appearance of fan favorite character Fred Burkle!In Shops: Jul 31, 2019
SRP: $3.99