Two days ago, Bleeding Cool broke the news that DC Comics had sent a cease and desist notice to Devil's Due and the NY Collector Cave over the retailer exclusive cover of Alexandria Ocasio-Cortez & The Freshman Force: New Party Who Dis? #1.
The story was picked up by a number of sites, though the NY Daily Post, The Daily Wire and Fox News decided to credit ComicBook.com who just re-reported our original story. Hey ho.
But as a result, the market has gone a little crazy for the remaining copies on the market, numbering 250 minus any of the $30-priced copies that were withdrawn or destroyed as demanded by the cease-and-desist.
As sales reached $70, suggested in the original report that it might hit $100 on eBay. I was underestimating the demand and the craziness.
Most copies will go to private sales, but there is one copy remaining on eBay which, after three bids, is sitting at $255 with a week left to go.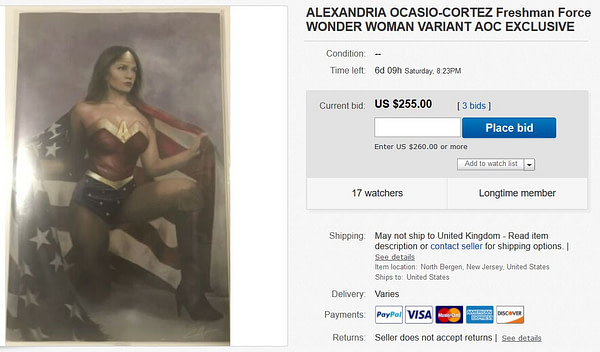 Hilariously, the Daily Wire's take included the statement that,
Thanks to capitalism — something the Congresswoman in question regularly derides — the threat of a DC Comics lawsuit has turned the AOC/Wonder Woman book from a novelty into a collector's item.
… as if they seem to think that she will be benefittung in any way from this non-authorised publication…