Welcome to the mostly-daily Lying In The Gutters. You can sign up to receive it as an e-mail here.
Top five stories read yesterday
Happening today: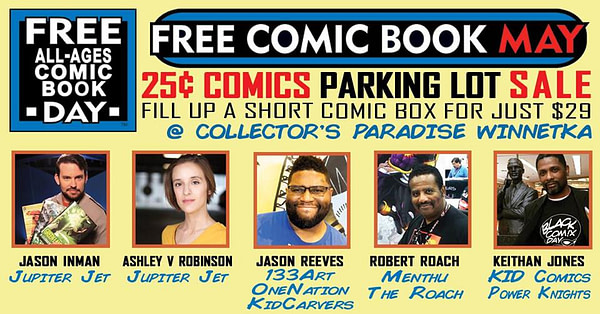 Terry Jervis and Chris Geary signing Spirit of the Pharaoh graphic novel, Forbidden Planet London 1-pm
WIP (Work In Progress Comics), Royal Festival Hall, South Bank, London 11.30am-3.30pm
Afro Reads Book Club – Augustown by Kei Miller, Palmers Green Library, London
Comicpalooza – Houston, Texas until Sunday.
Ottawa Comiccon – Ottawa, Ontario until Sunday.
Visioncon – Springfield, Missouri until Sunday.
Hudson Valley Comic Con – Poughkeepsie, New York until Sunday.
Meadowlark Comic Con – Medford, Oregon.
Toronto Comics Arts Festival – Toronto, Ontaro until Sunday.
White Plains ComicFest – White Plains, New York.
Yellow City Comic Con- Amarillo, Texas until Sunday.
Tampa Bay LibCon– Tampa, Florida and Ruskin, Florida.
3 Rivers Comicon– Homestead, Pennsylvania until Sunday.
OutlantaCon– Atlanta, Georgia until Sunday.
MG-Chan– Kuala Lumpur, Malaysia until Sunday.
And a happy birthday to:
John Corello, columnist and reporter at ComicMix.
Russell Lissau, writer for Batman Strikes and Old Wounds.
Dan Goldman, writer/artist, creator of Red Light Properties
Mike Curtis, writer of Dick Tracy strip
Matt Feazell, creator of Cynicalman.
Nick Burns, artist on Arctic Comics.
Sandy Carruthers, co-creator of The Men In Black.
Subscribe to our LitG Daily Mailing List