While we're still processing all of the Easter/resurrection allegories in this week's episode of SYFY's Happy! "19 Hours and 13 Minutes" (previously "17 Hours and 13 Minutes" – some kind of daylight savings time/coastal time zone thing?), one thing that stood out in an episode of stand-outs was the brief-but-still-cool-with-hope-for-more vocal talents of music icon "Weird Al" Yankovic.
"Weird Al's" Smoking Man Baby is the walking personification of toxic masculinity – in a diaper. A jealous, volatile baby blowhard with serious ink and a cigarette (or twenty) dangling fron his mouth, Man Baby looks to "IF block" Happy's (Patton Oswalt) time with Bo Peep (Jamie Elizabeth Kelton). Clearly, Man Baby doesn't have a clue who he's dealing with: a Happy who's showing more and more signs of some serious Sax (Christopher Meloni) influence:
"Weird Al" expressed his joy with working on the episode – and with Oswalt in particular – via Twitter:
Always a treat to do a scene with my pal @pattonoswalt – we've never looked better! Thanks, @HappySYFY! #SmokingManBaby #SeeHappy pic.twitter.com/Y4TdBL7NCw

— Al Yankovic (@alyankovic) April 25, 2019
And feelings were clearly mutual with the show's cast and crew – so we're getting a return appearance…right?
You're welcome, partner. Thank YOU for giving a voice to our smoky pal! #SeeHappy pic.twitter.com/dRl9w4vL0u

— Happy! (@HappySYFY) April 25, 2019
For a look behind the scenes with executive producer/director Brian Taylor at how the whole recording process went down – and a sneak preview at nex tweek's episode – check out the video below:

Season 2 begins with Easter on the horizon –a season of hideous pastels, dye-stained fingertips and a general "who really gives a f***" attitude. A newly sober-ish Sax finds himself struggling with the demands of family and fatherhood. He has sworn to do right by his ex-wife, Amanda, and his daughter, Hailey, which means no booze, sex, drugs or killing.
Happy, meanwhile, is resigned to keeping his partner on the straight and narrow while coping with the fact that a maturing Hailey can no longer see him. Sax's fresh start will be tested by a familiar enemy: Sonny Shine, who is on a mission to Make Easter Great Again (MEGA) with the help of his demented Easter Bunny henchman.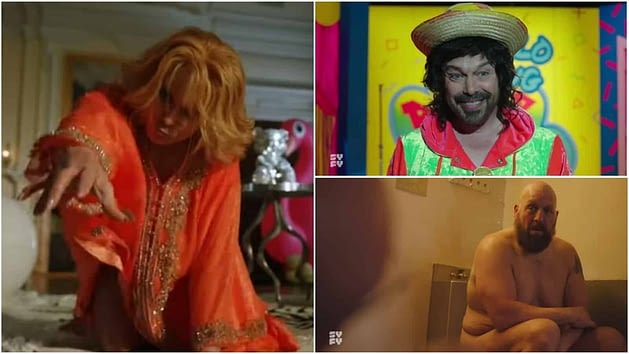 Written and executive produced by Brian Taylor and comic book writer Grant Morrison, SYFY's Happy! is based on Morrison and Darick Robertson's comic book series, starring Meloni, Oswalt, Christopher Fitzgerald, Patrick Fischler, Lili Mirojnick, Bryce Lorenzo, Medina Senghore, Ritchie Coster – with Curtis Armstrong, Paul "The Big Show" Wight, and Ann-Margret joining the cast this season. Both Lorenzo and Fitzgerald were promoted to series regulars with the second season. Neal Moritz, Pavun Shetty, and Toby Jaffe of Original Film, Meloni and showrunner Patrick Macmanus will also executive produce; and the series hails from Universal Cable Productions (UCP).
SYFY's Happy! airs Wednesday nights at 10 p.m. ET.