Last week's Peter Cannon: Thunderbolt, by Kieron Gillen and Caspar Wiinjgaard, part of a series pitched as another unauthorised sequel to Watchmen, jumped over into another late eighties classic, the sensational semi-autobiographical work of Eddie Campbell, creating a version of Alec on some seriously glossy paper.
I mean, it still is an unauthorised sequel to Watchmen.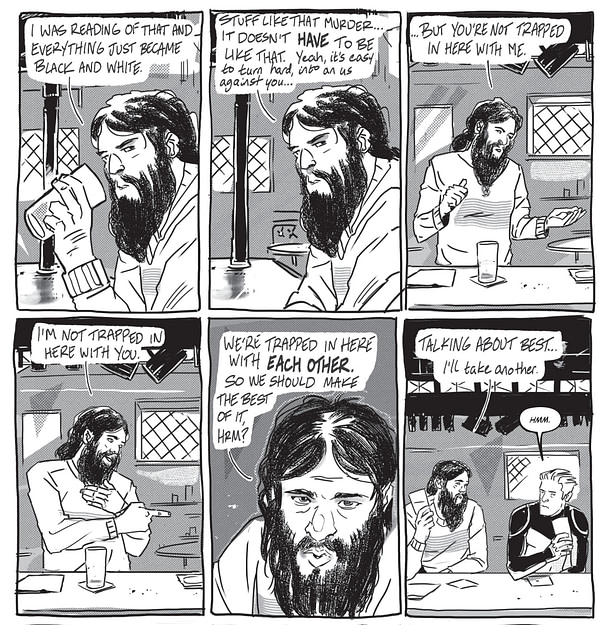 It's just moved on. As other comic book forms criss cross into the comic. Compare and contrast. Peter Cannon: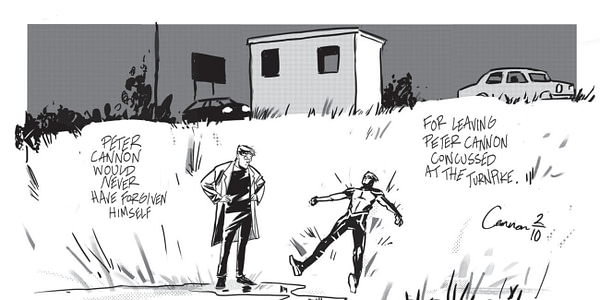 Alec: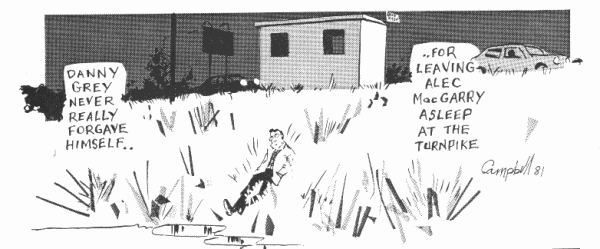 It was a few weeks ago, I was at the 'comics pub' – a monthly gathering of comic creators, publishers and retailers in London that has been going on for decades. At that month's meeting (Kieron wasn't there this time), a big time comics publisher from America was in town, I'd invited him along with his wife, and he was keen to meet people. And so it was my job to introduce and in some cases reintroduce him to people, and while he was there, who got the change to look at their work – and hire them on the spot. Now this kind of thing is rarely the done thing at the comics pub, mostly due to a lack of work/ambition/opportunity, but that night it was a blur. I'd introduce one to another, show off theur work, and see a handshake deal done before we moved onto another. And for once in my life I was facilillitating all these different meetings and the fruits that have continued have, I am told, continued to blossom. For a brief couple of hours, I played The Man At The Crossroads.
That was a title bestowed upon Paul Gravett by Eddie Campbell. Because what I managed to do for a couple of hours, Paul Gravett spent his eighties and nineties doing all the time. Publisher, curator, event organiser, retailer, Paul Gravett brought – and still brings – people together in comics more than anyone I know. He mostly organises and curates comics exhibitions these days, as well as writing and lecturing everything that goes along with it. I know when he's busy because then and only then do I get calls from UK media asking me to comment on something comic-book based. As Gravett is occasionally kind enough to suggest I might be able to help them when he is up to his eyes. When Australian TV asked me to talk about Stan Lee, I knew that's because Gravett was in Italy. I play Moon to his Higgs. Or possibly Puckeridge. Peter Cannon goes there as well.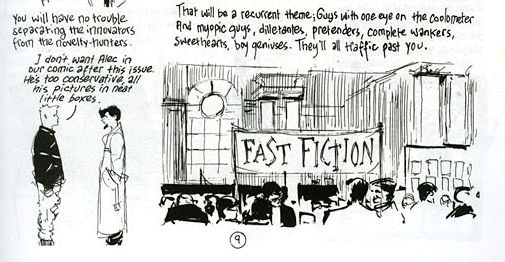 The Man At The Crossroads label took off, especially after Eddie Campbell put in in print in his comic Alec and How To Be An Artist, which appeared in a variety of forms, eventually in a herculean effort, collected by Top Shelf. And now revived by Gillen and Winjgaard for their own devices.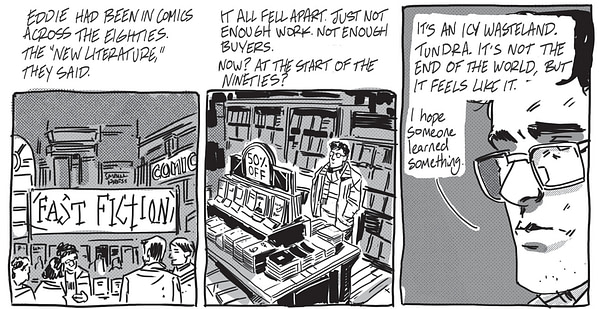 Tundra. Heh.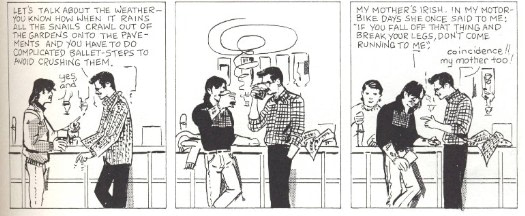 Eddie Campbell's Bacchus, From Hell and Alec were on the stands when I was seriously decided that comic books were my thing and I was spending ever available penny of my disposable income trying to catch up. And there was plenty out there, from all sorts of publishers – Dave Sim described Eddie Campbell's publishing strategy for his series as one of Johnny Appleseed, planting a story here and there. And some of it self-published, tracking it down was insanely difficult and in some cases meant crossing the country (thank you Page 45 in Nottingham for having still having certain self-published issues even Eddie had thought were lost). Kids these days, I dunno, they can just pick it up.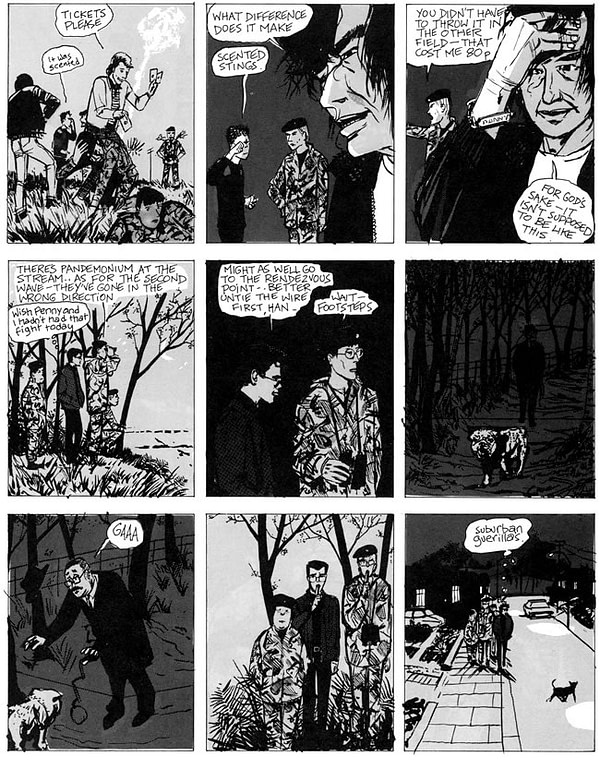 Alec had a beautiful cadence for telling stories, sometimes narrated, sometimes just playing out in pure visual. It messed around with the form, though never enough to break it, and certain panels, stories and versions of events that would stay with me, decades after reading. What began as a way to put conversations, events, into comic book panels, with little fruitful examination of what was going on in Eddie's life, created a language, a way of presenting events that would go on, in years to come, to be an incredibly incisive way of dissecting the world around as us time barrels past.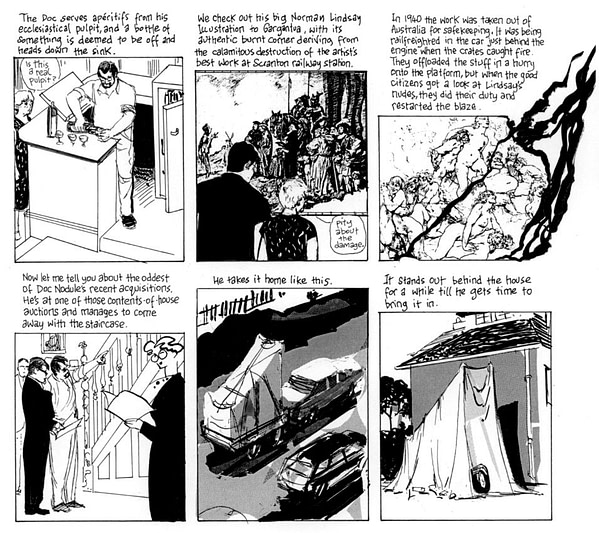 The Top Shelf collection may have felt like a cheat but it was a very welcome one.
Oh and when I was self-publishing a very silly sci-fi comic called Dirtbag in the mid-nineties, I had the bright idea to go to comic book conventions and get comic creators to help me create covers for my comic for free. Which is how the first issue of Dirtbag has a cover by Simon Bisley, David Lloyd and me. And how the second issue has Eddie Campbell and – everyone. He grabbed the sheet of bristo; board, delighted by the idea and pressganged every member at the Vertigo booth he could muster to add a bit. Which is why the second issue cover is by Eddie Campbell, Duncan Fegredo, Sean Phillips, Glyn Dillon, Gary Erskine, Mark Buckingham, Paul Grist and Jeff Smith. And sells for forty bucks online.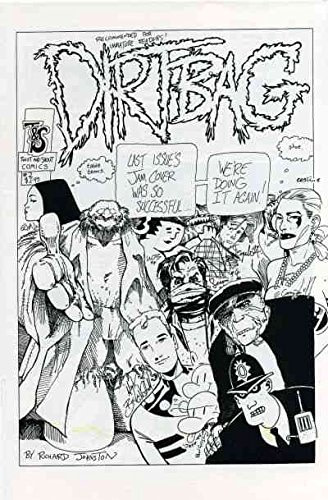 He was one hel of a Man At The Crossroads too. I don't recommend anyone actually reads it. But after reading Peter Cannon: Thunderbolt, I hope some folk pick up Alec.
PETER CANNON THUNDERBOLT #4
(W) Kieron Gillen (A) Caspar Wijngaard (CA) Kris Anka
The only superhero in a world without superheroes, can Peter Cannon find anything in this mundane dimension to defend it against the endless powers of a god???In Shops: Apr 17, 2019 SRP: $3.99