This is the Top Ten Bleeding Cool Bestseller List, as compiled by a number of comic stores from their sales on Wednesday and Thursday. It measures what are known as the "Wednesday Warriors", those who can't wait till the weekend to get this week's comics. We salute you, and the keenness you bring to your passion.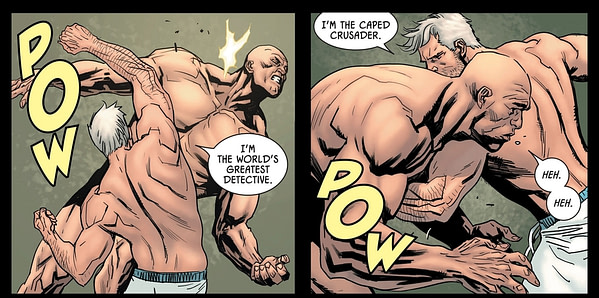 Batman tops the chart. Of course. Numbers may be a little softer heading through Knightmares but it remains a monster of a seller. But War Of The Realms #2 seems to have done better than the first in terms of market impact. Justice League is level pegging. Spider-Man Life Story is doing surprisingly weeks, Uncanny is doing better, and Naomi and Buffy make strong appearances too…
Top ten comics of the week
Batman #69
War of the Realms #2
Justice League #22
Amazing Spider-Man #19.HU
Spider-Man Life Story #2
Uncanny X-Men #16
Naomi #4
Guardians of the Galaxy #4
Daredevil #4
Buffy The Vampire Slayer #4
Thanks to the following retailers,
And here's what they had to say,
Two issues of Batman in two weeks means Batman has been flying high on the FFF Weekly Top Ten list. As for the rest of the week's top sellers, Buffy took the number two spot. It's great to see so many people jumping back into Buffy. By Season 12 we weren't selling much more than subs. But with Jordie Bellaire's Ultimate Buffy (a phrasing I picked up from Donny Cates) we've been getting new people coming in with every issue. The super secret surprise release of Angel was met with some excitement, but since no one really knew it was coming out, nobody has specifically come in looking for it like they have Buffy. Speaking of Cates, Guardians of the Galaxy is still selling strong. Spider-Man took two spots with Amazing Spider-Man .Hu and Life Story were #4 and #8 respectively. War of the Realms is dropping hard. I don't see the later issues (and the issues they'll inevitably add later on) being huge sellers. Uncanny and Justice League have been selling well, usually breaking the Top Ten each month. Uncanny has been selling better and better as time goes on as lapsed fans have been finding out that the X-Men are actually good again.
—–
Batman hit us two weeks in a row, so naturally, Batman dominated sales two weeks in a row. Not a bad thing by any means- Always gets people through the door. I did find it a little odd that no one, not a single person, asked about it or even batted an eye at the fact that it came out twice in two weeks, though. War of the Realms continues to sell super well, and so do the tie-ins. With #2 out, we saw a swell of back-trackers picking up both issues, as well as all the tie-ins we've still got on the shelf (it's worth noting that Journey Into Mystery didn't survive on the shelf into this week, and is by far the most popular tie-in thus far because of the fact that the McElroy brothers are writing it). Everything else is business as usual: Uncanny is holding momentum, but the Age of X-Man books have more or less peaked, only going to subs at this point, Avengers No Road Home closed stronger than it began, and Spider-Man Life Story is eye-catching and roped in a lot of folks this week. Daredevil is holding steady, but isn't picking up a ton of new readers, despite the fact that it's probably the best DD has been since… well, since Mark Waid.
—–
Batman slipped this week to third place. People are tired of Batman being trapped in various dreams for so long. Justice League 22 and Amazing Spiderman 19. HU outsold it this week. Solid week for sales.
—–
BATMAN may be sitting in the top spot as usual, but it's mostly Marvel's week this time around. UNCANNY X-MEN was right on Bats' heels this week, and other than a strong showing from JUSTICE LEAGUE it's Marvel almost the entire rest of the way down the list.
We've got plenty of arachnid action, with the most recent installment of the current Kraven story in AMAZING SPIDER-MAN, the continuing adventures of MILES MORALES SPIDER-MAN, as well as the second issue in the increasingly superb SPIDER-MAN LIFE STORY.
Elsewhere on the list we see TEEN TITANS, as well as Marvel mainstays like THOR, DAREDEVIL, and GUARDIANS OF THE GALAXY.
—–
Little Bird is making a smooth way to the top. East of West is also standing strong.
—–
DC's fortunes continue to wane (no Batman pun intended) at our store, with only two DC titles–Batman and Justice League–making our top ten at positions 2 & 4 respectively. Otherwise, it's all Marvel, with the superb Spider-Man: Life Story #2 taking the number one slot. If DC isn't already having publisher-level discussions to figure out what they're doing wrong, then they're ignoring the obvious: their books are bleeding readers as badly as they did during the last year or so of the New 52 era. Marvel's refocus seems to be working, meanwhile, with former mainstays like Daredevil, Spider-Man, and Uncanny X-Men back at the top of the heap again.