Once upon a time, Batman was going to marry Catwoman. Everyone got excited and ordered exclusive retailer variant covers of the big day. Then Catwoman left him at the altar, after interference from her best friend, secretly working for Bane.
Or Flashpoint Thomas Wayne, Batman's father from another dimension.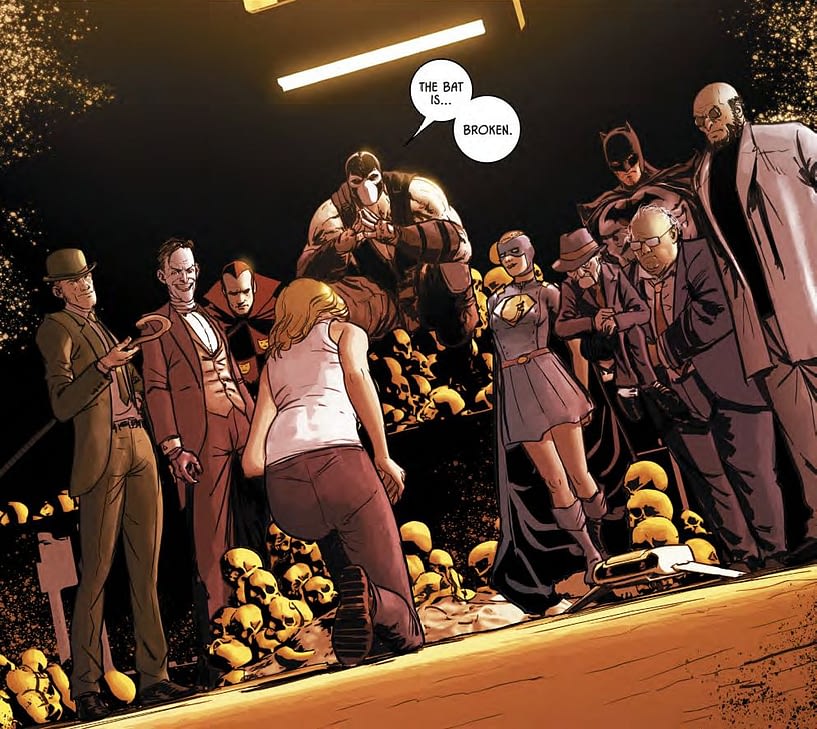 Or both. And ever since then, it's not been great for Bats. Who has been having some bad dreams of late.
For the first time since the Knightmares arc began, we step outside of Bruce Wayne to see what's going on. At the end of #68, we saw a glimpse of him, talking to Catwoman after her hen night…
…and then pulling back to see the reality…
… pretty much what his fantasised version of The Question had said was going on a couple of issues before that.
But the Question had a question for Catwoman.
He didn't get an answer. Only an admission of lying.
Of course, while that's the Catwoman saying she lied, that's Batman forming the narrative. He's lying.
So, today, in Batman #69, Batman breaks down what's happening to him, and dancing with many Catwomen – as many Batmen…
He lucidly dreams and runs exposition between the fancy footsteps across Gotham's alleyways and rooftops.
Bane and the Flashpoint Thomas Wayne, as we had seen in Batman #50, with the Scarecrow. With all of the motivation we had previously transcribed. And that's when we step out of the dream, the fantasy, the reality, to see Thomas Wayne sparring with a very naked Bane, Gachimuchi style…
At least I hope this is not part of the dream. It may still be of course but that seems an even more worrying journey down the Oedipal wormhole. Combining a Thomas Wayne who wants his son to be happy. And Bane who wants him to be very sad. And both taking the same direction towards that…
And only one way out… the usual overloading of the system trope.
So what is so scary for Batman? How about Barbatos?
No, today's Justice League #22 has reduced him somewhat. Instead, it's something closer to home…
This isn't the reason Catwoman didn't marry Batman. But it's the reason Batman thinks Catwoman didn't marry him. Any other reason given by anyone else in this sequence of dreams was the lie…
And of course everythinm, Thomas, Bane and the Scarecrow could also be part of the fantasy… as could me, writing all this now…  and even you could be dreaming this very moment.
Think on…
BATMAN #69
(W) Tom King (A/CA) Yanick Paquette
The Dark Knight is breaking through the bad dreams and coming out the other side. But is he ready for the culprit waiting through the veil of terror? And what lasting effects might this whole ordeal have on Bruce Wayne's psyche? With artist Yanick Paquette (WONDER WOMAN: EARTH ONE) jumping on board to tackle the art, "Knightmares" comes to a shocking close. This will be the strangest issue yet-a no-holds-barred journey through Bat-man's psyche via the inner workings of Arkham Asylum, setting up the next big chapter of Tom King's epic BATMAN tale. Batman's future starts now!In Shops: Apr 17, 2019
SRP: $3.99