Writers Clint McElroy and Justin McElroy of the Adventure Zone podcast are working with Marvel's Andre Lima Araujo, Chris O'Halloran, Clayton Cowles, Sarah Brunstad and Wil Moss for tomorrow's War Of The Realms: Journey into Mystery #1.
Which sees Baldur, half brother of Thor and Vidar, adoptive brother of Loki, brother of Hermod and Tyr, possible brother of Honir and brother to Angela, who he replaced in Hel, has emerged to find a few things changed. And it's not just that he has a new sister.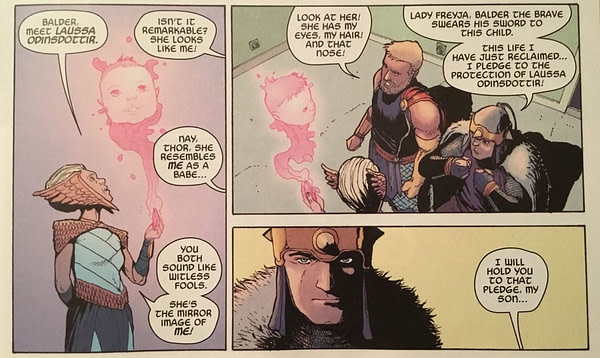 A little baby sister. Laussa Odinsdottir. That's the Icelandic for you.
Of course all these changes are new to Baldur. Who appears to be about to have a ComicsGate revelation, when he makes certain asumption at those who are about to join him in his quest.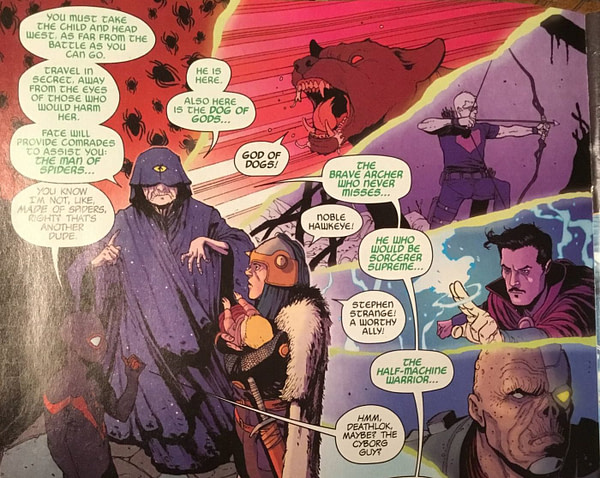 Someone's going to be hid upside the head by Marvel NOW aren't they?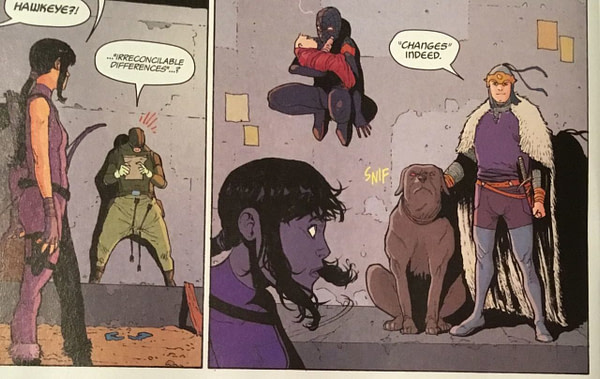 War Of The Realms: Journey Into Mystery #1 s published by Marvel Comics tomorrow.
WAR OF REALMS JOURNEY INTO MYSTERY #1 (OF 5) WR
(W) Clint McElroy, Justin McElroy, More (A) Andre Araujo (CA) Valerio Schiti, David Curiel
The creators of the blockbuster podcast The Adventure Zone bring their talents to Marvel for a wild romp through THE WAR OF THE REALMS!
Earth is at war, besieged by an army of Frost Giants, Trolls and Fire Goblins – and the mighty Thor is nowhere to be found! But could it be that the key to turning the tide is…Thor's baby sister? Journey into Mystery with Spider-Man (Miles Morales), Hawkeye (Kate Bishop), Wonder Man, and Balder the Brave as they go on an epic quest to save Earth's only hope! (And, yes, deal with diaper duty.)
Rated T+In Shops: Apr 10, 2019
SRP: $3.99