Matthew Snyder writes,

Welcome to the ComiXology Bestseller List, your guide to see how well your favorite titles are selling digitally. Every week I'll post the ranking of every new title, plus a ranking of the best selling volumes & graphic novels. As always, I hope you find it interesting and informative.
Marvel and events are like me and Pringles: try as we might, we can't go too long without them, despite what some expert says about our long term health. And so, Marvel unleashes Jason Aaron's War of the Realms this week, their major 2019 line-wide event. But before I reveal how well it did, just think to yourself: how high should a major Marvel event should be ranked? Should it tower over all other releases, or would it just be enough to make the Top 10?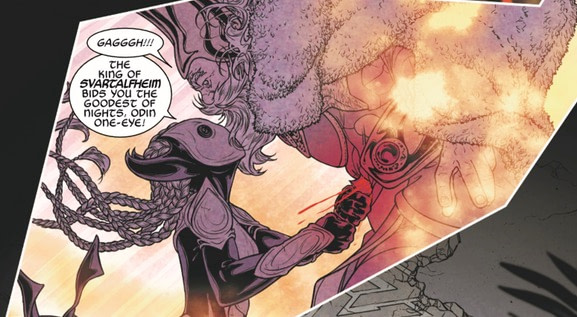 Well, it didn't win, but it got 3rd overall. Really good, right? Well, it depends on how you look at it. Considering it beat Uncanny X-Men, it's likely the best selling Marvel title currently. And No. 3 is nothing to sneeze at. On the other hand, if Batman didn't get delayed, it would easily be No. 4. Now I wasn't covering digital sales two years ago, but I remember Secret Empire taking the top spots the weeks it was released. I hate to say it, but Marvel events have lost their impact on the industry.
What say you? Are you feeling the same sense of excitement with War of the Realms as precious Marvel events? Yay or Nay? Rich, please use your magic editing powers to summon a poll.
Loading
Are you feeling the same sense of excitement with War of the Realms as precious Marvel events?
Thank you for voting
You have already voted on this poll!
Please select an option!
DC has to be happy, though. Because even with their biggest book delayed and Marvel releasing a brand new event, they still won the Top 10 this week. Look at the score:
DC: 24
Marvel: 21
Image: 10
No matter how hard Marvel tries, they cannot beat Scott Snyder's Justice League. 21 issues in, it still shows no sign of budging from its high sales perch. God help Marvel when DC decides to release a line-wide Justice League event. It'll make War of the Realms look like War of the Picnic Tables. (Which is still very intense. If you don't think so, you haven't seen 10 pissed off soccer moms try to get the last tables in the park for their kids birthday party on a Saturday morning).
#bringbackblade
Top 25 Overall:
The Walking Dead #190
Justice League #21
War of the Realms #1
Uncanny X-Men #15
The Green Lantern #6
Young Justice #4
Detective Comics #1000
Immortal Hulk #16
Star Wars #64
Amazing Spider-Man #18.HU
Die #5
Paper Girls #27
Captain America #9
Heroes in Crisis #7
Avengers: No Road Home #8
Conan the Barbarian #5
Adventures of the Super Sons #9
Champions #4
Age of X-Man: Prisoner X #2
Deathstroke #42
Major X #1
The Dreaming #8
Spider-Gwen: Ghost Spider #7
Giant Days #49
Cosmic Ghost Rider Destroys Marvel History #2
New Issue Rankings:
The Walking Dead #190
Justice League #21
War of the Realms #1
Uncanny X-Men #15
The Green Lantern #6
Young Justice #4
Immortal Hulk #16
Star Wars #64
Amazing Spider-Man #18.HU
Die #5
Paper Girls #27
Captain America #9
Avengers: No Road Home #8
Conan the Barbarian #5
Adventures of the Super Sons #9
Champions #4
Age of X-Man: Prisoner X #2
Deathstroke #42
Major X #1
The Dreaming #8
Spider-Gwen: Ghost Spider #7
Giant Days #49
Cosmic Ghost Rider Destroys Marvel History #2
The Punisher #10
Female Furies #3
Deadpool #11
Marvel Team-Up #1
Robotech #11 (Digital delay)
Black Hammer '45 #2
Domino: Hotshots #2
Harley Quinn #60
Section Zero #1
Red Sonja #3
The Witcher: Of Flesh and Flame #4
Solo: A Star Wars Story Adaptation #7
Suicide Squad: Black Files #6
Ghostbusters 35th Anniversary: Ghostbusters
Redlands #12
Eclipse #14
Self/Made #5
Amber Blake #1
The Six Million Dollar Man #2
Curse Words Spring Has Sprung Special #1
Halo: Lone Wolf #4
Lodger #4
Vampblade Season 3 #11
DC Super Hero Girls: Weird Science #1 (99-cent digital first)
Bronze Age Boogie #1
The Girl in the Bay #3
Jim Henson's The Storyteller: Sirens #1
Betty & Veronica #4
Van Helsing: Sword of Heaven #6
Hellchild: Blood Money #1
Lightstep #5
Oberon #3
Fathom #8
Bettie Page: The Dynamite Covers
Gasolina #17
Mirror #10
Carmen Chamelia
Silver Sun #1
Marvel Super Hero Adventures: Spider-Man – Web Designers #1
Old Issue Rankings:
Detective Comics #1000
Heroes in Crisis #7
Shazam! #3 (75% off)
Shazam! #4
Shazam! #2 (75% off)
Shazam! #1 (75% off)
Fantastic Four #8
Amazing Spider-Man #18
Action Comics #1009
Star Wars: Vader- Dark Visions #2
Dial H for Hero #1
Daredevil #3
Detective Comics #492
Detective Comics #493
Umbrella Academy: Hotel Oblivion #6
New Collections & Graphic Novels:
100 Bullets: Book One
100 Bullets: Book Two
100 Bullets: Book Three
100 Bullets: Book Five
100 Bullets: Book Four
Scalped: Book One
Scalped: Book Two
Scalped: Book Three
Scalped: Book Five
Scalped: Book Four
Superman/Shazam!: First Thunder (75% off)
Batman/Teenage Mutant Ninja Turtles II (12% off)
Batman: Year One Deluxe Edition (24% off)
Shazam!: The Monster Society of Evil (62% off)
Batman: White Knight (23% off)
Batman (2016) Vol. 8: Cold Days (23% off)
Multiple Man: It All Makes the Sense in the World
Batman: The Long Halloween (12% off)
Shazam!: Origins (55% off)
Nextwave Vol. 1: This Is What They Want
Nextwave Vol. 2: I Kick Your Face
War of the Realms Prelude (60% off)
Mera: Tidebreaker (15% off)
The Power of Shazam! (62% off)
Spider-Man: Miles Morales (2016) Vol. 1
Batman: The Caped Crusader Vol. 2 (20% off)
Batman- Detective Comics (2016) Vol. 7: Batmen Eternal (23% off)
Vision (2015) Vol. 2: Little Better Than a Beast
Kingdom Come (62% off)
Batman: Earth One Vol. 2 (44% off)
Batman: The Dark Knight: The Master Race (23% off)
Batman- Detective Comics (2016) Vol. 3: League of Shadows (23% off)
Dark Nights: Metal- Deluxe Edition (20% off)
Shazam: A New Beginning 30th Anniversary Deluxe Edition (80% off)
Batman- Detective Comics (2016) Vol. 2: Victim Syndicate (23% off)
Batman: The Complete Hush (12% off)
Scarlet Witch (2015) Vol. 1: Witches Road
Batman and The Outsiders Vol. 2 (9% off)
Batman/Teenage Mutant Ninja Turtles (13% off)
Batman (2016) Vol. 7: The Wedding (23% off)
Siege Prelude (62% off)
Batman: The Killing Joke (23% off)
Super Sons: The Polarshield Project (30% off)
Scarlet Witch (2015) Vol. 2: World of Witchcraft
Mage: The Hero Denied Vol. 5
Batman- Detective Comics (2016) Vol. 4: Deus Ex Machina (23% off)
Batman Beyond (2016) Vol. 4: Target: Batman (17% off)
Scarlet Witch (2015) Vol. 3: The Final Hex
Moon Knight Legacy Vol. 2: Phases
Dark Nights: Metal- Dark Knights Rising (25% off)