Mondo has revealed their next 1/6th scale Masters of the Universe figure, and it is Faker! This will be a Previews Eclusive release, with an exclusive version available for preorder right now from Mondo that comes with a battle-damaged head sculpt. That is the only difference between the two. Both come with 30 points of articulation, fabric costume pieces, an axe, a blaster, armor, his trademark chest "sticker", a regular head sculpt, and a classic He-Man 80's head. He will cost you $165.
Check out pics of the figure below, and place an order for the Mondo version right here.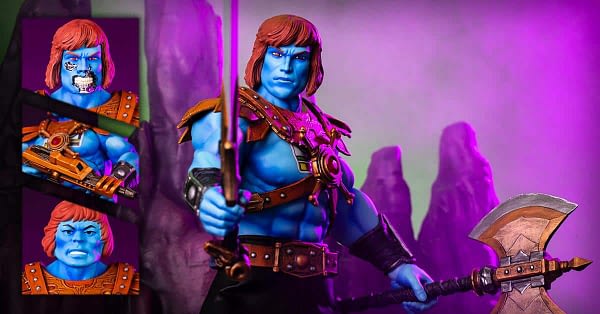 By the Power of Grayskull, you too can have the Power! Mondo is proud to bring you the third in our Masters of the Universe 1/6 Scale Figure line – Faker! Featuring over 30 points of articulation, fabric costume elements and a lot of accessories, this is the most powerfully fake figure you will ever find, from here to Eternia!
– Includes an interchangeable Battle Damage Portrait
– Approx. 12″ in height, Weight: approx. 4lbs, Material: PVC, ABS
– Artists: Ramirez Studios, Dave Rapoza, Joe Allard, Jason Wires Productions, Darren Henke
– Expected to Ship 3rd September 2019
– Ships Worldwide
– Edition of 750
– $165 – Payment Plan Available