We met the Thomas Wayne Batman in Flashpoint, before the New 52 kicked off, a Thomas Wayne who saw his son killed in Crime Alley as a child.
He became a Batman of a different, older, grittier ilk – while Martha Wayne became a Joker.
Through various time shifting, and the influence of Watchmen's Dr Manhattan – now revealed as the instigator of the New 52 timeline in the first place, Thomas Wayne writes a letter to Bruce Wayne. They met. And Thomas told Bruce to stop being Batman.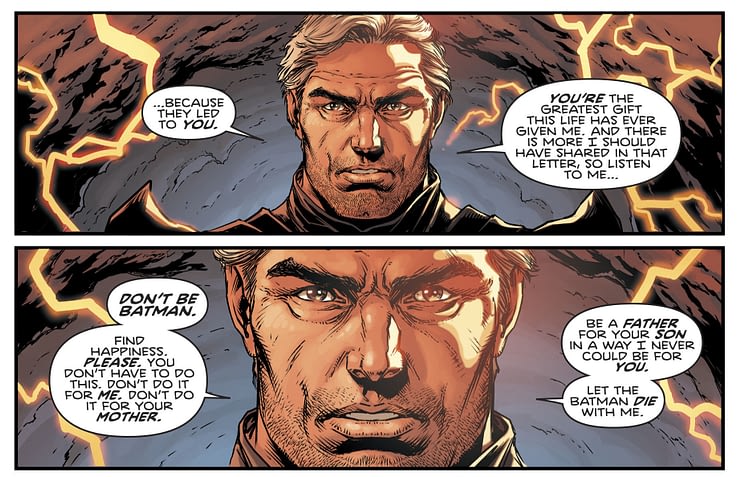 Bruce took it to heart. As in, standing and staring grimly out of a window, while a bat signal flickered, unanswered.
But stayed Batman. And tried to find happiness in marriage to Selina Kyle, Catwoman. A relationship that was destroyed by Bane's interference. With Thomas Wayne somehow standing behind him. And many others…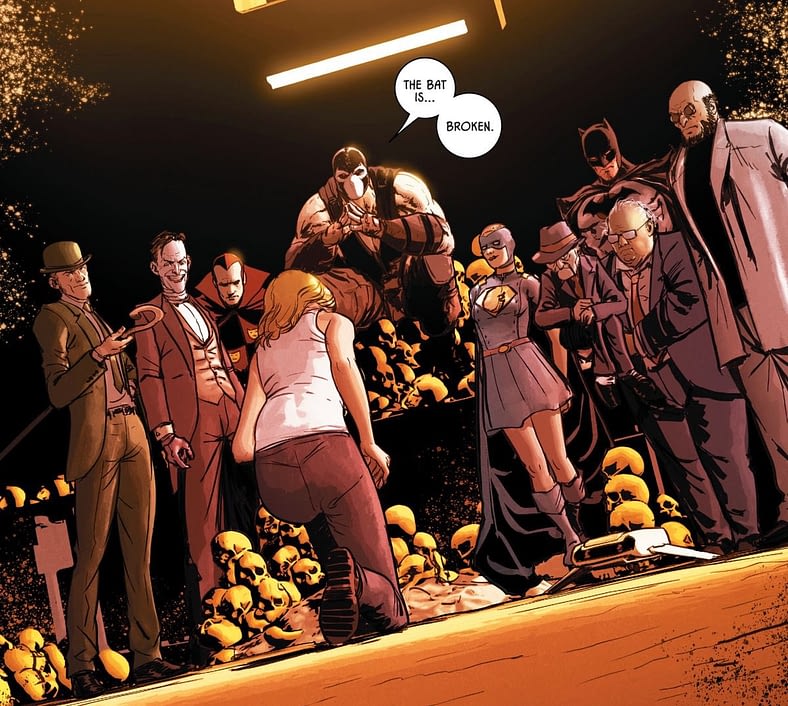 And before the current Knightmares began, attacking Wayne Manor and taking down Bruce.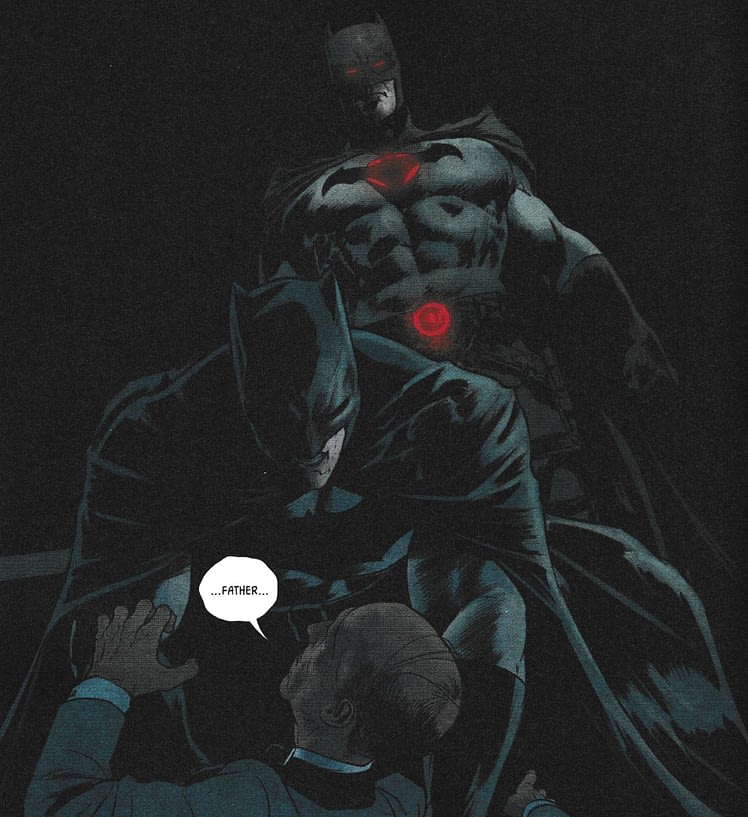 In today's DC June 2019 solicitations, we have The Fall And The Fallen to follow Knightmares and before Tom King and Tony S Daniel's arc City Of Bane, we get the details of Batman #72 and #73 by King and Mikel Janin.
BATMAN #72
written by TOM KING
art by MIKEL JANIN
cover by DAVID FINCH
variant cover by MICHAEL GOLDEN"The Fall and the Fallen" part three! Is this the end of Gotham City? Bane's army of villains is taking over the city, and Batman's back is against the wall. With all the things Bane has done to him over the last year—from breaking up his wedding to trying to assassinate Nightwing, and then invading Batman's mind to expose his most terrible fears—could this be the worst hate the Caped Crusader has ever encountered?

BATMAN #73
written by TOM KING
art and cover by MIKEL JANIN
variant cover by BEN OLIVER"The Fall and the Fallen" part four! Batman has been defeated by Bane's minions and chased out of Gotham. As a last-ditch effort to save his son from the lonely fate of being Batman, his father from another universe, Thomas Wayne, a.k.a. the Flashpoint Batman, is taking Bruce to the far ends of the Earth to try to give him the one thing that will cause him to give up crime-fighting for good.
Daddy knows best… he really doesn't want Bruce to be Batman, Catwoman or not. He just wants him to be happy. And it seems he's not alone.
The Batman Who Laughs, a Bruce Wayne-turned-Joker from yet another dimension. And this too appears to be about happiness…
THE BATMAN WHO LAUGHS #6
written by SCOTT SNYDER
art and cover by JOCK
variant cover by JENNY FRISON
True happiness begins in the heart. Our memories and emotions can play tricks on us, though, and divert one's reality into something completely different. The Batman Who Laughs has based his entire worldview on this very concept, and it is in this moment that he must finally confront the one man who stands in his way, the one man who could complete or halt his plan…the last Bruce Wayne. It is here, on the home turf of Wayne Manor, that Bruce relives the happiest moment of his life—the moment he became the Batman Who Laughs. Will Batman be able to outthink the Dark Multiverse version of himself and stop his most sinister end? Or will the original Dark Knight succumb fully and let go of his morality? While good almost always wins, this issue is the start of something more…setting up a larger plan based in the ultimate betrayal of infection, loyalty and true happiness. This is not the end…it's only the beginning.
It's a fool's errand. We all know there's only one thing that makes Batman really happy…
The Batusi…