Through Lydia's (Cassady McClincy) myriad of mangled memories–reinforced over the years through mental and physical abuse–viewers of AMC's The Walking Dead "Omega" witnessed firsthand Alpha's (Samantha Morton) disturbing origins, as well as the birth of the Whisperers. By the end of the episode, it was the viewers and our Hilltop heroes who finally got to meet the real Alpha…face to disturbing face: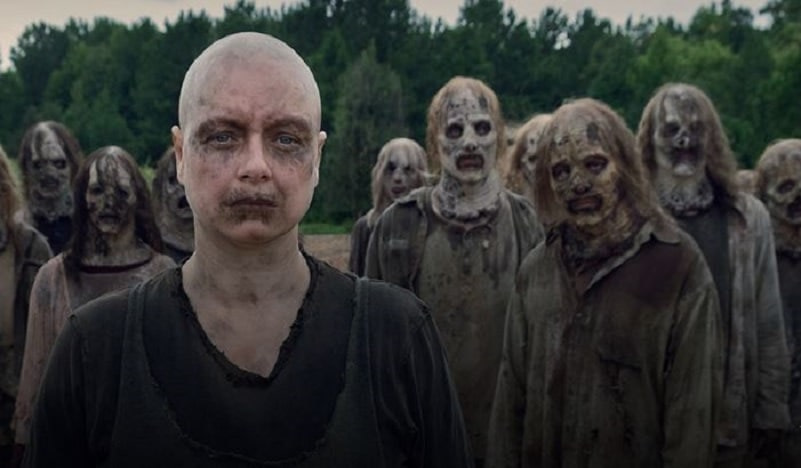 With Daryl (Norman Reedus), Tara (Alanna Masterson), and the rest of Hilltop having met the face of their potential downfall, now seems as good a time as any for Morton to offer a little more insight into her Alpha experience (and building on her earlier conversation with EW):
● On what Morton believes audiences will learn about Alpha through the episodes disjointed flashbacks:
"I think, for her, something is triggered through the apocalypse. Maybe something that was laying dormant inside of her. Maybe we can look at her, childhood things that happened to her, and here she realizes that she's capable of doing really horrific things in order to survive and to [protect] her child. And most women out there, and men, would say that they would do anything for their child. You'd stand in front of a bus to protect your child. You'd do anything, and I think that what she realizes about herself is her ultimate confidence in survival and what she's willing to do."
● How Morton would describe Alpha's mindset as she speaks to Ortiz ("You're weak. You're pathetic and there is no room for you here.") while killing him: 
"It depends how they edited it, because I haven't seen it, and obviously you can do quite a few different takes. I don't watch myself, so you've seen how they've edited it, and the music, and all the rest of it. But I think I've imagined that she's killed animals before. She's hunted. She grew up in a rural area. She's badass in that way.

And maybe that is why she is a villain, as in she's the villain, but she doesn't think she's a villain. She's just doing what she has to do, and she's been really honest about it. He is pathetic. He is weak. This is a new world now, a new world order, and it's brutal, but this is her tribe, and this is how they're functioning. It's awful, actually. When I think of it, "Oh, my gosh!" But when I'm in Alpha head, it really is like…It's awful, but it makes sense to her."
● And before you ask…yes, that was Morton's real hair–cut on camera for the sake of the episode:
"No, that was my real hair. What we did, my hair was kind of down to my waist, and I stupidly cut it before going to Atlanta, thinking that would help me when I went bald. But I didn't realize we were going to go back, and that you saw the long hair. And so we decided that we were going to keep my hair, which was in a bob, and then just cut it on camera. Just go for it."
● Morton sees Alpha shaving her head as a sign of a want and need for change–a metamorphosis of sorts:
"She's turning herself into something. She's metamorphosing from a caterpillar to a butterfly, but not the nicest butterfly, you know? She's completely changing who she is, and whether that's trauma and something to do with the brain, or that she just found her true self that she's able to be because of what's happening to the world."
● While viewers were ready for a masked Alpha after weeks of promotion, an unmaksed Alpha caught a lot of viewers (including this one) off-guard with just how disturbing her appearance is. Morton discussed the reactions her physical portrayal of the Whisperers' leader received:
"You know what? I think people do find her scary, so that's a good thing, I think. They genuinely do. So I'm chuffed with that because I can just be the character then. I don't have to kind of behave like some villain. I think you just be, don't you? And then I think all that makeup really helps. It's a bit mad."


Here's a look at what's in store for next week's episode of AMC's The Walking Dead, "Bounty":
The Walking Dead s09e11 "Bounty": The savage group led by Alpha confronts the Hilltop in a harrowing attempt to retrieve her daughter. A supply run for the Kingdom turns into a dangerous quest.
The Walking Dead airs Sunday nights at 9 p.m. ET on AMC.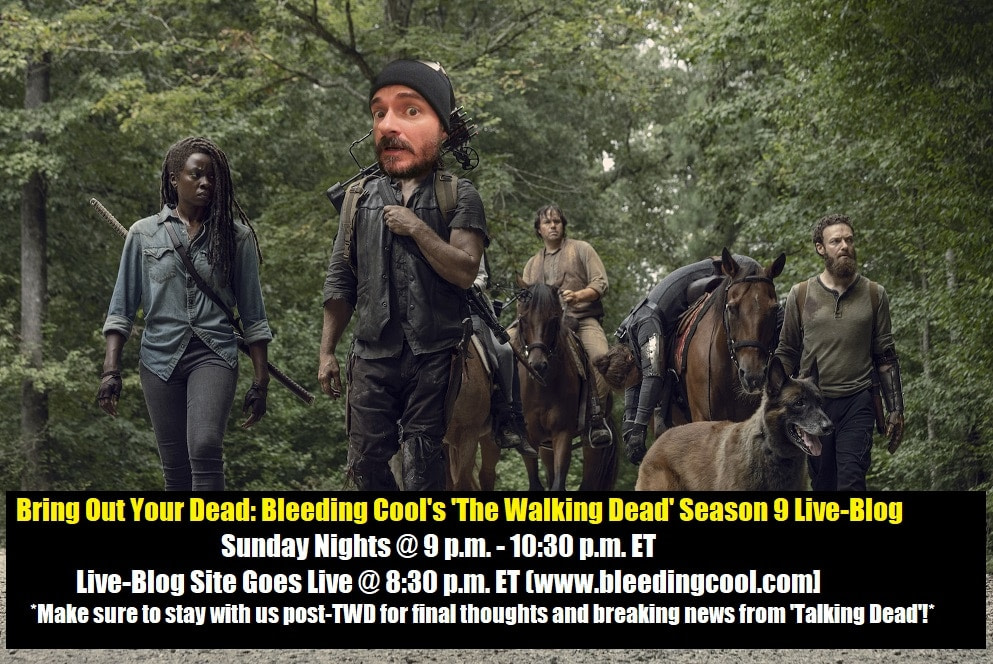 Now that AMC is done being all "nice and stuff" by letting AMC Premiere members get a weeks head-start on the mid-season return of The Walking Dead season 9, we're back to a little communal live-blog love on Sunday nights.
That's right! Bring Out Your Dead: Bleeding Cool's The Walking Dead Live-Blog is back each and every Walking Dead Sunday night – starting with a little "pre-game" at 8:30 p.m ET (live-blog goes live on our website) before charging head-long into our live-blog coverage beginning at 9 p.m. ET. After the show, hang out with us a little longer as we share our thoughts on the night's developments and offer up some predictions on what's still to come – and to see if Chris Hardwick has any news to break on Talking Dead.